Thursday, March 27, 2008
Page 5
JUDICIAL ELECTIONS: Los Angeles Superior Court Office No. 123
County Prosecutor, City Prosecutor, Private Practitioner Compete for Seat
A deputy district atttorney and a Los Angeles deputy city attorney are in a Superior Court race with a private practitioner whose name resembles that of the 37th president of the United States. They are seeking to replace Los Angeles Superior Court Judge Michael Luros, who did not opt to run. Kathleen Blanchard, who was a deputy attorney general before joining the county prosecutor's office, has not run before. Deputy City Attorney Allan A. Nadir ran 20 years ago and North Hills attorney Richard A. Nixon was a contender in 2006.
KATHLEEN BLANCHARD
Deputy District Attorney Seeks to Remain in Courtroom
Deputy District Attorney Kathleen Blanchard wants to stay in the courtroom.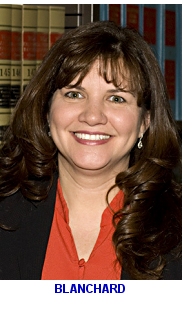 A 10-year veteran of the Los Angeles District Attorney's Office who left her previous position as a deputy attorney general with the California Department of Justice in order to spend more time in trial, Blanchard, 39, now faces a required rotation out of her post with the District Attorney's Office as a prosecutor in its Hardcore Gang Division after four and a half years, and sees a seat on the bench as her most "attractive" prospect.
Born "B. Kathleen Blanchard" in New Jersey, Blanchard—who says she has spent her whole life keeping the "B." a "secret"—was reared in Arizona and went "back east" to attend college at Cornell University in Ithaca, N.Y., where she graduated in 1990.
Realizing that she preferred warm weather, she came back west to California and attended law school at UCLA, graduating in 1993 and earning admission to the State Bar that year.
Handled Appeals
Blanchard began her legal career as a deputy attorney general in the Appeals, Writs and Trials Section of the office's Criminal Law Division, where she handled appeals before the California Supreme Court and Court of Appeal, and the Ninth Circuit.
She says the "loved" the job, but decided after a few years that she "missed" being in court.
Hearing that prosecutors' offices in Oregon were hiring, she sat for, and passed, that state's bar exam and was admitted to the Oregon State Bar.
However, in 1998 Blanchard was offered a position with the Los Angeles County District Attorney's Office. She accepted, and within a year resigned her membership in the Oregon State Bar without ever having practiced in the state.
Blanchard says she joined the Oregon State Bar "in order to keep my options open, but then I got a really good option here."
Five years later she became a member the District Attorney's Office's Hardcore Gang Division—her current assignment—and today boasts a 97 percent conviction rate over the course of the 70 jury trials, including 20 murder trials.
Not Sought Appointment
A registered Democrat, Blanchard has not sought appointment to the bench and says that she is seeking a post via election because of "timing." But for her required rotation, Blanchard says she would stay with the Hardcore Gang Division "forever."
If elected, she says she would seek to model herself after Los Angeles Superior Court Judges Michael E. Pastor and Sanjay T. Kumar, praising their consistency and "good demeanor." She also points to Superior Court Judges Ronald S. Coen, Shari Silver and Ann I. Jones as setting a standard she would seek to meet.
In a statement on her campaign website, she cites as one of her "strongest fundamental core values" the following quote by President Theodore Roosevelt:
"Justice consists not in being neutral between right and wrong, but in finding out the right and upholding it, wherever found, against the wrong."
Blanchard says she knows her opponents by name only, and does not think that they can match her "breadth of experience."
Although she concedes that her civil experience is limited, she says that the bench needs more judges with criminal backgrounds and that she expects to receive a criminal assignment if elected. If given a civil assignment, she says she is "confident" that she would adapt, citing the example of Silver, who Blanchard says adapted to a criminal assignment after coming from a civil background.
She rejects any notion that she would be biased in favor of the prosecution as a judge, or against prosecutors who perform beneath her standard of expectation.
A judge's job, she says, "is to be the referee, to keep the game fair."
In her free time, Blanchard enjoys spending time with her husband, a Los Angeles County deputy sheriff, and her cats. She is not a member of any bar organizations.
Boasts Endorsements
She has been endorsed by Los Angeles County District Attorney Steve Cooley and Los Angeles County Sheriff Leroy D. Baca, a number of police and prosecuting attorneys associations, approximately 35 judicial officers—including a justice of the Court of Appeal, sitting and retired Superior Court judges, and a commissioner—and labor groups.
Los Angeles Superior Court Judge Ronald S. Coen, one of the judges who has endorsed Blanchard, says that she is the "best candidate" in her race.
Calling her a "good lawyer" who "knows the law" and is "well-prepared" based on her appearances in court before him, Coen says that Blanchard has the ideal temperament for a judicial officer because she "doesn't carry on a spat after trial."
He says:
"In trial, there's always a battle, and sometimes there's a war…If you can have a drink with an adversary after the battle, it's a good relationship."
Blanchard's superiors in the District Attorney's Office appear to agree.
She has released to the MetNews copies of her last two performance evaluations which rate her professional skills, application to duties, adaptability, and interpersonal relations as "outstanding." Neither evaluation sets forth any negative comments, and the most recent describes her as "an excellent deputy [district attorney] who is well respected by all those who come into contact with her."
______________________________
ALLAN A. NADIR
Deputy City Attorney Makes Second Run for Judgeship
Twenty years ago, Allan A. Nadir, age 40, was a deputy Los Angeles city attorney running for election to the Superior Court. Currently, Allan A. Nadir, age 60, is a deputy Los Angeles city attorney running for election to the Superior Court.
In the campaign two decades back, he competed unsuccessfully with then-Los Angeles Municipal Court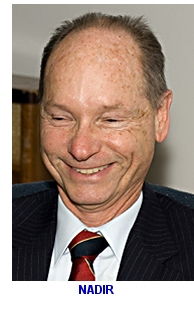 Judge Terry Smerling for an open seat on the upper trial court, slamming the jurist for his light sentencing and characterizing him, in an interview with the MetNews, as a "one-man crime force."
Nadir complained in that interview of the Newhall Signal having run an article that was centered on Smerling's candidacy, virtually ignoring his—and he said he would demand "equal time," which he declared to be a "federal requirement." The equal-time requirement, enforced by the Federal Communications Commission, in fact applies to television and radio stations. But as Nadir saw it:
"The FCC has control of…newspapers."
He said that if he were a judge and a newspaper refused to publish a particular candidate's side of a story, "I'd order the paper to print it."
The May 4, 1998, profile quoting those remarks also quotes Pasadena attorney William Paparian as reciting an "ethnically offensive remark" by Nadir. Paparian was representing a man named Fustokjian on a weapons charge. When the deputy city attorney picked up the file, saw the charge and saw that the name of the defendant ended with "ian," Nadir said, according to Paparian:
"I should have known. With these people [Armenian Americans], it's either a theft or a weapons case."
Nadir, who was rated "not qualified" by the Los Angeles County Bar Association in 1998, did little campaigning, other than to sport a campaign button which he wore even while in court.
Smerling won by a margin of about 2-1.
Twenty Years Later
Fast-forwarding to 2008, Nadir is expected to be in court today in the Clara Shortridge Foltz Criminal Justice Center. That's the downtown Los Angeles facility where he normally makes court appearances as a member of the Gang Division. But today, he won't be there to prosecute; he'll be answering charges against him of misconduct, including allegedly lying to a judge. His own version, stated under penalty of perjury, is that what he said to the judge was, to the best of his knowledge, true.
Retired Los Angeles Municipal Court Judge Samuel Mayerson, sitting on assignment, will preside over a proceeding the precise nature of which is uncertain, and the procedural history of which is a labyrinth. While the judge who got the proceeding rolling, Michael D. Carter, has mentioned the prospect of contempt, Nadir has not been ordered to show cause re contempt.
The conduct in issue relates to the case of one Marcus Liddell, charged with violating a gang injunction. Nadir last July announced "ready"—as the Public Defender's Office recounts it but which Nadir disputed in an interview yesterday afternoon.
What is undisputed is that at the time of the pre-trial hearing, Nadir had not ascertained whether the Los Angeles police officer whom he believed had served the injunction on Liddell had been subpoenaed or would be available.
Seeks Continuance
On Aug. 7, the eighth day of the 10-day period for bringing the accused misdemeanant to trial, Nadir asked Los Angeles Superior Court Judge Joseph Brandolino for a continuance beyond the 10th day based on for the unavailability of a material witness. The transcript of the proceeding shows that he represented that he learned only the afternoon before that Officer McCoy "had not been served [with a subpoena], could not be served because he is out for LAPD training."
(Under Penal Code §1050, a written motion for a continuance should ordinarily be served and filed two days before the hearing. If it isn't, the motion may still be heard, but if there wasn't good cause for the noncompliance, the court may, under §1050.5, impose a fine "not exceeding one thousand dollars" on the lawyer or refer the matter to the State Bar.)
Deputy Public Defender Andrea Adelman argued against a delay. She put on the record that during an unreported sidebar conference a few minutes earlier, Nadir had "misrepresented to the court that the officer was the only officer on proof service" while actually, there were two, as reflected on the proof of service, "so either officer could have been present to testify." Nadir insisted that it was McCoy who had to testify because it was he who actually handed the injunction to the defendant, and that the testimony of the other officer would be "cumulative." Brandolino continued the matter to the next morning so he could review case law.
The next morning, Adelman dropped a bombshell. By declaration, she alleged that McCoy wasn't off somewhere in training. She had uncovered that he was in court right there downtown, possibly testifying in a case in which he was a civil defendant. Nadir withdrew his request for a continuance, and argued that Adelman could not be heard with respect to the matters in her declaration because "[t]he 1050 is moot and I think the whole issue is irrelevant…."
Adelman was heard. She orally sought sanctions in the form of an order dismissing the case, barring McCoy's testimony, or an adverse instruction to the jury. The lawyer also suggested that the judge institute "an order to show cause [re contempt] hearing" at which Nadir would be required to "state exactly why he misrepresented to the court yesterday where Officer McCoy was." Brandolino, who at that time handled the misdemeanor master calendar, declared that dismissal would be unwarranted but that other sanctions could be sought before the trial judge, sending the case to Carter.
Carter subsequently denied trial sanctions and on Aug. 13 Adelman withdrew her request for an OSC re contempt. McCoy's partner testified, and it turned out that he might have been the officer who had served the gang injunction.
Post-Trial Proceedings
When the trial was over (with the defendant convicted), Carter's clerk contacted Adelman to convey Carter's instruction that she convert her oral motion for sanctions into a written one. Adelman filed a "Request for Sanctions" on Sept. 5, setting forth not only the matters occurring on Aug. 7 before Brandolino, but three incidents that took place at trial:
1. The Deputy City Attorney told the jury that they would see tattoos of Mr. Liddell which proved he was a Grape Street Gang Member even though Judge Carter had not yet ruled on a pending [Evidence Code §]402 motion based on the admissibility of the tattoos if Mr. Liddell did not take the stand.
2. The Deputy City Attorney asked an officer a question relating to alleged admissions made by Mr. Liddell although there was a pending 402 motion in regard to Miranda and the admissibility of these statements. At this time, the Judge, at side bar, admonished the Deputy City Attorney of whether he wanted to be held in contempt of court since he had already warned him in regard to the tattoos and the pending motions.
3. The Deputy City Attorney portrayed extremely misconduct in cross examination of the defense expert, Steven Strong, at one point asking him when he had crossed over to the dark side. Upon defense objection, the Judge admonished him again at side bar against this type of conduct.
Carter shipped the case back to Brandolino for possible action against Nadir, given that the representation concerning McCoy's unavailability had been made before that judge. Brandolino, however, recused himself and lobbed the file right back to Carter on Sept. 14. (As Court Counsel Frederick Bennett explained in a document later filed in the matter: "Judge Brandolino recused himself, as he had been involved in the resolution of other complaints concerning this particular prosecutor.")
Holds 'Clarification' Proceeding
Carter did not institute indirect contempt proceedings based on what occurred before Brandolino, nor cite him for direct contempt. At an Oct. 4 hearing, he explained that the proceeding was in the nature of a "clarification" and that at a future hearing, on Nov. 7, he would "review the transcripts and hear any testimony that either party or either side has to offer and then make a determination whether or not this matter should proceed as a contempt hearing or not." The Nov. 7 hearing was blocked by the City Attorney's Office's Nov. 2 filing of a statement of disqualification against Carter. The motion was granted by Orange Superior Court Judge Kim Dunning.
The Office of Public Defender on March 7 of this year filed a "Clarification of Position," in essence saying that it had sought trial sanctions which were denied; that it filed the post-trial motion for personal sanctions only because Carter ordered it to do so; and it was Carter who was going after Nadir.
In arguing against sanctions, the City Attorney's Office says in a "Supplemental Brief in Opposition to Request for Sanctions":
"Mr. Nadir is accused of misconduct that would be punishable by contempt….[D]efendant's Request for Sanctions alleges some acts occurring in front of Judge Carter, that would, if contemptuous, be punishably summarily as direct contempt….[O]bjections to the alleged misconduct were made and sustained, and the court chose to admonish Mr. Nadir rather than cite him for contempt."
It's too late now to punish Nadir for direct contempt, it maintains.
Nadir Responds
Predicting the outcome of today's proceeding, Nadir says:
"I think...the judge is going to say: 'Why are we here?...
"I expect him to say:
"The public defender has withdrawn whatever was previously on the table, Carter has been recused, there's nothing before the court, therefore the case is dismissed."
He insists there was "there is no misrepresentation" to Brandolino, and that "I told him what I thought."
The gist of the defense appears to be that Nadir assumed that McCoy had served the injunction because his name was first on the proof of service, and inferred that he was in training because a subpoena control officer reported on Aug. 6 that the letters "LP"—meaning "leave with pay" were next to his name on a roster and, according to her Nov. 5 declaration, that is "the notation commonly used when an officer is assigned away from the station for training."
Nadir says of Adelman that "[h]er head is not actually screwed on straight," and that she is "backwards in her thinking—because she heard what she wanted to hear."
Criticizes Judge
Of Carter, he says:
"I think Judge Carter is not held in high esteem by many people, including yours truly.
"He can't be neutral. He can't sit there and just try to be impartial. He likes to get in and stick his nose in our business. I think every attorney, the defense attorney and prosecutor, does his own case. I think Carter can't sit quiet. He used to be a DA, he likes to be involved. I think the mark of a good judge is to just sit by and make rulings, legal rulings, and let the attorneys proceed with their cases....
"Also, I think he has a hard time making legal rulings. In my case, in the Liddell case, apparently, it took him forever to rule on 402 motions that just kept coming up, because he couldn't make a decision. And Adelman, she kept going around and around in circles, so I think she may have confused him. She didn't know what was going on and everything kept rolling under her head."
Nadir disclaims recalling what the two instances were cited by Adelman in her Sept. 5 "Request for Sanctions" of his purportedly introducing matter that was covered by pending §402 motions. As to asking an expert witness when he moved over to the dark side—that is, the defense—he says:
"I remember doing that—because, I'll tell you, it's really frustrating when a police officer, an ex-police officer, gets on the stand and puts his testimony in direct conflict with his previous testimony as a police officer just to make nice with the public defender. That's what I was trying to say. While he was a police officer, for years and years, 20 years, he never met a defendant who wasn't a gang member [who was charged with being such]. As a defense witness, he never met a defendant who was a gang member. So obviously, he is not being forthright. So I made that comment to explain, or to demonstrate, that he has kind of changed over....
"He did go to the dark side. And money talks."
He notes the expert witness fees were "substantial."
The hearing before Mayerson is scheduled to take place today at 1:30 p.m. in Department 44.
The profile on Nadir will continue tomorrow.
For Part 2, CLICK HERE.
______________________________
RICHARD A. NIXON
2006 Non-Campaigning Candidate Makes Another Try
Richard A. Nixon, 69, is running for the Superior Court for the second time. Two years ago he competed in a six-candidate race, coming in fifth with 6.65 percent of the vote.
In that earlier race, Nixon refused to meet with editorial boards of newspapers, to provide information about himself to the League of Women Voters, to fill out a questionaire for the County Bar Assn.'s Judicial Elections Evaluation Committee or be questioned by its subcommittee, or to allow a MetNews photographer to snap a picture of him.
A profile of him in this newspaper's May 15, 2006 edition says:
"Richard A. Nixon is an obscure lawyer who apparently fancies himself as having a shot at election based on the familiar ring of his name. Richard M. Nixon was the nation's 37th president—and candidate Nixon has the e-mail address of 'pres37th@aol.com.' "
In a brief telephone interview recently, he said the profile was a "hatchet job" and that it was "highly presumptuous" to assume he ran with the expectation that his name would attract votes.
The attorney said based on the "scurrilous" article about him two years ago, he would prefer that this newspaper not write about him now, but that if it does, he would wear the article as a "badge of honor."
Nixon accused the MetNews of being biased against him because he has a "strong Republican name."
Rated "not qualified" by LACBA two years, he declined to discuss his credentials except to declare:
"I'm the best running. That's all I'll say. Thank you."
He hung up.
Nixon is listed on the ballot this year as "Attorney at Law." Two years ago, his designation was "Attorney/Business Owner."
He has his undergraduate degree from Wayne State University in Detroit and his law degree from San Fernando Valley College of Law. Admitted to practice in 1981, Nixon practices out of his North Hills home.
There are, so far, no signs of campaigning on his part. He again declined to participate in the LACBA evaluation process or to provide materials to the League of Women Voters.
For the previous profile on him, CLICK HERE.
Copyright 2008, Metropolitan News Company