Friday, March 28, 2008
Page 5
JUDICIAL ELECTIONS: Los Angeles Superior Court Office No. 123
Candidate Emerges Unscathed From Proceeding Against Him
This is the second in a two-part profile on a candidate for Los Angeles Superior Court Office No. 123. Profiles of his opponents—Los Angeles Deputy District Attorney Kathleen Blanchard and North Hills attorney Richard A. Nixon—were completed yesterday.
ALLAN A. NADIR
Candidate Emerges Unscathed From Proceeding Against Him
Los Angeles Deputy City Attorney Allan A. Nadir was riding high yesterday. A proceeding that had been brought against him—with "contempt" and "sanctions" bandied about as objectives—fizzled. Retired Los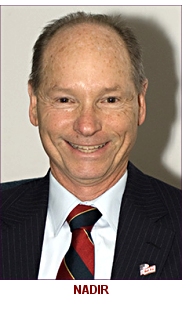 Angeles Municipal Court Judge Samuel Mayerson, sitting on assignment to the Los Angeles Superior Court, declared that there was nothing before him on which to take action.
Mayerson was clearly critical of Los Angeles Superior Court Judge Michael D. Carter for instituting an unnamed and unauthorized proceeding.
The proceeding Carter brought into existence in September harked to a request on Aug. 8 by the Office of Public Defender for trial sanctions and its suggestion that Nadir be ordered to show cause re contempt. That action was sought in the courtroom of Judge Joseph Brandolino, who then handled the misdemeanor master calendar. The day before, Nadir (on Day 8 of the 10-day period for bringing the defendant to trial) moved to continue trial beyond the 10-day mark owing to the unavailability of a material witness: the officer who had served defendant Marcus Liddell with the gang injunction Liddell was charged with violating. The officer couldn't be served with a trial subpoena, Nadir represented, because he was off in training.
Not in Training
In moving for sanctions Aug. 8, Deputy Public Defender Andrea Adelman argued that information she had uncovered since the previous day showed that the officer was not some where in training, but was in a nearby downtown court facility testifying.
On Aug, 8, Brandolino denied a motion to dismiss, finding such to be too extreme a response, but sent the case to trial by Carter, leaving it to him to respond to the other remedies sought.
At trial, the absent officer's partner, Oscar Villareal, testified—and indicated it might have been he who had actually handed the injunction to the gang member.
Carter denied the trial sanctions and Adelman withdrew her request for a contempt hearing.
After the trial concluded with the conviction of Liddell, Carter instructed the Office of Public Defender to convert its oral motion into one in writing, which it did on Sept. 5. It additionally recited two instances during trial where Nadir brought information to the jury's attention notwithstanding that motions were pending to bar it, and one instance where he asked a expert witness for the defense when he had moved over to the dark side.
At a session on Oct. 4, Carter was unable to pinpoint the nature of the proceeding. He said at one point:
"I don't think that this is a situation where the defense is asking for sanctions. It is more of a situation where the court needs to clarify the conduct of both parties.
"And I don't know if that answers your questions counsel, but that is the best that I can do at this point."
Later, Carter said:
"I can't answer your question any more than what I have said until I get into what really happened and it is a—at this point it is a clarification. I think if it comes to a point where the Bench needs to take action, then I will. I will let you know this is going—what this is going to be and I will tell you what the formal hearing is and an order to show cause and all the other things that go along with it. But at this point I am clarifying what happened."
Mayerson Annoyed
Mayerson was visibly annoyed yesterday by the procedural status of the case.
"I have a matter here," he began. "I'm not sure what to call it."
He commended the Public Defender's Office for its March 7 "Defense Response and Clarification of Position" which provided backgrounds materials.
From that, he said. "I got a very clear picture of what has taken place."
Deputy Public Defender Evan A. Kitahara, who is the training deputy for Central Misdemeanor Trials, drafted that document which stresses that while the Public Defender's had unsuccessfully sought trial sanctions, it was not seeking sanctions now, but filed the Sept. 5 document only to accommodate Carter.
Deputy City Attorney Max Shiner told Mayerson:
"The People understand your inability to understand the nature of these proceedings."
As to whether there had been a misrepresentation by Nadir, the judge said:
"That's a factual issue. I'm not going to take it up."
He observed that the issue relevant to Nadir's conduct came during a "virtually insignificant little trial." The matter was raised and "it went bezerk after that," he remarked.
Castigating Carter for ordering the Public Defender's Office to prepare a post-trial written sanctions motion, Mayerson said:
"It is the judge who must issue an OSC [re contempt]. He does not contact the public defender to renew a motion."
Sanctions, he said, may not be imposed on a lawyer after the trial has ended.
Mayerson declared:
"That leaves nothing here, nothing I have to rule upon."
Mayerson commented that he wasn't satisfied, explaining that he wondered "how much money and effort has been wasted in this case."
Nadir Claims Vindication
"It's good to be vindicated at the end," Nadir said following the hearing.
However, Kitahara said later:
"I would not characterize it as a vindication for Mr. Nadir. It was an expected ruling based on procedural issues."
There was no resolution as to the facts revolving around Nadir's bid for a continuance of the Liddell case beyond 10 days.
Nadir on Wednesday leveled criticisms at both Carter and Adelman. He said of the deputy public defender:
"Her head is not actually screwed on straight," and that she is "backwards in her thinking—because she heard what she wanted to hear."
He said that Carter "is not held in high esteem by many people," "can't be neutral," and "can't sit quiet."
Kitahara yesterday responded:
"The inappropriate personal attacks on our attorney, Ms. Adelman, and also against Judge Carter are a perfect example of Mr. Nadir's customary lack of professionalism."
Ill feeling toward Nadir on the part of members of the Public Defender's Office has reportedly long persisted. According to one report to supervisors in the office, Nadir in July, 2006, in a proceeding before Judge Spurgeon Smith, asked a prospective juror if gang members at Hollywood High wore yarmulkes because of the high number of Jews attending that school.
One or two of the prospective jurors asked to be excused because they found the remark offensive, it was reported.
Negative Feedback
Inquiries made within the legal community as to Nadir's aptitude for judicial service produced negative responses.
One judge who has had contact with Nadir remarks: "I wouldn't rate him 'well qualified' or possibly even 'qualified' " because of "concern about his judgment."
Deputy Public Defender Ilya Alekseyeff says in an e-mail in response to a solicitation of comments that he has had "several opportunities to work with Mr. Nadir" and "found him to be incompetent as an attorney and unpleasant as a person." He continues:
"In spite of his complete lack of legal skills, he paraded himself around the courthouse with an attitude of a legal scholar to rival those who currently sit on the bench of our country's highest court. He seems to operate under the assumption that he knows all about law, while no Public Defender, private defense attorney, or even a judge, really knows what they are talking about. In reality, however, Mr. Nadir often proved himself ignorant of the most basic laws, quite often invoking ridicule from other lawyers, including his own colleagues in the City Attorney's Office."
He offers examples:
"I recall Mr. Nadir stating in open court that 'technical violations' of defendants' Fourth Amendment Right against unreasonable searches and seizures should not result in the suppression of evidence; that a document that he prepared and submitted to the court could be used to established critical facts contained in the document in spite of the hearsay rule; and that a defendant convicted of a misdemeanor did not have the right to bail, even though the Penal Code clearly states to the contrary. To any one knowledgeable in the most rudimentary of penal laws, these errors in legal judgment would certainly sound the loudest of alarms. He was also unpleasant as a person, often evoking nausea in those unfortunate enough to have a case with him."
Out of Bounds
Alekseyeff adds:
"His conduct was often so out-of-bounds and outrageous, that even his own colleagues—prosecutors in the Gang's unit—refused to work on his cases. Time and time again, other prosecutors in the unit laughed with disdain at Mr. Nadir's approach to cases that were not worth a penny of taxpayers' money, but that seemed to attract Mr. Nadir's utmost focus and attention. For example, Mr. Nadir insisted on prosecuting a young man for sitting one block away from his grandmother's house with an open can of beer—an apparent violation of the Los Angeles Gang Injunction. He was alone and in broad daylight. He was not spraying graffiti; he was not hurting anyone; and he was not conspiring with other gang members on future crimes. Nevertheless, Mr. Nadir thought that the case was worth 180 day in the County Jail—a sentence that would have cost Los Angelinos thousands of dollars. The judge, however, gave the defendant 10 days of CalTrans labor—an offer that is generally made to individuals who are charged with the possession of alcoholic beverages in public. And he also wanted to give two years in the County Jail to another young man whose crime consisted of standing next to a banquet-hall-full-of-people at 10:10 at night, while two other individuals—both unknown to the defendant—were smoking marijuana and drinking something from plastic cups."
The deputy public defender asserts that Nadir "is unqualified to sit on the bench both because he lacks the necessary legal skills and because of the lack of the required common sense and perspective."
Alleges Non-Existent Tort
Part of Nadir's background as a lawyer is his having brought a lawsuit a few years ago which the courts discounted in its entirety.
In 2001, he sued Yvonne Johnson, who had been president of "Single Mariners," a sailing club whose members were unmarried. Johnson resigned and set about to form a new and similar club for nautical bachelors and spinsters. Nadir's action, on his own behalf and that of four other members of the Single Mariners, sought damages for the tort of "wrongful interference with associational relationship," and asked the court to compel the return of allegedly confidential club information. The latter cause of action was cast in terms of "replevin of confidential property (claim and delivery)."
Nadir obtained a temporary restraining order against the unrepresented Johnson. She then engaged the services of a lawyer, Joel Voelzke, who was a member of her new group, "Single Sailors." On Nov. 15, the TRO was dissolved and a preliminary injunction was denied after Voelzke showed that there was no such tort as "wrongful interference with associational relationship" and presented evidence that the membership directory was freely distributed, rather than being secret. (Other evidence also refuted allegations of the complaint that "confidential property" had been wrongfully taken.)
Nadir dismiss his action with prejudice on Nov. 26.
Johnson sued Nadir for malicious prosecution and abuse of process on May 8, 2002. The complaint characterizes Nadir as "a criminal lawyer employed by the government and who apparently has little or no experience in civil litigation."
Nadir filed an anti-SLAPP motion; then-Los Angeles Superior Court Judge Valerie Baker (now a judge of the U.S. District Court for the Central District of California) found it completely without merit and awarded $145 in costs to Johnson.
The Court of Appeal for this district on Dec. 30, 2003, in an unpublished opinion by then-Presiding Justice Charles Vogel, now a private judge, affirmed the denial of the anti-SLAPP motion. (It reversed the award of costs on the basis of Baker's failure to recite in detail the reasons for finding Nadir's motion to be worthless.)
The opinion says that Nadir satisfied the first requirement of a special motion to strike—showing that the instant action stemmed from his exercise of the right to petition (sue)—but that Johnson then met the burden which shifted to her of establishing a probability of prevailing at trial. Vogel explains:
"No case recognizes the first cause of action pled in Nadir's complaint of 'wrongful interference with associational relationship.'…Nonetheless, Nadir never cited any relevant decisional law, treatise, or law review article to support creation of this tort. Furthermore, the factual predicates of that cause of action as well as the one for replevin were highly questionable."
The court nonetheless declined to impose sanctions on Nadir for a frivolous appeal.
A mandatory settlement conference was conducted in the case by Los Angeles Superior Court Judge Linda K. Lefkowitz on July 16, 2004, and Nadir was dismissed from the action on Sept. 20.
Candidate's Background
Nadir received his undergraduate degree from UCLA and his law degree from the University of San Diego School of Law.
He holds a real estate broker's license.
Lending his candidacy force is his having paid $83,000 for a candidate statement to appear in the Voter's Pamphlet. In it, he is listed as:
"Deputy County Counsel.
"Deputy District Attorney.
"Deputy City Attorney."
He held the first two posts in Tulare County prior to joining the Los Angeles City Attorney's Office in 1979.
Nadir explains that he did not specify "Tulare" because he had to economize on words, there being a 200-word limit."
The statement begins:
"ALLAN NADIR—Married. Son with the United States Air Force."
He denies that the intent is to convey marital stability. He was divorced, but was remarried late last year to an ordained Methodist minister.
He claims on the statement:
"SUPPORTED BY LOS ANGELES COUNTY JUDGES."
Under inquiry, he named three judges who favor him, but pressed as to whether they had endorsed him, he said:
"Well, not publicly. I don't know what 'public endorsement' means."
On his own campaign website, there is a tab for "Endorsements." When it's clicked on, there is a blank page.
Nadir explains why he is better qualified now for the Superior Court than when he ran for it in 1988:
"I have 20 more years of experience."
— Roger M. Grace
Copyright 2008, Metropolitan News Company