Metropolitan News-Enterprise
Wednesday, Dec. 31, 1997
_______________________
'Cowboy Judge' Rides Tall in the Saddle to Help Guide Nation's
Largest Trial Court
By ROBERT GREENE, Staff Writer
To Rosa Montoya, his secretary for more than a decade, Victor Chavez is a sort of romantic warrior.
"I used to call him Don Quixote," Montoya relates, recalling the days when she worked in Chavez's mid-Wilshire law office. "He was a gentleman all the time. And he would always try to help people with lost causes."
Chavez chuckles at the comparison, but he points with pride to the corner of his Los Angeles Superior Court chambers. There sits a gift from Montoya: a small sculpture of the foolish but strangely dignified hero of the immortal Miguel de Cervantes masterpiece, astride Roxinante, his old nag.
In another corner stands a sculpture of Joan of Arc, the young Frenchwoman who rallied her country to fight for freedom, using faith in God as her only guidepost. She, too, is on horseback.
There are also two paintings of horses.
What does it all mean?
"I guess it means I like horsing around at work," the judge says.
Typical Remark
The remark is typical of Chavez, a man who will offer a joke, a hearty laugh, or a wave of his hand to direct attention elsewhere when he thinks he has received one too many compliments or becomes too much the focus of admiring conversation.
But Victor Chavez, the Metropolitan News-Enterprise 1997 Person of the Year, does not horse around.
He is an avid horseback rider and a founding member of the Cowboy Lawyers, and he and his wife, psychologist Marlene Chavez, ride almost every weekend, but he somehow does not fit the image of the dusty, trail-weary cowboy. He and his wife were married on a ranch in cowboy duds amid laughter and among close friends, but although he seems to smile constantly, Chavez is an intensely serious man.
People other than Montoya make the Don Quixote comparison, but they do not mean that they see in the trim, white-haired judge the confused old gentleman who mistakes windmills for giants. Judges who serve with him, attorneys who opposed him in court, in fact all who know him, it seems, say Victor Chavez exemplifies integrity, honesty, faith-and a fierce commitment to what he thinks is right.
He will talk passionately about his respect for the legal profession, and his distaste for those who would poke at practitioners with lawyer jokes. He comes down hard on attorneys who display disrespect for their colleagues or for the court.
Still, he is known as a generous, easygoing man, one who makes it a point to assure that people in his courtroom-or anywhere, for that matter-get their chance to be heard. Perhaps that is why the judges of the Los Angeles Superior Court last year took the unusual step of electing Chavez, who had served on the bench for only six years, the court's assistant presiding judge.
The presiding judge and assistant presiding judge serve one-year terms, but a second term is traditional and presumed. Just as traditional and presumed is the APJ's promotion after his two year-long stints, and the court's 238 judges knew when they cast their ballots that their new APJ would preside as the chief policymaker in 1999 and 2000.
Those years will be crucial for the Superior Court, the nation's largest court of general jurisdiction. Voters are widely expected to approve a constitutional amendment permitting consolidation of each county's trial courts, and in Los Angeles, that means a potential merger with the judges of 24 municipal courts that don't always see things eye-to-eye with their bigger sibling.
At least one of those judges, though, says the Superior Court picked the right man to be in charge when unification takes place.
"I'm looking forward to Vic taking over," Rio Hondo Municipal Court Judge Rudy Diaz says. "He has a good disposition for getting people together. He has the right demeanor to let [unification] happen."
Meanwhile, Chavez plays a key role in advocating for the court and its members. He serves on the state Trial Court Budget Commission at a time when courts, for the first time, will look to the state and not the counties for the bulk of their funding. The new arrangement is a godsend to courts in smaller counties, but could have a negative impact on the massive Los Angeles Superior Court.
Presiding Judge Robert Parkin says he has the utmost confidence that Chavez, an accomplished and persuasive trial lawyer for 30 years before he took the bench, will accurately convey to the budget commission-and the state Administrative Office of the Courts-the financial needs of the court.
"I think he appreciates, now that he's in the administration, the complexity of running this court," Parkin says. "We are of one mind in terms of our concerns about adequate resources."
Parkin adds that Chavez's personality may be his secret weapon in aiding the court in statewide affairs, and in keeping judges in 14 courthouses around the county happy.
"He's an extremely easygoing person," Parkin notes. "When you're running something as big as this court you have to be able to get along."
Born Near Courthouse
Chavez likes to point out that he was born and grew up within three miles of his chambers at the Central Courthouse. His parents and their two daughters moved here from New Mexico in the 1920s when his father grew weary of an unsuccessful search for good work in the land of his father and grandfather.
He landed a job here as a boilermaker for the Santa Fe Railroad.
"Those were the days when a person of Mexican origin could not rise above that level," Chavez says. "A person could work on the tracks, they could work in the roundhouse, but they could never get on the train. It was a very bigoted time...a black person could work in the kitchen, or serving people in the dining car, or work as a porter. But the conductor and the brakeman and those people were always white Anglo Saxon males."
Once in Los Angeles, his mother decided she was going to get an education, and she did not worry that there were no special courses for adults to earn their high school diplomas. Although she had two young children of her own, she enrolled in Lincoln High School, sat with the teenagers, studied and graduated.
Then she went to UCLA, and graduated in the first class out of Westwood-"carrying me at the time," Chavez remarks proudly.
She then went on to USC to earn a master's degree and a teaching credential.
The younger of Chavez's sisters was 10 years his senior, and by the time he was in school the pattern of education and aspiration was set. There was no question that he, too, would go to college one day. Meanwhile, there was no question that he would get his homework done.
Demanding Family
In his family, Chavez recounts, "your table manners had to be appropriate, your vocabulary had to be appropriate, your use of words had to be accurate."
But his recollections betray no sense of burden, no notion of having been picked on or nagged by his studious mother and sisters. Learning, he says, was a joy.
His father's railroad job afforded the family many opportunities to travel, and they went to Mexico frequently and once as far as Guatemala. (The three children learned Spanish, the first language of his father, but English was spoken at home). The train also took them all over the United States, and Chavez remembers trips to see the Statue of Liberty and Niagara Falls.
One highlight was a game at Yankee Stadium, where he saw two of the DiMaggio brothers play-Joe for the Yankees and Dom for the Red Sox.
On the trains, the family would read, often aloud. Chavez read to his mother, she read to him.
That habit stuck. Today, Chavez keeps a book in the car, so he has something to read if he has to wait in line at the bank. In the car's tape player is a book on tape (recent readings include biographies of Louis Brandeis and Learned Hand) and by his bedside is a "lighter" work, something like Tom Clancy.
Shaped by Faith
Chavez's life was also shaped and enriched by his faith, and by the educational traditions of the Catholic church. He served Mass as an altar boy at Precious Blood Church, where Hoover Street and Commonwealth come together, about two miles west of downtown. Later, at Mount Carmel High School, he played football and became active in performing arts.
Even after he graduated, his name was known at Mount Carmel, a virtual farm team for Los Angeles judges. Richard Aldrich, now a justice of the Second District Court of Appeal, started at Mount Carmel after Chavez had already left, but said the young man left a reputation as an honest, earnest, hardworking student.
William Rea, who now serves as a federal district judge in Los Angeles, was also a Mount Carmel student and remembers hearing of Chavez.
"It was a small school and everyone seemed to know everyone else" even students who already moved on, Rea says.
After graduating, Chavez studied a year-and-a-half at junior seminary in Los Angeles, then enrolled at Loyola University on a scholarship. He sang in the glee club, reported for the student paper, hosted a show for the student radio station, and acted with the Del Rey players (the campus drama group).
As a young boy, Chavez has spent two years at the prestigious St. John's Military Academy. Now, in high school, he joined the Air Force ROTC and went on to serve as an Air Force intelligence officer.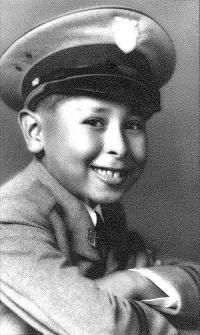 Chavez as student at St. John's
Military Academy
A former classmate and now Superior Court colleague, Judge Lawrence Crispo, recalls that Chavez also played the trumpet.
"He is an outstanding judge and was a fine trial lawyer," Crispo says. "He was a mediocre trumpet player."
Credits Jesuits
Chavez intended to become a teacher, but eventually his horizons expanded and he came to believe that a legal career was within his grasp. In a 1996 article in the Tidings, the archdiocese's newspaper, Chavez credited the Jesuits who trained him in philosophy, logic and religion and developed his abilities-and his confidence.
"[T]he Jesuits encouraged me to apply for law school," he told the Tidings. "I didn't know a lawyer when I took the exam for law school and started at Loyola on a Farmer's Insurance scholarship. It was all because of the influence of my parents and the education of the Jesuits."
At Loyola Law School, Chavez was thrust into leadership positions. He became president of the Student Bar Association and of the St.Thomas Moore Society.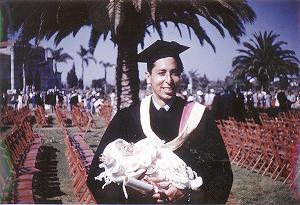 Chavez holds daughter Victoria (now a Superior Court judge) at his graduation ceremony at Loyola Law School.

Upon graduating from law school and passing the bar exam, Chavez repaid Farmers' faith and support by taking a job with Early, Maslach, Price & Baukol, the insurance company's house counsel. There, he honed his skills as a trial lawyer, taking case after case to court and laying out for one jury after another the arguments in favor of Farmer's Insurance.
Meanwhile, Chavez married; he and his wife had six children.
Aldrich, an accomplished plantiffs' advocate before his appointment to the bench, recalls a few medical malpractice cases he had against Chavez.
"He had a great grasp of the legal issues, and these were some very sophisticated medical situations," Aldrich says. "He was always a very formidable opponent, but extremely professional. That was much more common in those days, and almost without exception the trial lawyers in [medical negligence practice] were a very honorable group of people. But Vic stood out."
Another opposing lawyer who was impressed with Chavez was Leonard Pomerantz, who had a case against a Farmer's insured at Lake Tahoe. The two men got to know each other while waiting for the plane back to Los Angeles, and they hit it off.
Several years later, Chavez left Farmer's to set up a plaintiffs' practice with Pomerantz. There, his reputation as a skillful lawyer and a man of integrity grew.
"We sort of supplemented each other well," Pomerantz says. "Vic was an excellent trial lawyer. Vic's ability was to relate to the jury. He could always kind of bond with the jury. His honesty came across."
Integrity Evident
That remark is repeated many times among lawyers who know Chavez from his law practice days. Joseph H. Cummins of Cummins & White says he "cottoned to him right away" because Chavez's integrity was so clearly in evidence.
"He was a gentleman and easy to get along with, and not dishonest," Cummins says. "A square-shootin' type of guy."
Harold Hunter, too, knows Chavez from the Farmer's days, and says Chavez established a reputation as a "highly ethical yet unyielding advocate for his clients."
John McNicholas recalls working at Farmer's with Chavez in 1960, before either were attorneys. They would play volleyball during lunch breaks, then grab a bite together.
"I wonder if he still drinks tea with Mexican food," McNicholas asks. "That's just awful!"
But it is not Chavez's eating habits that McNicholas cites as the man's hallmark.
"Victor Chavez is a gentleman, and from that flows his civility," McNicholas says. "He is a very courtly man, firm without being overbearing. Very, very difficult to drive to anger. And I don't think he knows he has these qualities, which is really refreshing."
To drive home his point about the implicit trust one immediately has in Chavez, Pomerantz notes a business arrangement that one rarely sees between law partners these days.
"Vic and I were together for over 20 years," Pomerantz says, "and there was never a written agreement between us."
Different Perspective
Victoria Chavez, the first of Chavez's children and now the supervising judge at the Compton branch of the Superior Court, came to work at Pomerantz & Chavez after she graduated from law school. Her perspective is different, and she can tell a few stories about her father that others can't—such as how he interviewed her dates—but the bottom line is the same.
"He is what he seems to be," Victoria Chavez says. "He is perceived by most as a very honorable man. He is. But he's not a wimp. He's not afraid to take his position and maintain it even against adversity."
She also says her father could be a "soft touch" for the powerless, or even penniless, client looking for an advocate.
"He's nicer than I am," she says. "I am the only one in his professional life who could bring him to task."
Chavez laughs now about the times—more than once—when his daughter dressed him down for taking on a pro bono case.
"Yes, that would happen," Chavez says. "My daughter would come to me sometimes and would say, 'Dad, who is this client that you've just saddled me with? Does this person remind you of your dad, or your grandfather? Because it was obviously not a good case. But you take it on, because you thought these people needed representation.'"
Robert Chavez is also a lawyer now, and although he never worked at the firm the way his older sister did, he remembers being a file clerk there while in high school and a law clerk when he went to law school.
He learned from Victor Chavez, the lawyer, the same things he learned from Victor Chavez, his father.
"Be fair and be honest, and you will have no trouble sleeping at night," Robert Chavez says. "That's what he taught me. And a couple other things too. 'If you don't do anything you're ashamed of you don't have to lie.' And, 'Your word is your bond.'"
Like Victoria Chavez, Rosa Montoya remembers the pro bono cases, and the others that did not perhaps pay as well as they should. But she says it was those cases that really showed Chavez for the hero he is.
"Especially the Spanish-speaking clients, they were very pleased with his services," Montoya says. "He would take time to listen to them, make them feel comfortable. He was always interested in their well-being."
ABOTA Leadership
Chavez loves to talk about lawyers, and he freely names those he thinks are among the best, but he doesn't chat much about his own ability. His pride shows, though, when he points to a plaque from the American Board of Trial Advocates.
He was president of the Los Angeles Chapter in 1979.
To join ABOTA, a lawyer must demonstrate that he or she has outstanding moral character and has tried at least 20 lawsuits to conclusion. In many ways, ABOTA membership is the Hall of Fame for trial lawyers.
Aldrich, who was president of the local ABOTA chapter in 1986, says Chavez makes a point during ABOTA meetings of addressing his favorite subject: the declining civility in the profession.
Chavez explains that many lawyers today mistake a "militant kind of hostile style" with advocacy.
"I think you can really fight hard for someone and still be a very sociable person," he says. "You get so much farther. It's so much easier to deal with people."
Why have things gotten so bad?
"I hesitate to say this," Chavez says, "but I think there's really a breakdown in morality. One's word meant so much to a person. And does still to many. To most. But there are those [to whom] that means nothing. It's a question of 'I can work the system.' "
Appointed to the Superior Court in 1990 (Victoria Chavez, then a Los Angeles Municipal Court judge, administered the oath), Chavez cultivated his admiration for good trial lawyers. Don't dare tell him a lawyer joke—he hates them. Oh, he may laugh but, he says, he feels guilty afterwards.
"They're very, very tasteless," he complains. "They're hurtful. Why is it okay to disparage a profession with those kinds of jokes when you wouldn't do it to an ethnic group?"
After sitting on the bench for seven years and watching "some marvelous work," Chavez says he still sometimes walks into his chambers after a skillfully presented argument and marvels at what he saw.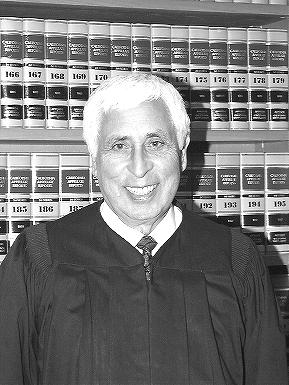 Chavez in his judicial robe
"Sometimes I just have to say, 'Now that was a piece of work,'" he remarks. "I get fascinated and I get torn, because of course I can't rule for both sides. And yet they're gentle persons, they're not nasty, they don't use pejorative terms about the opposition or anything of that sort. It is a delight. It makes this job a delight. Not everybody can reach those levels of advocacy, but when you see it, you're just proud of it."
The Consumer Attorneys Association of Los Angeles recognized Chavez's appreciation for trial lawyers and his ability to manage a courtroom with the Trial Judge of the Year Award in 1995.
Association President Deborah David explains that trial lawyers can tell when the person on the bench knows as much as the advocates in front of him.
"He likes lawyers and has an enormous respect for the jury system," David says. "He believes that system deserves and merits protection."
She adds that more and more new judges come from the ranks of criminal prosecutors. It is rare, she says, to find a judge who is a member of ABOTA.
"He really has been in the trenches," David says. "He knows what it's like to be a practicing lawyer."
Proudest Day
Chavez says the proudest day of his life was the day he took his oath of office as an attorney. Trial advocacy is his life's joy, he comments, but notes he has many other joys.
Chief among them is his wife of eight years, psychologist Marlene Schall Chavez, who says she was fascinated by Chavez's passions for the variety of life.
"He was just as comfortable at a football game as he was at the ballet," she says. "He is a Renaissance man."
She remarks that she was drawn to his dignity and his moral fiber. People find him warm and "touchy-feely," she says, but he sets limits.
"He wouldn't allow someone to treat him in a less-respectful way," she says. "He wouldn't allow someone to offend him."
Hooked on Horses
One of Chavez's passions is horseback riding, and although it took Marlene Chavez some time to overcome her fear of horses, she too eventually was hooked.
They rode to their wedding on horseback, in Western garb, and were married in a corral. Victoria Chavez performed the ceremony. Victor Chavez wore a huge Mexican hat, not a sombrero, but the sort of straw hat worn by the hero in those old Cisco Kid movies.
He still wears that kind of hat when he and his wife go riding, he says. On his horse, Margarita, he cuts the figure of a mounted hero.
Not the Cisco Kid. It's been a few years since Chavez was a kid. But he is far too sharp to appear like Don Quixote. For one thing, the best Roxinante could ever muster was a slow trot. And Chavez likes to do "some serious loping" on Margarita.
A Western gentleman, yes. But he is no Lone Ranger. He is far too ebullient and loves people too much to be a "lone" anything. He is far too refined to be a John Wayne, too courtly to be a Clint Eastwood.
Maybe Victor Chavez might be more usefully compared with Teddy Roosevelt—a weekend "rough rider," and during the week a vigorous defender of the principles and the institutions he loves.