Metropolitan News-Enterprise
Monday, Dec. 31, 2001
_______________________
State Bar President Makes Her Mark With Tireless Devotion to Helping Others
By ROBERT GREENE, Staff Writer
Karen Nobumoto insists that she sleeps three or four hours a night, but that simply cannot be true.
Her colleagues on the State Bar Board of Governors routinely log on to the Internet early in the day to find e-mails from her with a time-stamp of 2 or 3 a.m. Late-night voicemail messages with her thoughts and ideas pour out of cell phones when they are turned on in the morning.
There are nighttime return flights from far-flung counties around the state, where she calls on lawyers to commit to public service, exhorts legislators to penalize unlicensed law practice, and urges students who might otherwise drift to target college, law school and a legal career.
During the day there are shorter trips, in her Infiniti with the CAL BAR license plates. More lawyers to reach, more public officials to speak with. There is no time for sleep.
Pressed on the subject, Nobumoto acknowledges that those paltry three or four hours of supposed sleep are virtually billable. For 12 years she would practice addresses to the jury while she slumbered, waking up to write down a particularly trenchant thought before lying back down to dream of closing arguments.
"I can think the trial in my sleep," she explains. "I can wake up writing notes. It's in my mind anyway so I might as well get up and write it."
Still a prosecutor but on leave from courtroom work during her year as president of the State Bar of California, Nobumoto now likely uses her sleep time to review her talks to her constituents.
Nobumoto ran for and was elected to the State Bar board in 1998, the year everything fell apart, with dues authorization vetoed by the governor, hundreds of staff laid off and bar leaders talking about relinquishing governance to hand-picked political appointees. But Nobumoto made it clear that she was not there to help dissolve the organization.
This year, with the State Bar's survival assured but with lingering questions about the organization's relevance, its governance and the relationship among its several parts, she was elected president.
There is no more talk of dissolution, and Nobumoto has won over skeptics who said governance was too esoteric an issue, and the board's relationship with the Conference of Delegates too touchy, to make any headway.
"When I say I'm going to do something it will get done," Nobumoto says. "I think everybody knows that now."
State Bar board member Scott Wylie, director of clinical programs at Whittier Law School in Orange County, put it this way in his Christmas card to Nobumoto. "You," he says he wrote to her, "are like a really cool ride at Disneyland. Never boring. Always exciting. Occasionally scary. And always worthwhile."
Nobumoto is the 2001 Metropolitan News-Enterprise Person of the Year.
Stories about Nobumoto, 49, can be roughly divided into two categories.
There is the serious, hard-driving prosecutor who puts bar activities and the interests of law students at the top of her agenda. This is the sleepless woman, the dedicated professional whose first thought on hearing of the Sept. 11 attacks on New York and Washington was "How can California lawyers help?"
Then there is the eccentric—the giggly, chattering, fun-loving, movie-collecting, exotic-pet-owning doll enthusiast who becomes the center of attention when she walks into any bar meeting. This is the woman who once, as an IBM sales representative, sang and tap-danced her way through a sample sales call at a national convention. This is the woman who even now threatens to end her year as State Bar president with an accordion serenade for her colleagues.
Most often, though, the two types of stories merge and the complete Karen Nobumoto comes through.
"We were working on some Langston program," Los Angeles Superior Court Judge John Meigs recalls, speaking of a time when he was a deputy public defender and Nobumoto was a new lawyer, brainstorming together on a program for the city's top organization for African American lawyers.
"She came to the door with a tree skink on her head," Meigs continues with a chuckle. "I guess it was some kind of pet. And my wife said, 'You're not bringing that into the house.' So it had to stay in the car. Karen didn't understand. She said she used to bring it to Barristers meetings and no one said anything."
The story is also told of the beloved spaniel, Dom Perignon, Nobumoto brought to State Bar meetings before some of her colleagues began to object.
The point of the story is not just the pets, both of whom remain fixtures in Nobumoto's home menagerie. It's also her reluctance to draw a line between her personal life and her professional one.
'Different Drummer'
Los Angeles County Bar Association President Roland Coleman, a friend from law school days, acknowledges that Nobumoto "follows a different drummer." But, he says, "she knows when to stay on the beat."
Today, as president of the organization to which each of the state's 175,000 lawyers must belong, Nobumoto leaves behind the animals when traveling around the state to keep in touch with local bar associations and to move them to action on behalf of the profession.
People who meet her for the first time are more likely to see the impassioned State Bar leader and miss the more off-beat side of her, but they still sense that they are seeing something new and different.
Earlier this month, for example, when she swept into Riverside for an annual joint session with the bar associations of the counties that make up the Inland Empire, lawyers knew immediately they weren't going to get another state-of-the-bar speech.
Encouraging Outreach
Nobumoto instead called on them to try out a "School to College" program launched by the Bar Association of San Francisco to provide mentors to students who, because of family and economic background, were otherwise unlikely to apply to college.
The students are sent to SAT preparation courses and taught interviewing techniques. Using frequent flier miles donated by lawyers too busy to actually use them, the students are flown to East Coast colleges and tour the Supreme Court.
The idea is not just to reach out to minority students who lacked the guidance and inner drive that she had. It's also to keep the legal system relevant at a time when the ranks of women and minority lawyers are far too small to reflect the numbers of women, and growing numbers of minorities, in the state.
"It's something we can do that doesn't take that much from us," Nobumoto told the assembled San Bernardino County and Riverside County lawyers.
They were impressed.
"She is such a good communicator," Redlands attorney Bryan Hartnell, a former San Bernardino County Bar Association president, says. "Instead of giving a speech, she said, 'Here's a program that's working in San Francisco. Be challenged.' And we certainly felt like this was something we could do."
The current SBCBA president, Esther Zimmerman, agrees, calling Nobumoto "one of the most genuine, unpretentious, sensible people I've met in a long time."
What sets Nobumoto apart from other State Bar leaders is "the caring part of it," Zimmerman says. "She found a program to help people and wants to see people make it work," Zimmerman explains. "She really seems to have a heart about the whole thing. For some people the office is more important than the function. With her it's the opposite."
'Rich' Upbringing
Nobumoto describes her upbringing as "rich," referring not just to her mixed ancestry but to the variety of life to which her parents exposed her.
The daughter of an African American schoolteacher mother and a Japanese American social worker father, she grew up a virtual only child given that her sister, Lisa—a jazz singer—is 11½ years her junior.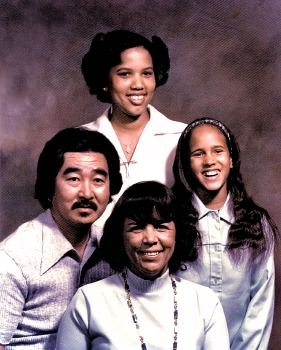 Karen Nobumoto, standing, is seen with her father, mother, and younger sister. Below is "little Karen," who had no thoughts on her mind of prosecutions or bar activities.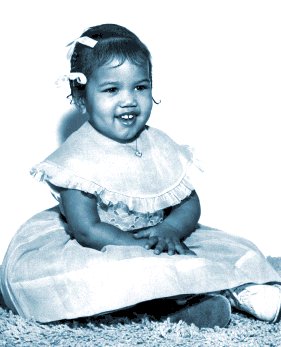 Born in Cleveland, she was raised in the Fairfax area of Los Angeles, a center of Jewish life where few of her friends and classmates were of African or Asian descent.
"I used to joke for a while that I wanted to marry a Smith or a Jones so I wouldn't have so complicated a last name," Nobumoto says. "But I was okay with it. It would be silly, when you're going to look like I look and have that name to walk around getting an attitude about it."
Karen had no problem either blending in or setting her own course. She excelled in school, and she exhibited a positive attitude.
"She was reared and trained to be that way," her mother, Lena Nobumoto, says. "She was taught that there is no mountain that you cannot climb. But you have to be persistent. She was taught that as a kid. I'm that way myself."
Her mother is clearly proud of her, but she says Karen was "a challenge."
"She's very strong-willed," her mother says, using a description that would find many attorneys and bar leaders nodding in agreement.
"She's determined," her mother says. "I did have to be persistent and rule with a firm hand. She wasn't a difficult child. But a challenge."
Dance Lessons
Nobumoto took dance lessons, especially tap, and she reports that she watched a lot of television.
"TV was my best friend," Nobumoto says, explaining her collection of hundreds of movies on videotape—movies she'll take out and watch when she wakes up at 3 in the morning without a trial the next morning or an e-mail to dash off.
It was through television, she says, that she became obsessed with playing the accordion. She watched the musicians on the Lawrence Welk show and knew she had to learn either the accordion, the xylophone or the harp.
"A lady would come to my house once a week until I was at least 17" and teach her to play the accordion, she says. "It's been a while since I've picked it up, but I'm sure I can still play."
Nobumoto graduated from Hamilton High School, then went east to attend the University of Hartford in West Hartford, Conn. She graduated in 1973, and wanted a change of pace.
"I was totally burned out with the East Coast thing," Nobumoto says, recounting travels that took her to Hawaii, where she managed a jeans store, then back to Southern California, this time to Orange County, where she became a preschool teacher.
She was the only nonwhite person most of the youngsters had seen, but she won them over by sheer force of her personality and her knack for celebrating all the holidays, teaching the Hanukkah dances her friends danced at Hamilton High, playing the songs on the accordion and singing all the words.
Then there was a period of time when she became the archetypical yuppie, working for IBM, marketing middle-sized computers. She was good at it.
But something wasn't right.
"I got sidetracked, frankly," she admits. "I was making good money. Life was good. I was living in Newport Beach, and then Laguna Beach. And then one day I was asked an interesting question. A friend asked me, if you never get married and never have children, what occupation would be most satisfying and fulfilling? I'm glad that person asked me that because as it stands, I am single and I have no children."
She decided she wanted to be a lawyer.
It was something her mother had wanted to do as well, but she was an African American woman living in Memphis before desegregation. Karen had the opportunity that her mother did not.
"I didn't pressure her to become an attorney," her mother says now. "In fact, her decision kind of shocked me. I wasn't expecting it at the time. But I was excited, I was elated."
Student Group Started
Enrolling at Southwestern in 1985, Nobumoto immediately became active in the legal community. She and a fellow student approached the president of the John M. Langston Bar Association about starting a student division.
That caught the attention of Langston member John Meigs, the deputy public defender who has since become a judge.
"It was unbelievable the amount of energy she had for a first-year law student who was also working," Meigs says.
Meigs recalls a mentoring program that Nobumoto helped create, and says one of the law students assigned to him failed to show up to their initial meeting. Meigs figured the student had been given his shot and if he didn't want it, so be it.
But Nobumoto told Meigs that the student was having academic problems and urged her deputy public defender friend to give the student a call. Meigs was skeptical, but he called, and he and the student arranged to have lunch.
They talked about the problems the student was having and developed a strategy to deal with it.
"He's now an outstanding lawyer," Meigs says. "If Karen hadn't taken me to the side and suggested I call, I don't know what would have happened to him. She recognized that he was having problems and she addressed it."
Roland Coleman, who together with Nobumoto and Earl Thomas of the City Attorney's Office started the mentoring program, said Nobumoto talked from the beginning about what she could do for the State Bar.
"It was very important to her to help minority law students and to provide diversity," Coleman says. "Other State Bar presidents have talked about the importance of diversity, but Karen has lived it and knows it, and she knows where to find the people and how to get them involved in things."
Coleman also takes note of the fact that Nobumoto gave up a lucrative career to become a public lawyer.
"She really cares about people," he says. "She could have made a lot of money selling futures, but she decided to get out of it. She thought it wasn't consumer-friendly. There was an inner conflict. She had too much concern for the well-being of people to keep doing it."
Nobumoto says she expected to become a public defender, but Meigs counseled her to try an internship at the District Attorney's Office to get some courtroom experience.
"What I discovered is that I adore working for victims," Nobumoto says. "That is so satisfying. I couldn't imagine being anywhere else."
First Law Post
Audrey Collins, now a federal district judge, was assistant director of central trials in the District Attorney's Office at the time and hired Nobumoto as a summer law clerk.
"She is just one of the most high-energy people I have ever met," Collins says of Nobumoto. "She was put on trials right away, and it was clear she was going to be a prosecutor. But it was also clear she had a vision of doing more. Even back then I think she knew what she wanted to do with the State Bar. There was always that ideal—to meld bar service with her career."
The day Nobumoto officially passed the bar in December 1989, Meigs swore her in and she became a full-time deputy district attorney.
She compiled an impressive record and garnered a reputation as a tough prosecutor.
District Attorney Steve Cooley calls Nobumoto an outstanding asset to his department, and he makes it clear that the two of them think alike when it comes to prosecuting unauthorized practice of law.
"This is an area I know Karen has a very strong interest in," Cooley says. "And you're going to see our office becoming a lot more aggressive in this kind of effort. It's pure unadulterated criminal fraud, and we're going to do something about it."
"These are not famous people," Nobumoto says of the people she prosecutes. "This is the guy who gets up every morning, puts his gun in his belt, puts his shades on, walks into the Burger Kings, the McDonalds, the 7-11s, the Sizzlers, and robs these people who are working there or are in there as customers. If I get one of them off the street for a period of time, and let's say there is a two-week spree and I have 40 or 50 victims, imagine how may people who are impacted because I got him of the street for 10 or 15 years. That's thousands. And so I just think it's extraordinarily important work. We ought to be safe."
State Bar Endangered
Interest in becoming active in the State Bar reached a nadir in 1998, as lawyers began to see the organization as a dinosaur nearing extinction. Even finding people to run for the Board of Governors was a challenge.
"It was a time," Meigs says, "that it looked like the State Bar was a sinking ship."
But Nobumoto says she saw an opportunity. She had just completed her tenure as president of the Langston bar, she served on the California Young Lawyers Association board, she was active in the State Bar Foundation, and she was on the Commission on Judicial Nominees Evaluations—the panel that rates judicial candidates to advise the governor.
"There were so many good things we as lawyers can do, and the State Bar often is the best vehicle for it," she explains. "How could you not want to get involved?"
She approached the group of Los Angeles bar leaders known as the Breakfast Club whose sole purpose recruiting candidates to run for the Board of Governors.
She and lawyer James Otto won endorsements for the two open seats and both were elected—but interest in the State Bar was by then so low that only 2,800 votes were cast by Los Angeles County lawyers, as compared with the 11,000 cast the year before.
The Board of Governors was still trying to keep the un-funded State Bar together, and was leaning toward a compromise negotiated by the organization's lobbyists and leaders in the Legislature to turn governance over to a panel of governors appointed by the Supreme Court, the governor and leaders of the Legislature.
To some, it was a natural move. After all, that's the way appointment of State Bar Court judges was to be done.
But Nobumoto would have none of it. Instead of bringing an exotic pet with her to the Board of Governors meeting, Nobumoto brought with her Los Angeles City Councilman Nate Holden.
It was a curious move. A non-lawyer city councilman has no role in State Bar activities, and some bar leaders were more than a little miffed.
But Holden was a friend, and Nobumoto knew that as a former member of the Legislature, he still had pull in Sacramento.
Whether it was because of Holden's lobbying, or other pressure applied by Nobumoto and those of like mind in the State Bar, the compromise was killed and representative membership on the Board of Governors was preserved.
Era of Rebuilding
By then, the political atmosphere had changed. Gov. Pete Wilson, the State Bar's biggest antagonist, was out, as were some of the organization's chief critics in the Legislature. A dues bill was passed, funding was returned to the organization, and Nobumoto and her fellow board members set about rebuilding.
In her three years on the board she never missed a meeting, even when she was involved in criminal trials and even when she was suffering from the flu.
The going was not always smooth. There were still questions about the Conference of Delegates, the annual assembly of lawyers who propose new legislation and occasionally raise the hackles of political observers.
The dues authorization had de-funded the conference, and not everyone agreed on whether to welcome the organization back into the State Bar family as an independent member.
Nor did everyone always appreciate the straightforward way Nobumoto made her feelings known on that and other topics.
Ray Marshall, the San Francisco partner at McCutchen, Doyle, Brown & Enersen who was president of the State Bar the year Nobumoto joined the board, says there was never any doubt about her enthusiasm or her motivation.
"She is very opinionated," Marshall says. "She has strong views. I think her heart was always in the right place."
Fellow board member Joe Hicks calls Nobumoto's style "much more direct" than that of past State Bar presidents.
"She is a little less concerned with political correctness," Hicks says. "There's a perception that she's not that political. Very direct. And that's kind of refreshing."
For someone with such a straightforward, off-the-cuff style, and such a long history of arguments before judges and juries, Nobumoto can appear uncomfortable addressing groups.
When she and four of her colleagues vied for the presidency of the now-revived State Bar, the others stood before the board and made extemporaneous remarks. But Nobumoto, slightly nervous, delivered a speech she had prepared and carefully rehearsed.
She took the opportunity to praise her opponents for joining with her in coming to the rescue of the organization during a time of "monumental crisis."
"All of us can go home to our constituents...with confidence and pride that we have in fact met the challenge and embodied the phrase, 'a job well done,'" she said.
Elected President
Nobumoto was elected on the fifth ballot after her colleagues eliminated, one by one, each of the other third-year board members.
She was immediately hailed as a pioneer. She was the first "public" lawyer and the first minority woman to preside over the organization, the first Asian, the second woman and the third African American.
For the first time in State Bar history, the election was held early enough so that Nobumoto would have six months as "president elect" to learn the ropes alongside President Palmer Brown Madden and to be prepared to take the reins in September.
But it was clear what the primary issues were going to be. The State Bar was under direction from the state Supreme Court to prepare a first-ever strategic plan, and a governance system left unchanged for decades was ripe for revamping. And there was the question of the relationship between the Board of Governors and the Conference of Delegates.
Nobumoto also retained her concern for spurring diversity within the profession.
Walking the halls of the Anaheim Hilton and Convention Center in early September during the hours before being sworn in, Nobumoto was giggling, chattering, pacing. She was nervous.
"My mother is driving me up the wall," she said to anyone who would listen. One got the idea that perhaps the feeling was mutual.
Then she took the oath from Chief Justice Ronald George and delivered her speech, and all of her shakiness disappeared. She was in her element.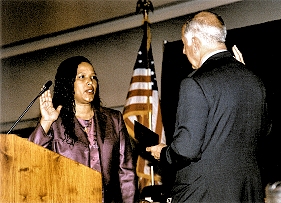 Karen Nobumoto is sworn in as State Bar president by Chief Justice Ronald George.
"I was so proud of her," District Attorney Steve Cooley says. "This is such a positive thing for our office, and for the State Bar itself. It goes beyond historic."
Formal Split Discussed
The Conference of Delegates, meeting that same day, had on its agenda a formal split from the State Bar, given the lack of support the larger organization was now providing. But members took a cue from Nobumoto, who urged instead that talks be held to discuss the relationship.
This month, after tedious but necessary structural moves like reorganizing committees and accepting a draft strategic plan, those talks began.
Former conference chair Laura Goldin, a San Francisco lawyer, says she knew what to expect.
"I'm used to working with Karen," she said. "Karen likes to have everything out there. There's no hidden agenda. There's no hidden anything. And I find that to be very honest."
Former conference chair Matthew St. George, a deputy Los Angeles city attorney, says Nobumoto earns high marks for her willingness to allow everyone to speak his or her mind, just as she does.
"She has a real open style," St. George says. "There are times when she speaks her mind, and that's important. Most of the time she just lets people talk. She doesn't foreclose things."
Scott Wylie, the Whittier Law School program director who sits on the Board of Governors with Nobumoto, predicts that she will be able to do almost anything "by sheer force of her personality."
But Wylie also notes that people see in her possibilities that they may miss in other attorneys leaders.
"One of my proudest moments ever was when I was able to hold up my legal newspapers in my law school class and show them the stories of Karen being sworn in," Wylie says. "Every night student, every part-time student, every returning professional, every woman and everyone with all of those differences including ethnicity can see that there is a place for them in the profession."
Resting at Home
Between the lobbying visits to Sacramento and the treks to visit county bar groups around the state, Nobumoto relaxes in her hilltop home in a woodsy section of Mount Washington.
In the back, there is a pool, although Nobumoto says that since she became State Bar president she hasn't had much chance to swim.
When she is in the pool, she admits, there's a good chance there's a phone in her hand.
Inside, at least when visitors are there, there is a constant cheerful sound of chirping from two parakeets and the friendly barks of Dom Perignon. Kiki, the skink, guards the door from her cage, and second skink, Blue, lives near the kitchen.
There is also a quiet box turtle, and a usually quiet chinchilla.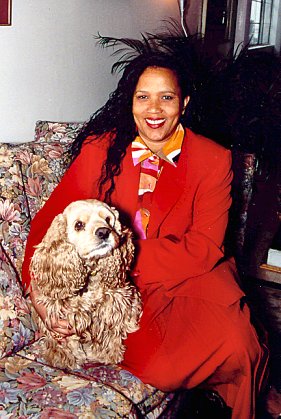 Nobumoto and Dom Perignon

In glass cases there are dolls in native costume, a more grown-up version of a childhood Barbie collecting habit. There are elephants with their trunks upturned—a good luck symbol that family and friends have given her in the form of vases and carvings. There is the wine collection, about 350 bottles strong, built over several years as Nobumoto joins wine clubs and participates in tastings.
There are the video movies, neatly alphabetized and, sometimes, available for lending. But Nobumoto is quick to detail stories of videos she lent out and never got back. She's still fuming, quietly, over the "Buckaroo Banzai" that was lent to an old boyfriend and the "Black Widow" that never came back.
Nobumoto sometimes collects just to collect. Some of the movies she never watches. She won't see "Private Ryan" or any of the "Halloween" movies because she doesn't like violence. But she has them, "to round out my collection."
Often, she says, she'll pull out a movie when she wakes up in the middle of the night. It is a medical condition, she says, and not just her endless drive that limits her to three or four hours of sleep a night. Sometimes the movie will lull her back to sleep. Sometimes not.
Still, she insists, she doesn't get tired.
"It took me about two years to get used to not sleeping," Nobumoto says. "Now it doesn't bother me. If I'm tired, it's because of all my activities. Being so involved wears on my body, but not my spirit or mind. I knew what I was getting into with the State Bar, and I look forward to it."