Metropolitan News-Enterprise
Friday, Dec. 29, 2000
_______________________
Accomplished Attorney and Politician, He Now Presses for Excellence
on the Bench
By ROBERT GREENE, Staff Writer
It was just a mid-year meeting of the State Bar of California, the kind that usually draws few participants. In fact, some sessions were canceled due to lack of interest.
But one conference room at the Costa Mesa hotel that hosted the March 1999 event was packed. The reason: at the head of the table was Burt Pines, judicial appointments secretary for newly elected Democratic Gov. Gray Davis.
Hundreds of lawyers, many of whom believed they had been shut out from possible careers on the bench during 16 years of Republican governors, hung on Pines' every word. What were he and the governor looking for? Was there a litmus test? Did only Democrats have a chance?
The responses would not have surprised those who have come to know Pines personally and professionally over the years. People who had seen him recreate the Los Angeles City Attorney's Office into an innovative, top-flight municipal law firm, who knew his work for clients during his two decades as a name partner in a Century City firm, who watched as he quietly worked through crises behind the scenes at City Hall when called on by officials years after he left government service—they knew the new appointments secretary would respond with his trademark blend of relaxed charm and concentrated intensity.
Everyone is judged on his or her merits, Pines said. There are no litmus tests. Avoid slipshod answers and grammatical errors. Neatness counts.
"I've always paid a lot of attention to good legal writing," Pines added. "It's a pleasure to read an application that's the product of good legal writing."
There was a clear undercurrent. Sloppy writers, sloppy thinkers, need not apply. Otherwise, consider signing up.
"With Burt Pines, what you see is what you get," his friend and former law partner Marshall Grossman says. "What you see is an extremely bright, intelligent, hard-working, fair-minded man who is totally committed to his state. He is one who insists on a high level of competency and intellectual capacity. Very careful and deliberate in decision-making."
Pines and Davis were criticized at first for being a little too deliberative in making appointments. July, 1999, which Pines predicted would bring the first appointments, came and went. Then August. September. The vacancies mounted.
But nine Superior Court judges were named in October, and the names have been coming ever since. The product of Pines' deliberate and meticulous review of applicants has been the appointment of, so far, 74 trial and appellate jurists.
They have earned near-universal acclaim for high quality and diversity. The trial bench's tilt toward prosecutors is slowly being corrected, but Pines has recommended some prosecutors and Davis has appointed them. The long drought of Democratic judicial appointments is over, but there continue to be Republicans selected as well.
Pines deflects plaudits for the selections and instead cites the high standards of Davis. But Davis called on Pines in the first place because he knew of his old friend's reputation for insisting on high standards. Those standards have won him public office, respect, admiration, and awards.
Pines is this year's Metropolitan News-Enterprise Person of the Year.
Move to Sacramento
Pines, 61, strides with obvious relish around the horseshoe-shaped hallway running through the governor's office on the first floor of the historic state Capitol in Sacramento.
He smiles as he points out the offices of Davis' other top lieutenants. Appointments chief Michael Yamaki, also a Los Angeles transplant. The legislative secretary next door. The legal affairs secretary across the hall. The communications secretary around the corner. The governor himself.
"I like being involved in the administration," Pines says. "It's fun knowing what's going to happen before everyone else does. I like being in the center of things."
You would think from the remark and the boyish enthusiasm with which it is uttered that Pines is still the ambitious USC student, who was awarded a debating scholarship and became president of the Trojan Young Republicans. Or the 20-ish assistant U.S. attorney intent on putting away the crooks and making a name for himself. Or the 30-ish private practitioner and novice Democratic activist who stormed City Hall three decades ago by ousting the 20-year incumbent city attorney.
But the enthusiasm is real, and that may be part of Pines' secret. He has poured himself into every task he has undertaken.
Temporary Sojourn
His current job, for example. At first, when Davis called on him to help lead his transition team after the November 1998 election, Pines made plans for a temporary sojourn to Sacramento before returning to his lucrative Century City practice at Alschuler, Grossman & Pines.
Then, when Davis asked him to stay on as judicial appointments secretary, he decided spending more time in Sacramento wouldn't be so bad, as long as he could shuttle back to his firm, his clients, his community leadership posts and his friends.
He could have done it, too. No law prevents it. But Burt Pines is not one to do anything half-way.
"Burt sought counsel from past judicial appointment secretaries," Marshall Grossman says. "Burt came to the conclusion that while he could continue to have a relationship with the firm of counsel, it would present an apparent or potential conflict of interest to do that. As is typically Burt's manner of doing things, he made a principled decision in the public interest."
So Pines and his wife, Karen, who had lived in the San Fernando Valley for decades, packed up and moved to Sacramento.
He explains that as he was working part-time helping Davis fill key spots in his administration, he "just became very enthused and excited" about the work, and about the chance to help the governor appoint new judges.
"And after a short time, I decided I'd like to be a part of this," Pines explains. "As I began to learn more about the position and the responsibilities, I realized that I could not do this job and continue in private practice. Besides, it's difficult to work out of Los Angeles. This is where my staff is. I wanted to be part of the administration. I didn't just want to be part of the L.A. office and hear about things later."
He says he and Karen also like the slower pace, the more courteous drivers, the water instead of concrete in the rivers.
The Pineses got themselves a place on the American River in Carmichael, a short drive from the Capitol. Burt Pines, as one might expect, has timed the transit carefully.
"It's 17 minutes to the office," he notes.
Brisk Pace
In retrospect, the pace of appointments to the bench has been brisk, compared with the number of vacancies filled in the first full year of then-Gov. Pete Wilson's term. But before Los Angeles Municipal Court Judge Jon Mayeda's promotion to the Superior Court was announced in October 1999, impatient observers and applicants were getting a little restless. Pines reminded all who would listen that Davis takes judicial appointments seriously and would not be rushed, but with numerous vacancies remaining in the governor's own office as well as on the bench, there was increasing pressure for action.
Then reports began circulating that Pines was grilling applicants over the death penalty. The rumor went that no one who opposes the death penalty could expect to be appointed.
Pines repeated: no litmus tests. But he also took pains to note that Davis insists on promoting public safety, a term observers took as code words for a death penalty litmus test.
The first appointments silenced the critics for a while. Mayeda was a safe and obvious choice, given his outstanding credentials and the simple fact that he would soon become a Superior Court judge anyway because of court unification. Few could quarrel with Morrison & Foerster partner Dennis Perluss, a former deputy general counsel for the Christopher Commission. For the waning days of the Los Angeles Municipal Court, there were Assistant U.S. Attorney Leslie A. Swain, former Los Angeles Police Commission President and interim inspector general Deirdre Hill, and Fourth District Court of Appeal senior attorney Richard Rico.
Moving Arthur Gilbert from Court of Appeal justice to presiding justice was neither surprising nor controversial, but simply solid. The elevation of Los Angeles Superior Court Judge Candace Cooper to the Court of Appeal was applauded.
Pines was congratulated. Davis was off the hook.
But only for a few months. The following February, on the heels of his comment that elected legislators were there to implement his vision, Davis told a gathering of governors that the judges, too, should expect to toe the line.
"They are not there to be independent agents," Davis was quoted as saying. "They are there to reflect the sentiments that I expressed during the campaign."
If they arrive at a conclusion that differs from the governor, he said, "they shouldn't be a judge. They should resign."
It was a shocking statement given the fact that judges are, of course, expected to be independent from the governor. Davis issued a retraction, but it was left to Pines to do the delicate soothing of ruffled feathers.
In a letter to the editor of the Los Angeles Times, in wording similar to letters sent to newspapers around the state, Pines wrote that Davis' goal to appoint was judges of the "highest caliber and integrity."
"On behalf of the governor, I conduct the interviews of the candidates," Pines wrote. "I probe their background and experience, their goals and aspirations, their reasons for wanting to become a judge, their judicial philosophy and their willingness to follow the law irrespective of their personal beliefs. I also seek to ascertain if the candidates have generally similar views to those of the governor, particularly his commitment to public safety."
Yes, Pines explains months after the flap, he does ask applicants about the death penalty and their willingness to impose it.
"This governor has a strong commitment to public safety," Pines says. "And I have to be comfortable that the candidates I recommend to him share that commitment. He does not want to appoint judges that are going to be soft on crime. I do ask them about their views on three strikes. And a host of other questions."
A quarter of a century ago, Los Angeles City Attorney Burt Pines might not have qualified for a Gray Davis judicial appointment. He staffed his office with the same types of people Davis now wants to see as judges—talented women, minority and gay lawyers, people of diverse backgrounds, idealistic thinkers and pragmatic achievers. But he opposed the death penalty.
Of course, that was the era in which Gray Davis was chief of staff for Gov. Jerry Brown, who appointed Rose Bird and other death penalty opponents to the state Supreme Court.
Pundits have written that Davis wants to avoid at all costs the public outrage spurred by the Bird court's steady rejection of death verdicts. That outrage resulted in the ouster from the bench of the late chief justice and two of her Brown-appointed colleagues.
But Pines' change of stance on capital punishment is not a result of political expedience. He cannot recall just when he changed his mind, but he says it was at least 20 years ago.
"I've just seen such horrible acts by human beings against other human beings that I just felt that people who chose to commit such acts would forfeit their right to life," Pines explains. "I'm a strong proponent of the death penalty."
Actually, Pines' death penalty stance may not have disqualified him after all, and his experience may hold a lesson for judicial hopefuls who will be asked if they can follow the law without regard to their personal qualms. Pines opposed the war in Vietnam, but as an assistant U.S. attorney he prosecuted draft evaders.
"I thought that was my responsibility," he explains. "That was the job that I had."
Mother Arrested
Any elected official gets his or her share of negative newspaper stories, but there is one headline that sticks in Pines' mind from his tenure as city attorney:
"Pines' Mother Arrested for Gambling."
He shrugged it off at the time. He's not his mother's keeper, he told reporters, and all law-breakers are treated equally. Besides, he knew all about his mother's penchant for card-playing.
There was no hint of embarrassment or shame.
But today, Pines acknowledges that as far back as he can remember, he wanted to rise above a background he calls "humble."
An only child, he lived with his grandparents in a small Burbank apartment. His room was a converted dinette. His mother, Ruth Pines, worked on airplanes for Lockheed during World War II, usually taking the night shift so she could be with Burt during the day.
Later she worked in sales, traveling with a crew of women selling pots, pans and similar items door-to-door. Still later, she managed a bridge club. The kind where money was wagered.
Early on, her interest in cards had led her to another gambler, Charles Landeau. They married, and Burt was born, but when he was just a year old the couple divorced. Burt's mother had her son's last name changed to Pines, her maiden name.
"I really didn't know my father," Pines says. "He was a gambler and a bootlegger. Not really interested in family."
But Pines resists being pegged as the child who strove to succeed to compensate for a less than ideal family life.
"There were many factors that played a part in that," he says. "It's hard to analyze one's psychology. I think early on I wanted to excel. To do something worthwhile. I think I wanted to go beyond my origins. Certainly in my family there was a stress on education. I've wanted to excel my entire life."
Los Angeles High School classmate Marshall Grossman recalls Pines as being a fairly serious student, interested in student government and perhaps a future in politics.
"We were friends," Grossman says. "But we didn't hang out in the same crowd."
Pines was elected student body president.
At USC, he debated and majored in philosophy. And there was that Young Republicans leadership post. It was 1960, not a time for young Republicans.
He jokes now that he doesn't usually admit to his old Republican affiliations, but that since 40 years have passed it may now be "okay" to mention.
Besides, he asserts, Republicans were more moderate in that era. And law school at New York University (full scholarship), during the Kennedy era, put an end to his Republican days anyway.
Federal Prosecutor
On graduation in 1963, the offers flooded in from the big firms, but Pines had spent a summer clerking at a New York firm and he knew he wanted something different. He wanted courtroom time. So he accepted an offer from the U.S. Attorney's Office for the Southern District of California, which was the name then of the federal prosecutor's office headquartered in downtown Los Angeles.
But first there was the bar exam. He got himself an apartment on Sycamore and Beverly to study, but he took a shine to his upstairs neighbor, a young lady who had moved to California to escape the Ohio winters.
When the neighbor would come home from work and Pines needed a study break, he would tap on the ceiling with a broomstick. Two stomps in response mean "I'm busy." A single stomp meant come on up.
Despite the distraction, Pines passed the bar, and he and Karen married.
Meanwhile, he got his courtroom time—35 jury trials in just under three years. The office covered San Diego and Imperial counties as well as Los Angeles, and he and his 17 colleagues occasionally rode circuit to places like Fresno. He prosecuted car thieves, check forgers, bank robbers.
"As I look back on my career, I think that some of my greatest days were in that office," Pines recalls. "There was an esprit de corps. We all felt we were on a mission to protect the public."
In a sense, Pines' boss was Robert Kennedy. But it wasn't until he left the U.S. Attorney's Office in 1966 to join Kadison & Quinn that he became interested in Democratic Party politics. That's when he befriended a Van Nuys lawyer named Chuck Manatt.
Manatt suggested that Pines get involved in the 1969 John Tunney for Senate campaign, and he took the advice and threw himself into it. He wound up co-chairing the speakers committee with another political novice—Gray Davis.
The Kennedy-esque Tunney toppled incumbent Sen. George Murphy, and Pines then helped get Manatt elected chairman of the state Democratic Party. Pines became counsel to the party, and cemented the contacts that made his 1973 challenge to veteran City Attorney Roger Arnebergh possible.
Arnebergh had been virtually handed the office in 1953, when incumbent Ray Chesebro announced his candidacy for a sixth term, scaring off challengers, then whispered to Arnebergh that he should file. Arnebergh filed, Chesebro dropped out and endorsed him, and Los Angeles didn't see a real election for city attorney for another 20 years.
Smaller Firms
Meanwhile, Pines had moved around a bit. When Kadison & Quinn merged with another firm to become Kadison, Pfalezer, Quinn & Rossi, it became—with 14 lawyers—too big for Pines' taste. He set up a litigation practice on the Westside with Schwartzman, Greenberg and Finberg, then later formed Dunn & Pines with now-Superior Court Judge James R. Dunn.
"I enjoyed private practice and felt proud that I made it on my own," Pines says. "I felt that this wasn't enough in life. I felt that I wanted to make a contribution. I felt city attorney was an office I could win if everything went right. If things broke right."
Things broke right. Arnebergh's office was fairly low-profile. A Pines poll showed that only about 25 percent of residents recognized his name—but the majority thought he was doing a bad job!
Then there was the growing Watergate scandal, and a general dissatisfaction with incumbents. There was a weariness of Mayor Sam Yorty, and a feeling that it was now time for African American mayoral candidate Tom Bradley.
Pines notes, too, that the Los Angeles Times decided to cover his campaign. Plus he benefited from the expert campaign piloting of Bob Thomson, who went on to become his chief deputy. He got help, too, from Manatt, who offered his expertise.
"It was very clear to me that timing is almost everything in politics," Pines says, "and the timing was right."
Having won the office, Pines set about reorganizing it from top to bottom. Gay lawyers, for the first time anywhere, were welcomed into the fold. As Bradley opened city commissions to women and minorities, Pines did the same in the City Attorney's Office.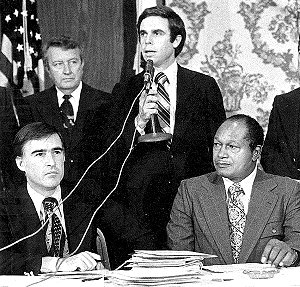 Pines addresses a crowd during is days as city attorney of Los Angeles. Seated are, from left, Gov. Jerry Brown and Mayor Tom Bradley.
He cites with pride some of the young lawyers who helped him put the office together. Aileen Adams, now Davis' secretary of secretary of State and Consumer Services. Mary Nichols, secretary for resources. Peter Dunn of Korn/Ferry.
And a host of judges—Dion Morrow, Judith Ashmann, Sally Disco.
"The salary spread was not that great between what we could hire people at and what firms were paying," Pines explains. "We wanted to create the best public law office in the country. There were not the opportunities for women and minorities in the private sector that there are today. We were the beneficiary of that."
It was also a time when the city had money in the budget. Pines set up a consumer fraud section, an environmental protection section, a hearing officer program in which paralegals handled citizen complaints against police.
Then as now, Pines was meticulous, deliberate. But he showed he could also move. Leading a crew of television cameras, he stormed a slum apartment to crack down on code violations that were forcing tenants to live in squalor. He brushed aside Police Chief Ed Davis' insistence that criminal complaints against his officers be pursued only administratively.
"We could not have a different standard for police officers from everybody else," Pines explained. "This did not ingratiate me with the rank and file."
Burt and Karen Pines had three young children, sons Adam and Ethan and daughter Alissa. Adam Pines, now a lawyer at Manatt, Phelps & Phillips, the firm started by Manatt and the former home of ex-senator Tunney, remembers visits to his father's office.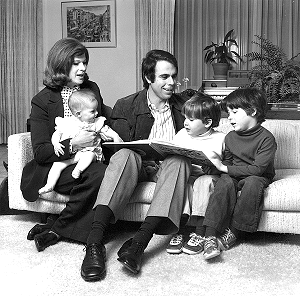 Los Angeles City Attorney Burt Pines relaxes at home with his family. From left are wife Karen Pines, daughter Alissa, and sons Ethan and Adam.

"It always looked like fun," he recalls. "As I got older, I liked the way he got along with people. I liked the way people treated him. Although parties got to be a hassle, because we had to wait while he talked to everybody."
A concern for family life led the Pineses to move to Shadow Hills, the horsey country in the Northeast San Fernando Valley. There they rode horses and cared for chickens, peacocks, sheep and rabbits. The kids mended fences. They would take weekend family horseback rides. They lived the semi-rural life a half-hour's drive from City Hall.
Family remained important to the man whose own father walked out when he was an infant. Pines reserved Sundays for family, even when he sought the Democratic nomination for attorney general in 1978. Supporters urged him to give up the family time to focus on the tough fight against Yvonne Brathwaite Burke. But he wouldn't do it.
Perhaps because of his Sundays off, perhaps because Burke raised a two-year-old incident in which a Pines deputy authorized the shredding of several tons of police records, Burke came from behind to win the nomination. She was defeated in the general election by George Deukmejian.
If politics meant giving up family time, Pines had had enough of it. He had promised to stay only two terms, and although he was lauded for the job he did doing those eight years, he was more than happy to keep the promise.
"I felt that I had made a contribution and accomplished much of what I wanted to do," Pines says. "I also felt that after two terms there ought to be a change. I decided not to go on to pursue other elective offices because I was not prepared to pay the price in terms of my family life."
After leaving office, Pines took his family on a road trip of national parks around the West.
Grossman Calls
Heavily courted by firms all over Los Angeles even before leaving office, Pines heeded the invitation of his old high school friend, Marshall Grossman. Alschuler & Grossman was a small but prominent Century City firm. Alschuler, Grossman & Pines became a Los Angeles powerhouse.
"Burt selected to join a smaller firm because he enjoys the camaraderie and professional relationships," Grossman says. "He brought a broadening of the face of the firm. We were able to distinguish ourselves in an area other than commercial litigation."
Pines cemented relationships he had built over his career and became counsel to Korn/Ferry, United Airlines, U.S. Airways, and other corporate giants. He took his place in the leadership of the Greater Los Angeles Chamber of Commerce. And he kept his contacts at City Hall.
Then-City Administrative Officer Keith Comrie remembers working closely with Pines on various crises and developing a deep respect for him.
"He's like the old Dr. Kildare," Comrie says of Pines. "He has a very nice manner about him. But he's very intense. Extremely knowledgeable."
When Comrie became engaged, several years after Pines left office, he and his financee had no doubt whom to call to perform the ceremony. They got Burt Pines.
"Apparently ex-public officials can be certified for a day to perform marriage ceremonies, and my wife and I were unanimous," Comrie says. "We knew Burt Pines would have the best sense of humor for a second marriage. So he did it."
His City Hall ties also were of a more official kind. He advised Mayor Richard Riordan on a number of issues. He counseled the mayor during the flap over Police Chief Willie Williams' rebuke by the Police Commission for half-truths about gambling trips to Las Vegas. He headed in inquiry into the actions of top Riordan aide Michael Keeley, when Keeley overstepped his bounds by sharing litigation strategy with the city's opponent. Other roles were more, as Riordan puts it, "below the radar."
"He's someone I've always been able to turn to for advice," Riordan says of Pines. "He has a great deal of experience and remains a valuable asset to the city."
Pines has not always seen eye-to-eye with the current mayor, however. When Riordan pressed charter reformers to replace the elected city attorney with an appointed counsel and an elected prosecutor, Pines lobbied hard for keeping the office as-is.
Davis Supporter
Although retired from public life, Pines remained politically active. He was a staunch supporter of Davis as a candidate for the Legislature, lieutenant governor, and governor. So it was no surprise, really, that Davis called on him to join the administration.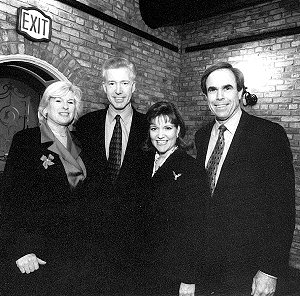 Socializing are First Lady Sharon Davis, Gov. Gray Davis, Karen and Burt Pines.
To take the sting out of leaving Los Angeles, he got a place in Paradise Cove for the occasional weekend trip home. But he says he and Karen Pines spend more and more time in Sacramento, working during the week, horseback riding on the weekends.
Karen Pines, a marriage and family therapist in the San Fernando Valley, landed a part-time counseling job at American River College, counseling welfare recipients transitioning to work. Then Davis appointed her to the to Behavioral Sciences Commission, and the Assembly speaker appointed her to the Commission on Aging. She became an adjunct professor at Cal State Sacramento.
Burt Pines is absorbed in judicial appointments.
"I really like this job," he says, noting that he has the opportunity to meet so many people who have risen so far from such—there's that term again—humble origins. He has recommended, and Davis has appointed, judges from all socio-economic backgrounds and walks of life. But the ones Pines mentions are the children of Japanese American internment camps, the children of migrant farm workers, and the others who have risen above their backgrounds.
In the interviews, Pines says, he likes asking people about themselves. He wants to get a feel for who they are, how they think.
Patricia Schnegg, the former Los Angeles County Bar Association president who was appointed to the bench earlier this year, says Pines is true to his word. No litmus tests.
"There was really a wide ranging discussion of a variety of topics," Schnegg says. "It came through that he takes his job very seriously. I didn't feel there were any right or wrong answers, that it was more of an exchange than anything else."
But, she notes, it's also clear that he is meticulous. He did his homework.
"He knew your PDQ through and through and he didn't have to refer to it," she says.
Several weeks ago, Pines took part in the Women Lawyers of Los Angeles program on "How to Become a Judge." Again, hundreds of prospective judges crowded into the room just like at the forum Pines first conducted for the State Bar in March 1999, before Davis had sent any names to the Judicial Nominees Evaluation Commission.
This time, there was a track record. More than 50 appointments. But the message was the same.
"This is a merit-based system," he said. "It doesn't matter if you donated to the governor."
No litmus tests. But remember, the governor is a moderate with a strong commitment to public safety.
"He's more likely to appoint people who reflect his views than not," Pines told the crowd. "That's what governors do."
And another thing. Neatness counts.
"I've been in practice a long time and I do give a lot of attention to detail," he said. "I can't help but be concerned when I see applications replete with grammatical and spelling errors. I don't know why we have applications with spelling mistakes. Please give this your best shot."