Aug. 13, 1999

Page 6

PERSPECTIVES (Column)
Burton Bach: Jurist, Journalist and Friend
By ROGER M. GRACE
I'm going to miss Burton Bach. The former Los Angeles Superior Court judge died Saturday following triple bypass heart surgery on July 22.
Burt was fun to be around. He was opinionated, irrepressible, irreverent, and unconventional. And he was witty.
I met Burt when he was a lawyer. When this column moved to the MetNews from the Los Angeles Daily Journal in 1977, Daily Journal Publisher Bob Work (since deceased) hired Burt to fill the space. Burt always lorded it over me. His "Bach's Score" commanded the lofty sum of $25 a column, while my scribblings had only drawn $20 each.
You always knew where you stood with Burt. Unfortunately, I got on his bad side when he was challenged for election in 1986. He ran some campaign ads right before the election that were literally true, but which I thought were deceptive. I parodied them in a column that ran on election day. My wife and I were expecting him at our home that night for an election party, but he and his wife, Leigh, didn't come. For eight years, Burt didn't speak to me.

But I telephoned him at home in January, 1995 when I learned he had been assigned to Norwalk and refused to undertake the daily drive from his house in San Bernardino in light of his heart condition. He took the call, and appreciated being able to tell his side of the story.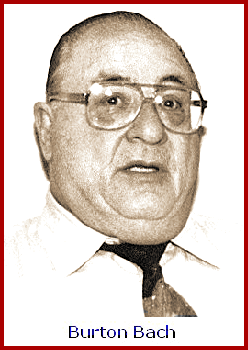 Soon after that, he retired from the bench. Our friendship resumed as if there had never been a gap in it.
Actually, though Burt had been steamed at me, I never had any ill feelings toward him. It's impossible to get sore at someone like Burt. He was a non-phony. The feelings he expressed were the feelings he actually had. He was a person with whom you could disagree, but whose sincerity was never in doubt.
The presiding judge who assigned Burt to Norwalk was Gary Klausner. Burt told me in 1995 that he would run against Klausner in 1998. He did. While Klausner may not have handled the matter of the transfer with the greatest of sensitivity, he was a respected and dedicated judge. With apprehension that it would again mean a gap in our friendship, I told Burt that in good conscience, I could not write an editorial endorsing him. He said he said he didn't expect me to.
After I told Burt I would be having lunch with Klausner, he sent me a letter. Scotch-taped to it were two Rolaids. Yeah, that was Burt.

The fatal shooting in March of Los Angeles Superior Court Commissioner George Taylor outside his home in San Bernardino cannot be described as other than a tragedy, and tragedies are not apt to give rise to humor. But humor was so much a part of Burt Bach, that it was his gift to find some ray of humor in just about any situation. He sent me a letter last March with a copy of a Jan. 23, 1995 missive from Klausner attached. It urged Bach to acquiesce, and report for work in Norwalk. Klausner suggested:
"...I am informed that Commissioner George Taylor, who is currently assigned to the Southeast District, lives in Rancho Cucamonga and I am assuming passes by your location on his way to work. It may be possible for both of you to car pool into work together."
Burt commented in his hand-written letter:
"Attached is another of Klausner's great ideas I'm glad I didn't buy into."

A couple years ago, Burt resumed his "Bach's Score" column, appearing on a sporadic basis in this newspaper. His last column was published on June 24. It was headed, "DiMaggio Held the Hearts of a Generation," and was a tribute to baseball great Joe DiMaggio.
The column began:
"Getting old? Not me! I'm still a kid, an ingenue, a bar mitzvah boy. At least, that's how I saw myself—until something that happened about two months ago. It was then I realized that I can't have practiced law for 47 years and still be 39 years old.
"What was the event that did me in? It was the death of Joe DiMaggio!"
Burt ended off his final column by commenting:
"But to those of us who were really youngsters during his early Yankee years, there never was, or would there ever be, a sports hero the equivalent of Joseph Paul DiMaggio. So when he passed away a few months ago, I guess I began to feel my age. It just seems that as long as he was alive, I was still a kid!"
Burton Bach died (on his mother's birthday) at the age of 69. Many, at 69, are old. Burt was too zesty, too invigorated by life and by people and by the humor he discerned in daily affairs, to be old.
In many ways, at 69, he was "still a kid," a Tom Sawyer with a bit of an impish streak, who had no aspirations of being teacher's pet. He was too young to die.



SUPREME COURT AFFIRMED: The seven members of the California Supreme Court will no doubt be beaming today. An opinion of theirs was affirmed yesterday by the Court of Appeal for this district.
In 1990, the high court held in Prudential-LMI Com. Insurance v. Superior Court, 51 Cal.3d 674, at 678, that the one-year period for bringing suit on an insurance policy commences on the date of loss, but that "this limitation period should be equitably tolled from the time the insured files a timely notice, pursuant to policy notice provisions, to the time the insurer formally denies the claim in writing."
That wording is hardly ambiguous. There is no room for doubt as to whether the insurer's denial of a claim, to be effective for the purpose of ending the tolling, need be in writing. The court, in its opinion by then-Chief Justice Malcolm Lucas, said the tolling period comes to a halt when "the insurer formally denies the claim in writing."
Yet, the Court of Appeal, in a published portion of its opinion, has assured all who are uncertain as to the meaning of Lucas' opinion that the words "in writing" really were supposed to be there, and that Lucas didn't just stick them in through inadvertence.
"The question we must decide is whether the Prudential court meant what it said when it held that the one-year statute was tolled "to the time the insurer formally denies the claim in writing," Justice Ramona Godoy Perez wrote in her opinion for Div. Five.
"We...choose to take the Supreme Court at its word" in saying that the denial must be in writing, the jurist announced.
High court members are surely relieved to know that Godoy Perez did not "choose" to disregard words in their opinion, but rather, chose to back their opinion up.
Of course, it would have been more interesting to report if Div. Five had "chosen" to snip some words out of Lucas' holding, finding that it didn't really make sense to require a writing.
Godoy Perez' ruling in Aliberti v. Allstate Insurance Company will appear in tomorrow's Slip Opinion Supplement.



SEXIST GAFFE: I'm constantly jarred by the impertinence of appellate court justices in referring to adult parties by their first names. It's typical in divorce cases. If Ralph Smith and Sandra Smith are parties, reference will be made—presumptuously, in my view—to "Ralph" and "Sandra," rather than to "Ralph Smith" and "Sandra Smith."
The opinion in Aliberti is both presumptuous and sexist. It refers to the plaintiff, Orlando Aliberti, as "Aliberti." It refers to his daughter, Elaine Aliberti, as "Elaine." Given that she negotiated with the insurer on her father's behalf, it may be inferred she was not a kiddy.
A footnote explains: "For ease of reference, we will refer to Elaine Aliberti as 'Elaine.' "
I submit that Ramona is wrong in thinking that "ease of reference" justifies her familiarity in referring to an adult female—whom we must assume is not an personal acquaintance of hers — by her given name. This is especially so where she refers to an adult male in the same opinion by his surname.
Copyright 1999, Metropolitan News Company