Thursday, December 12, 2002
Page 18
REMINISCING (Column)
L.A.'s VHF Stations, in a Nutshell
By ROGER M. GRACE
Over the past several weeks, I've recounted the histories of some of the area's VHF (very high frequency) stations. The following is an overview of all seven of those stations.
As of 1948, there were four television stations on the air in Los Angeles. They were:
•KTSL, Channel 2. This was the station which Don Lee started Dec. 23, 1931 under an experimental license, as W6XAO. It gained commercial status on May 6, 1948, and became an affiliate of the Du Mont network in October.
•KTLA, Channel 5. Paramount Pictures launched the station in September 1942. On Jan. 9,

1947, it gained temporary authorization to operate as a commercial station, and at 8 p.m., Jan. 22, the erstwhile experimental station W6XYZ signed on as KTLA. Its inaugural show was from the Paramount lot, with Bob Hope as the emcee. He botched the call letters of the station in his opening line: "It's a great thrill to be here on this wonderful initial broadcast of station KTL." While Channel 2 is the nation's oldest television station west of New York, KTLA boasts being the oldest commercial station west of the Mississippi.
•KFI-TV, Channel 9. This was auto dealer Earle C. Anthony's station. The starting date is listed in various sources as Oct. 6, 1948. Actually, it

went on the air a tad earlier. The issue of Radio and Television Life for the week of Oct. 17, 1948 reported: "KFI-TV, although telecasting since August, 'opened officially' Wednesday, October 6, with a cluster of stars of screen, radio and stage on hand." The actual date when operations began appears to have been Aug. 25, 1948. Anthony also owned an AM radio station with the call letters "KFI," which was an NBC affiliate. In apparent expectation that KFI-TV would become an NBC Television affiliate (which was not to occur), the first shows aired on Channel 9 were kinescopes of NBC programs.
•KLAC, Channel 13. Sept. 17, 1948 is the date of birth of this

independent station. Its first program, at 8:15 p.m., was a football game from the Los Angeles Coliseum. The station was owned by KMTR Radio Corp. At that point, however, there was no "KMTR" radio in Los Angeles. Dorothy Schiff, owner of the New York Post, had purchased Hollywood radio station KMTR in 1946 and renamed it KLAC, the "LAC" standing for "Los Angeles, California."


To see a TV log for the programs of those four stations for the week of Oct. 17-23, 1948, published in "Radio and Television Life," CLICK HERE
Missing from the L.A. dial until 1949 were stations of the CBS, NBC, and ABC networks. That year, all three of these New York-based networks began broadcasting from Hollywood studios to the rapidly growing number of viewers in this area. These stations were launched: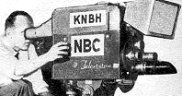 •KNBH, Channel 4. One of the many ironies in the history of local television is that the National Broadcasting Company, whose parent, RCA, had been experimenting in television broadcasting since the 1920s, and had the first regularly scheduled series on interconnected stations in 1946, was next to the last to go on the air here, starting Jan. 16, 1949.
•KECA-TV, Channel 7. This ABC owned and operated station went on the air on Sept. 16. "ECA" stood for Earle C. Anthony. Why in the world would the ABC-owned station pay tribute to the owner of KFI-TV, a rival, independent station in the same broadcast area? It happens that Anthony in 1929 founded KECA radio; KFI became an affiliate of the "NBC Red" radio

network, KECA hooked up with "NBC Blue"; the FCC decreed that Anthony could not own two radio stations in the same area, so he sold 5,000-watt KECA to NBC while retaining 50,000-watt KFI; ABC acquired radio station KECA in 1944 (as part of its purchase of the Blue Network from NBC) and maintained those call letters. It simply gave its new TV station the same moniker as its radio station.
•KTTV, Channel 11. The first show it televised was the Rose Parade, New Year's Day, 1949. It was a CBS outlet, but CBS had only a 49 per cent interest in it. It was controlled by Times-Mirror.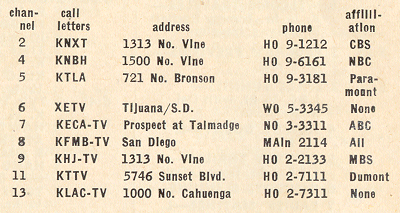 Line-up of stations from July 4-10, 1953 issue of "TV Time."
During the first half of the 1950s, there were several changes:
•Channel 2. The "musical chairs" game of 1951 was previously detailed here. Channel 2 became a CBS owned and operated station, with the call letters "KNXT."
•Channel 4. On Oct. 19, 1954, it became KRCA. Radio Corporation of America owned the NBC network.
•Channel 7. On Feb. 1, 1954, the call letters were changed to KABC.
•Channel 9. It became KHJ-TV on Sept. 6, 1951. A subsidiary of RKO bought the TV station from Earle C. Anthony, and had acquired KHJ-AM and KHJ-FM from the the estate of Thomas S. Lee. It made more sense for Channel 9 to use the same call letters as its own radio stations rather than Anthony's radio station.
•Channel 11. After CBS sold its interest in the station to Times-Mirror, KTTV aligned itself for awhile with Du Mont, then became an independents station on April 1, 1954.
•Channel 13. "Lucky Channel 13" was sold to The Copley Press in 1954, and call letters were switched to KCOP. At station identification, the call letters were accompanied by a drawing of a Keystone Cop.
And since then…
Channel 4 became KNBC on Nov. 11, 1962, Channel 2 was redesignated KCBS on April 2, 1984, and Channel 9 took on the call letters KCAL on Dec. 2, 1989. KCAL is the only station on the VHF dial not serviced by a network — though it is owned by one, having been purchased in May by CBS. KTLA, Channel 5, belongs to the Tribune Company and is an affiliate of Warner Brothers. KTTV, Channel 11, is an owned and operated station of the Fox network. KCOP — which once billed itself as "that very independent Channel 13" — is also owned by Fox, and is an affiliate of UPN.

Copyright 2002, Metropolitan News Company