Thursday, November 7, 2002
Page 22
REMINISCING (Column)
Allen B. Du Mont, Scientist
By ROGER M. GRACE
The Du Mont television network—with which Los Angeles television Channels 2, then 11, and, in the end, 9 were affiliated—was founded not by an entrepreneur but by a scientist. He was Allen B. Du Mont, inventor of the first commercially practical cathode ray tube (CRT)—that is, the picture tube in TV sets (now also used in computers).
Born January 29, 1901, in Brooklyn, Du Mont was stricken by polio when he was 11, and spent about a year in bed. His father bought him a radio. He studied it; learned the principles of radio; and built his own.
Du Mont earned his Bachelor of Science degree from Rensselaer Polytechnic Institute in New York in 1924, majoring in electronic engineering. He went to work for the Westinghouse Lamp Company which made radio tubes, becoming the engineer in charge of production. Four years later, he got a job with Lee De Forest, serving as chief engineer and vice president of De Forest Radio Company, at first concerned with radio development, later with experimentation in television. In 1931, he founded his own company, Allen B. Du Mont Laboratories, operating on a shoestring out of his garage.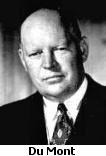 Just as Edison did not invent the light bulb—bulbs existed, but would burn out quickly, unlike Edison's brainchild—Du Mont did not invent the cathode ray tube (the creation of a German scientist in 1897). But Du Mont did figure out how to make it durable. His tubes lasted thousands of hours and could be produced cheaply, while the predecessor bulbs, manufactured in Germany, lasted only 25-30 hours, and were expensive. Ironically, the three national television networks which outlasted Du Mont's could not have come into existence had it not been for Du Mont's cathode tube rendering the television set a marketable device.
A previous column told of how Don Lee's experimental station in Los Angeles, W6XAO, sent diagrams to would-be television viewers (then dubbed "lookers") in the 1930s, so they could build their own sets. It was Du Mont's company that was apparently the first to put TV sets on the market in a meaningful effort. That was in 1938. Its sets, through the years, were the best—but by the early 1950s, sets of lesser quality, that were cheaper, became more popular.
Branching out, Du Mont became a broadcaster. In 1941, he founded experimental television station W2XWV in New York which, when it soon after became a commercial station, took on the call letters WABD— "ABD" standing for Allen B. Du Mont.
During World War II, television expansion was on hold; after the war, Du Mont started experimental station W3XWT in the District of Columbia which, in November 1946, became WTTG. It was when WABD and WTTG were electronically linked in 1946 that the Du Mont network was formed, and embarked on head-on-head competition with RCA's NBC.
A Du Mont ad in the Radio Annual-Television Yearbook for 1951 bore the Du Mont logo, followed by the words, "20th year as television pioneer." Here's the text:
The story of television in those twenty years is the story of Dr. Allen B. Du Mont, President and Founder of the Allen B. Du Mont Laboratories, Inc.

First in development. It was Dr. Du Mont whose research, begun in 1931, changed the cathode ray tube from a laboratory curiosity into a practical television picture tube.

First in radar. It was Dr. Du Mont's work, on which he applied for patents in 1933, that was developed in military secrecy to provide radar.

First in fine receivers. Du Mont built the first home receivers in 1939. Many are still in use. Du Mont was first to offer a fine line of post-war receivers.

First television station. Du Mont established the first really equipped, regularly operating station, WABD, New York City, in 1944.

First television network. In 1946, Du Mont opened the first television network, Station WABD, New York City, to Station WTTG, Washington D.C.

First in daytime television. Du Mont inaugurated the first regular day-time programming in 1948.

First with the big tube. Du Mont was the first with the 19-inch tube, the first with the giant 30-inch tube, producing the world's largest direct-view television receiver.

First in station equipment. Du Mont has planned, designed and built many of the nation's leading stations — and the high-fidelity electronic equipment used for telecasting.

First in precision electronics. Du Mont is the world's foremost maker of scientific precision instruments utilizing the electronic cathode ray tube.

World's largest cathode ray tube plant. The Du Mont plant at Clifton, New jersey, is the world's largest cathode ray tube manufacturing plant.

The name "Du Mont" is on every milestone in the short but eventful history of television. Du Mont has the experience, the know-how, the facilities. In television broadcasting, network or local, program or spot, it pays to talk it over at Du Mont first.
Copyright 2002, Metropolitan News Company