Thursday, March 20, 2003
Page 14
REMINISCING (Column)
Lloyd Thaxton Goes National
By ROGER M. GRACE
Just as those of the graying hair set tend to associate Sheriff John [Rovick] and Engineer Bill [Stulla] with their childhoods, many think of Dick Clark and Lloyd Thaxton in connection with their teen years.
Clark on Aug. 5, 1957 brought his local Philadelphia show, "Bandstand," to the ABC-TV network as "American Bandstand," where it endured for 30 years.
Thaxton may be thought of by Los Angeles viewers as a local boy who made good. He took his KCOP dance show, aptly titled "The Lloyd Thaxton Show," into national syndication in September, 1964, via videotape—and MCA sold it in 127 markets.
A few stations called upon Thaxton to make the show more sophisticated. It including lip synching and goofing off.
"I never changed what I did," he told me in an interview.
At first on the syndicated show, he would identify the particular high school from which the teenagers had come, just as he had done when the show was broadcast only in Los Angeles. Thaxton remembered that it was an executive at the New York station that carried the show who admonished him:
"I want this to be my show. So I don't want you to mention Hollywood or the high schools."
He complied. As a result, he related, people will come up to him and remark, for example: "I watched you when you were on in Cleveland," thinking that what they saw had been a local show.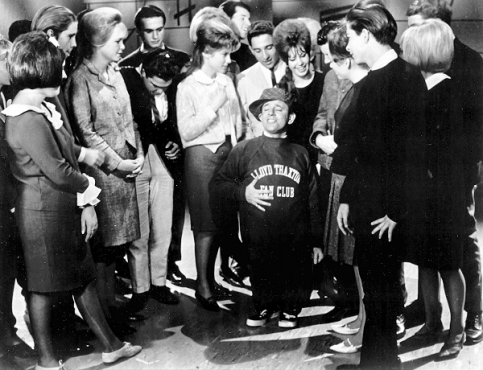 Thaxton is seen with teenagers from a local high school on "The Lloyd Thaxton Show"

Top recording artists of the day, such as Jan and Dean, The Statler Brothers, The Turtles and the Monkees, made guest appearances.
A colleague of mine saw last week's column on Thaxton and advised that he had first heard of the TV show host in a 1983 song by the Go-Gos, "Beatnik Beach." One stanza is:
"The gang they'll all be there.
"Join the fun and don't be a square.
"We'll lipsync a go-go
"Just like the Lloyd Thaxton show. Yeah."
Thaxton had a role in the 1964 Jerry Lewis movie, "The Patsy," playing a disc jockey. Other local personalities were also in the film: Bill Leyden (who had hosted movies on KTTV), Del Moore (who had done the same, and had earlier played Alvin, the husband, on KCOP's "Life With Elizabeth" starring Betty White) and Dave Willock, who had been teamed with Cliff Arquette ("Charlie Weaver") on an early 1950s comedy show on KNBH (now KNBC).
The next stop in Thaxton's career was ABC. From Feb. 6, 1967 to Dec. 29 of that year, he was emcee of network's daytime show, "Everybody's Talking." Clips were shown of person-on-the-street interviews, and celebrity contestants tried to guess what they were describing.
Ironically, a personality who had tried out as emcee but got a consolation prize as announcer was Wink Martindale, who had been a rival of Thaxton in the L.A. market for viewership of teenage rock 'n' roll aficionados. He hosted "Teenage Dance Party" on KHJ-TV, Channel 9, later on KCOP. (Martindale went on to become quizmaster on other network game shows, including "Gambit" and "Tic Tac Dough.")
Thaxton hosted another ABC game show, "Funny You Should Ask," from Oct. 28, 1968 to Sept. 5, 1969. Contestants tried to match the answers that were given before the show with the celebrities who had uttered them.
In 1978-79, he was the producer of "Pro-Fan" a syndicated show he created which featured amateur and athlete contestants answering questions and doing stunts. Thaxton also served as announcer.
He became producer-writer-director of "Fight Back! With David Horowitz," both in its syndicated form, beginning in 1980, and as installments of the "Today" show on NBC. In 1989, Thaxton received a local Emmy in connection with his direction of that consumer rights show—one of five Emmys he's garnered.
He was co-author with John Alston of a motivational book, "Stuff Happens (And Then You Fix It!)," released in January.
His daughter is Jennifer Weatherly, a country western singer who has established herself both in the United States and Europe.
Copyright 2003, Metropolitan News Company