Thursday, February 13, 2003
Page 14
REMINISCING (Column)
TV Anchors Host Game Shows
By ROGER M. GRACE
Have you heard that Tom Brokaw and Dan Rather are each taking on additional chores at their respective networks by becoming hosts of game shows?
Yes, I'm joshing.
That the likes of Brokaw or Rather would participate in such frivolity would be unthinkable. Yet, in earlier days of television, network anchors and reporters were, indeed, hosts and panelists on game shows.
John Charles Daly was a CBS radio newscaster in the 1940s. It was he who announced to the American public the bombing of Pearl Harbor, breaking into CBS' programming at 2:22 p.m., Eastern Time. He became a war correspondent, reporting from Europe.
From 1950-67, Daly was host of CBS television's highly popular "What's My Line?" (heard on CBS radio from 1952-53). He was by then known simply as John Daly, though the perennial panelist who introduced him, Random House publisher Bennett Cerf, included his middle name.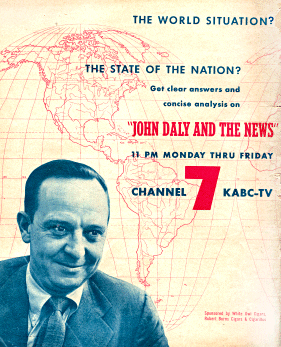 This 1957 ad for Daly's nightly newscast appeared on the back cover of TV-Radio Life. Daly was, at the time, emcee of CBS' "What's My Line?" Below, he's seen (standing) with panelists Anna Lee, John Henry Faulk and Quentin Reynolds on another CBS quiz show, "It's News to Me."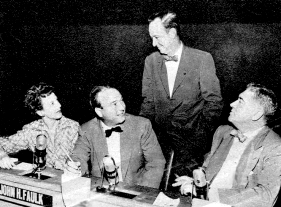 Panelists would try to guess what the contestant did for a living. There was at least one mystery guest, a celebrity whose identity was the subject of the questioning by blindfolded panelists.
Re-runs of the show are aired in the wee hours of the morning on the Game Show Network (on "Black and White Overnight," featuring three vintage quiz shows, originally a half-hour each, now collectively comprising two hours, being padded with commercials and promos).
My daughter happened upon "What's My Line" not long ago and was fascinated to see a game show in quite an unfamiliar form. Panelists and the host were in black tie, conducting themselves with formality and civility.
A contestant on the show would be asked to "sign in, please," writing his or her name on a blackboard, and was then introduced to the panel. Daly would pull out a chair for a female contestant. The contestant, when exiting, would shake hands with the panelists. "Mr. Daly" referred to "Mr. Cerf" and to "Miss Dorothy" (later "Miss Killgallen) and "Miss [Arlene] Francis."
What was astounding about Daly's weekly appearances on CBS's "What's My Line" was that as of 1953, he was no longer a part of CBS's news team but was, rather, the anchor of rival ABC's nightly report, a role he played until 1960. More than that, he was ABC's vice president in charge of news.
I remember a show aired right before the national conventions of the major political parties got under way. The mystery guests were the CBS reporters who were about to cover those confabs. After the questioning ended, as I recall, Daly made some gracious comment about CBS' journalistic cadre, and made an oblique reference to his being somewhere else during the conventions. Checking on the Internet, I find that the show was aired Aug. 12, 1956. The CBS newsmen were anchor Douglas Edwards and correspondents Charles Collingwood, Walter Cronkite, Eric Sevareid, and Robert Trout. The Democratic National Convention started the next day.
Far less remembered or successful than "What's My Line?" was a panel game show from the same producers, Mark Goodson and Bill Todman, called "It's News to Me." (Goodson and Todman spawned several other live guessing-game shows, including "I've Got a Secret" and "The Name's the Same.") "It's News to Me" was aired on CBS from 1951-53, then revived as a summer replacement in July-August, 1954. Daly was host during the initial run. Panelists tried to figure out from a clue what recent news story the producers had in mind.
One of the regular panelists the first year was radio commentator Quincy Howe.
The host of "It's News to Me" during its 1954 summer reprise was Walter Cronkite.
John Cameron Swayze covered the Republican and Democratic national conventions for NBC television in 1948 and the next year became the network's first news anchor, on "Camel News Caravan." He served in that capacity until 1956, and later performed news chores on ABC news from 1960-62.
Swayze, like Daly, Howe, and Cronkite, had experience on quiz shows. In 1947, then working for NBC radio, he devised and emceed a quiz show called "Who Said That?" with panelists seeking to identify the originator of a famous quote.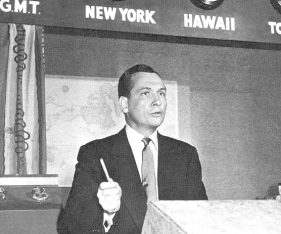 John Cameron Swayze is seen above in his role as NBC's news anchor, and below as a panelist on NBC's quiz show, "Who Said That?" From left to right are Swayze, U.S. Sen. Kenneth S. Wherry, R-Neb., news analyst H.V. Kalternborn, and Vice President Alben Barkley; quotemaster Robert Trout, a CBS newsman, is standing.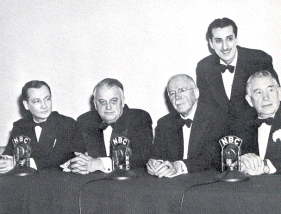 The show went to NBC television, with CBS radio correspondent Robert Trout serving as the first TV emcee, from 1948-51, and Swayze, during that period, playing the role of a panelist.
He was a panelist on the first episode of Goodman-Todson's CBS game show "To Tell the Truth" (on Dec. 18, 1956) and was a frequent panelist after that, assuming the role of substitute host on at least one occasion when Bud Collyer was absent.
For a couple on months in 1958, he hosted a show on ABC on which a panel of experts tried to hook up compatible singles of opposite gender in the audience. It was called "Chance of a Lifetime."
More about newsmen who were game show hosts next week.
Copyright 2003, Metropolitan News Company