Page 3
Court of Appeal:
Offer to Install Lyricist on Hollywood Walk of Fame Lapsed
Chamber of Commerce Said in 1989 That Leo Robin, Who Wrote Words to 'Thanks for the Memory,' Other Memorable Songs, Would Be Honored if $4,000 Fee Were Paid; Opinion Says 2017 Tender Came Too Late  
By a MetNews Staff Writer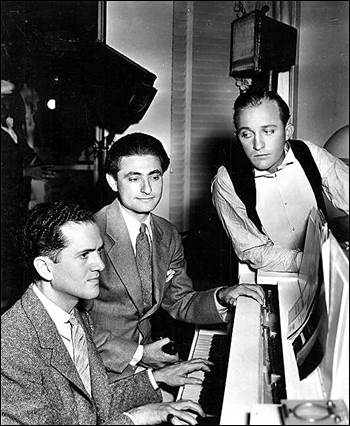 Lyricist Leo Robin, center, is seen with his songwriting partner, composer Ralph Rainger, left, and crooner Bing Crosby, rehearsing their new songs—"It's June in January," "Love Is Just around the Corner" and "With Every Breath I Take"—for Crosby's upcoming 1934 movie, "Here Is My Heart."
The man who wrote the lyrics to the Oscar-winning song, "Thanks for the Memory," sung by Bob Hope and Shirley Ross in the film, "The Big Broadcast of 1938," and came up with words to numerous other memorable tunes used in motion pictures and television, will have a star on the Hollywood Walk of Fame only if somebody comes up with $40,000, in light of a decision by the Court of Appeal for this district.
The lyricist was Leo Robin, who died in 1984. Four years later, his widow, Cherie Robin, nominated him for a star on the Walk of Fame, with Hope—who used "Thanks for the Memories" (with the title generally converted from "Memory" to "Memories") as his theme song over a period of decades—as co-sponsor.
Favorable action was taken by the Hollywood Chamber of Commerce, which controls the placement of the dedicatory markers on Hollywood Boulevard and Vine Avenue. The chairman of its 1990 Walk of Fame Committee, KTLA television personality Johnny Grant (since deceased), sent a letter to the widow in 1989 advising that the posthumous honor was offered, but conditioned on payment of a $4,000 sponsorship fee and the conducting of a ceremony within five years.
Hope Not Advised
However, Cherie Robin had died a year before the letter arrived, and it was marked "RETURN TO SENDER." Upon its receipt by the Chamber of Commerce, pursuant to a practice then in effect, no notification was provided to Hope or to the lyricist's survivors.
In 2017, Scott Douglas Ora, Leo Robin's grandson and trustee of his trust, learned of the honor and tendered a check for $4,000. It was returned with the explanation that the fee was now $40,000.
Ora protested, to no avail, that the fee should be the same for his grandfather as for others selected as the 1990 honorees.
He sued for breach of contract and put forth tort theories that were dependent on the existence of a contract. In pro per, Ora appealed from a judgment of dismissal after Los Angeles Superior Court Judge Bruce G. Iwasaki sustained a demurrer to his first amended complaint, without leave to amend.
Ashmann-Gerst's Opinion
Acting Presiding Justice Judith Ashmann-Gerst of Div. Two wrote the unpublished opinion affirming the judgment. She said:
"The award notification letter was sent to the address of Robin's sponsor in June 1990. Under Ora's theory of the contract, the conditions precedent needed to be performed by June 1995 to trigger the Chamber of Commerce's contractual obligations. Yet Ora admits that no one attempted to satisfy these conditions until he mailed the Chamber of Commerce a letter containing a proposed date for the dedication ceremony and a $4,000 check in July 2018, more than 23 years after the contract expired."
She said that, "[c]ritically," Ora "does not plead a legally valid excuse for nonperformance of these conditions during the contractual period," elaborating in a footnote:
"The mere failure of an offeror to actually receive a mailed letter communicating acceptance is not a legally valid excuse for nonperformance under California law."
Ashmann-Gerst declared:
"[T]he demurrer was properly sustained as to Ora's breach of contract claim because the conditions that triggered the Chamber of Commerce's alleged contractual duty were never performed. Moreover, because amendment cannot cure this defect, the demurrer was properly sustained without leave to amend."
The case is Ora v. Hollywood Chamber of Commerce, B321734. Reid E. Dammann and Violaine Brunet of Gordon Rees Scully Mansukhani were attorneys on appeal for the Hollywood Chamber of Commerce.
 "Thanks for the Memory" was recorded over the years by such vocalists as Bing Crosby, Ella Fitzgerald, and Rosemary Clooney, with Frank Sinatra introducing a version in 1981 with new words. Robin also wrote the lyrics to "Diamonds Are a Girl's Best Friend," sung by Marilyn Monroe in the 1953 movie "Gentlemen Prefer Blondes," and to "Prisoner of Love," "Blue Hawaii," "Love Is Just around the Corner," and "For Every Man There's a Woman."
Copyright 2023, Metropolitan News Company