Page 1
Court Won't Block Extradition of Peru's Ex-President
Ninth Circuit Denies Stay Pending Resolution of Appeal From Denial of Writ of Habeas Corpus
By a MetNews Staff Writer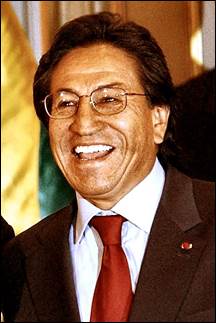 ALEJANDRO TOLEDO MANRIQUE
former Peruvian President
The Ninth U.S. Circuit Court of Appeals declared yesterday that it won't stand in the way of the immediate extradition of former Peruvian President Alejandro Toledo Manrique, charged in his home country with crimes relating to the alleged acceptance of more than $20 million from a Brazilian construction company in exchange for it being awarded highway construction contracts.
A three-judge panel—composed of Ninth Circuit Judges Michelle T. Friedland and Ryan D. Nelson, joined by District Court Judge Kathleen Cardone of the Western District of Texas, sitting by designation—turned down Toledo's request for a stay while his appeal from the denial of a writ of habeas corpus is mulled. His writ petition was rejected by the District Court for the Northern District of California.
Peru made its extradition request in May 2018. District Court Judge Thomas Hixson of the Northern District of California, after hearing testimony, found on Sept. 28, 2021, that the allegations were supported by probable and certified the extradition to the State Department. It completed its review of the extradition request, found extradition to be warranted, and the government is ready to ship Toledo, 76, back to Peru.
He faces trial on charges of money laundering and collusion allegedly committed to conceal his acceptance of the bribes.
Decisive Factor
The panel recognized yesterday that some factors weigh in favor granting a stay, but found decisive that the showing he has made in support of habeas relief is weak. The order says:
"Irreparable injury is obvious: Once extradited. Toledo's appeal will be moot….Additionally, Toledo has presented evidence that extradition to Peru could put his life at risk. Toledo has explained that he could be detained in Peru up to three years pending formal charges and that the conditions in Peruvian prisons are dire. Given his advanced age and preexisting health conditions. Toledo risks contracting a fatal illness or experiencing other serious health declines.
"Importantly, however, Toledo has not shown a likelihood of success on the merits."
Wording of Treaty
Toledo claims that under the July 26, 2001 United States-Peru Extradition Treaty, he cannot be sent home absent an order from a Peruvian court (in essence, an order binding the accused over for trial). Article I of the treaty provides for extradition of "persons whom the authorities in the Requesting State have charged with, found guilty of, or sentenced for, the commission of an extraditable offense."
The Ninth Circuit panel declared that the words "charged with" are "not obviously limited to formal charges" in a judicial order, as Toledo maintains, but could include an accusation by a prosecutor. An accusation was filed in In February 2017.
"Indeed, the ordinary meaning of the verb 'charge' is to generally accuse someone of a crime," the panel said, observing that nothing in the treaty "unambiguously requires" a judicial order and "looking to the Treaty as a whole suggests" that an accusation suffices,
The judges added:
"Even if 'charged with' is ambiguous, the drafting history suggests a broader meaning as well."
In light of this, the panel declared, Toledo cannot prevail on the basis of this contention.
Probable Cause
It said that a stay is not warranted on the ground that probable cause is absent. The judges pointed to self-incriminating statement by two of Toledo's accomplices, adding:
"Toledo, moreover, admitted that $21 million in bribe money was transferred into accounts under his former chief-of- security's control. $17.5 million ended up in his mother-in- law's company, and $500,000 was deposited in a bank account in his name or used to purchase real estate titled to him."
The case is Manrique v. Kolc, 22-15705.
Toledo was president of Peru from 2001-06. He was arrested by U.S. authorities on July 16 2019, and, initially, was held without bail, awaiting extradition, but District Court Judge Vince Chhabria of the Northern District of California ordered his release on bail and he has been on house arrest in his Menlo Park home since then.
He has resided in the Bay Area for most of his life, returning there after leaving office. For a time, he taught at Stanford.
Copyright 2023, Metropolitan News Company