Page 1
LASC Judge Dalila Corral Lyons Set to Retire
Judges Rhodes, Bachner Also Leaving Judicial Posts
By a MetNews Staff Writer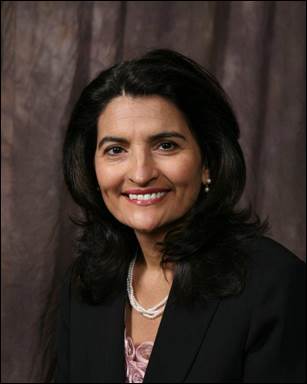 DALILA CORRAL LYONS
Superior Court judge
Tomorrow is the last day on the bench for Los Angeles Superior Court Judge Dalila Corral Lyons the assistant supervising judge of the Superior Court's Civil Division.
Judge Randy Rhodes's last day is today and Judge Monica Bachner will leave the local trial bench on March 30.
Each will officially retire after using up earned vacation days. The formal retirement dates are May 1 for Lyons April 15 for Rhodes, and May 12 for Bachner.
Lyons Comments
Lyons said yesterday:
"During my retirement, I will be doing lots of traveling, learning French and spending time with family."
She reflected:
"During my 18 years on the bench, I have enjoyed every assignment, teaching new judges and being in leadership positions in the court and in the branch.  It was extremely rewarding to serve on the California Judicial Council for seven years.
"It was an amazing privilege and honor to serve the public with dedicated colleagues and staff. I will forever cherish my time on the court."
Appointed in 2005
Lyons was placed on the court by then-Gov. Arnold Schwarzenegger in 2005.
While in undergraduate school at USC, Lyons interned at the White House Office of Hispanic Affairs. And when she was a student at the UC Berkeley School of Law (then known as Boalt Hall), she undertook studies in international business law in Mexico City.
Lyons was born in Durango, Mexico. One of eight children, she immigrated to the U.S. with her family in the early 1960s.
Prior to becoming a judge, she was a business and entertainment lawyer in private practice, then joined the Los Angeles County Counsel's Office, then served as chief legal adviser to the county's Sheriff's Department.
Lyons has received the Judicial Excellence Award from the Mexican American Bar Association and the National Center for Women and Policing's Breaking the Glass Ceiling Award, and her undergraduate school, USC, has bestowed upon her its Alumni Merit Award.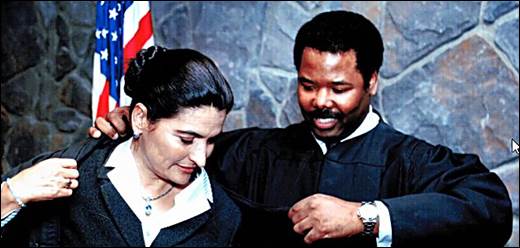 Dalila Corral Lyons is seen being helped into her robe in 2005 by Los Angeles Superior Court Judge Kevin C. Brazile after swearing her as a judge. Tomorrow, she will hang up her robe.
1997 Appointment
Rhodes was appointed to the Los Angeles Municipal Court by then-Gov. Pete Wilson in 1997 and gained his elevation to the Superior Court in 2000 through trial court unification. His 1986 law degree is from the University of West Los Angeles Law School.
The former attorney for Gibson, Dunn & Crutcher received the San Fernando Valley Bar Association's Administration of Justice Award at the group's Judges' Night on Feb. 26. 2015. He was honored for his work in the Cal State University at Northridge's Judicial Internship Program and his participation in the university's annual "Meet the Judges" panel.
The Judicial Internship Program was conceived in the 1990s by then-Los Angeles Superior Court Judge  Superior Court Judge Bert Glennon, now retired.
Bachner's Background
Bachner was appointed to her post in 2002 by then-Gov. Gray Davis. Her law degree was conferred by Columbia University in 1981.
She was a member of the law firm of Kadison, Pfaelzer, Woodard, Quinn, and Rossi from 1981-84, then joined the U.S. Attorney's Office for the Central District of California, becoming chief prosecutor for the Orange County office in 1998, and serving in that capacity when appointed to the bench.
The judge has served as an adjunct professor at USC's Gould School of Law.
Copyright 2023, Metropolitan News Company