Page 1
Three More Superior Court Candidates Emerge
By a MetNews Staff Writer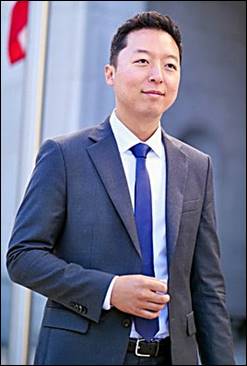 JACOB LEE
deputy district attorney
Deputy District Attorney Jacob Lee announced yesterday that he will be a candidate for a Los Angeles Superior Court open seat in the March 5 primary, and two others—private practitioners Georgia Huerta and Luz E. Herrera—have taken out petitions on which to gather signatures, each of which would take one-third of a dollar off the filing fee.
Lee, according to a filing on Wednesday with the Secretary of State's Office has plunked $220,000 into his campaign coffers, in an apparent effort to deter others from entering the same race he does.
His campaign consultant, Crystal M. Litz, said yesterday that a decision will be made next week as to which seat Lee will seek. The period for filing declarations of intent to run for a judgeship begins Monday.
Campaign Website
Lee has a campaign website on which he lists 25 Los Angeles Superior Court judges and one commissioner who have endorsed him. The website says:
"Jacob Lee's journey to public service started with his parents, who came to California from Korea just before he was born. While he was growing up in Los Angeles, both of his parents were robbed—his father was robbed at gunpoint. However, neither parent chose to report the crimes to the police. When Jacob asked why, they admitted it was because they were afraid of the police, who neither looked like them nor spoke their language. They were afraid of engaging in the justice system of their new country because they were intimidated by it and had little understanding of it. This memory stayed with Jacob, and it was a powerful motivator in his decision to become an attorney and specifically, a Deputy District Attorney where he was able to become the voice for crime victims."
Lee's law degree is from Loyola. He was admitted to the State Bar in 2012.
Nishimoto's Office
Huerta's petition indicates an inclination to run for Office No. 135, now occupied by Judge Cary Nishimoto, who has said he will not be running. A petition in connection with that seat was taken out earlier by Hermosa Beach attorney Mohammad Ali Fakhreddine.
Huerta, whose address on the State Bar website is a Post Office box number in Whittier, ran for an open seat last year in a six-person race, attaining 15.1 percent of the vote in a race that was won by then-Deputy District Attorney Melissa Hammond.   
In the June 7, 2022 primary, Huerta (who was known among prosecutors as "Sullivan") ran as a "Deputy District Attorney" although she had left that office. Los Angeles Superior Court Judge James Chalfant rejected a ballot-designation challenge by Hammond who argued that under a regulation, a former title may not be used unless the candidate has no current profession, occupation or vocation and Huerta had one: she was a member of the legal profession.
Neither Huerta nor Herrera has a campaign website.
Gould-Saltman's Office
Herrera took out an in-lieu petition for Office No. 137, held by Judge Dianna Gould-Saltman, who was appointed to the Superior Court by then-Gov. Arnold Schwarzenegger on June 30, 2010. It could not be immediately ascertained yesterday if the incumbent intends to seek reelection.
Herrera's address is listed by the State Bar of California as that of Texas A&M University in Fort Worth. She was admitted to the State Bar in 2000 and her law degree is from Harvard.
Her law office website says:
"Attorney Luz Herrera is not taking on new clients. Her prior law office is now home to Community Lawyers, Inc., a tax exempt not for profit organization that facilitates a self-help center, legal clinics, legal education workshops, mentoring opportunities for students and support for solo practitioners serving undeserved communities."
Others who have taken out in-lieu petitions are Deputy District Attorneys Victor Avila and Renee Rose, former Deputy District Attorney Christopher Darden, Orange County criminal defense attorneys Osman M. Taher and Eric Jeffrey Youngquist, and Malik C. Burroughs of the law firm of Quinn Emanuel Urquhart & Sullivan, LLP.
Copyright 2023, Metropolitan News Company