Page 1
Former State Bar Court Judge Talcott Dies
Was Successful Criminal Defense Lawyer, Bar Leader, Police Commission President
By a MetNews Staff Writer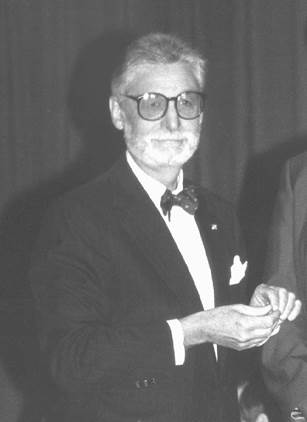 ROBERT M. TALCOTT
1932-2023
Robert M. Talcott, who practiced law for 34 years before becoming a State Bar Court judge, has died, it was announced yesterday.
He succumbed on Saturday at the age of 90.
One member of his firm, Talcott, Lightfoot, Vandevelde & Sadowsky, was Maria Stratton, now presiding justice of Div. Two of this district's Court of Appeal. She reflected yesterday:
"I started at Talcott Lightfoot five years out of law school. Working with Bob was a young lawyer's dream. He was always in teaching mode, encouraging us to do things we weren't sure we could do yet.
"Always sharing the spotlight with those in the background. Always focused on our clients' interests above all else.
"Most of all he created an atmosphere of unity and collegiality in the firm by inviting all of to the brainstorming table. I was struck by such luck when he hired me and I know everyone felt that way about him. He was just unbeatable in every way."
Police Commission President
Talcott was appointed to the Los Angeles Police Commission in 1984 and served as president from 1985-90.
He resigned Dec. 1, 1990, to join with other civic leaders in an effort to bring the World Cup soccer tournament finals to the area in 1994. The effort succeeded; the game was played at the Rose Bowl in Pasadena.
On June 6, 1991, as a member of the State Bar Board of Governors, he welcomed new admittees at an admission ceremony. Talcott placed a pin on the lapel of one of the new admittees, Maxcy Filer (now deceased), who passed the bar exam on his 48th try.
He told of the qualities a lawyer must have and remarked:
"Three of these characteristics are personified by Maxcy Filer—persistence, persistence, and persistence."
As a bar governor, Talcott participated in setting up the State Bar Court and participated on the committee that selected the first members of that body. In 2000, then-Gov. Gray Davis named Talcott to the court.
Disbarment of Murphy
In November 2003, Talcott recommended the disbarment of former Los Angeles Superior Court Judge Patrick B. Murphy who had been removed from office by the Commission on Judicial Performance—which promptly rescinded that action upon learning that Murphy could not be removed because he had just resigned. Talcott noted that Murphy was absent from the court Sept. 20, 1999 until April 3, 2000; stopped working for good as of June 8, 2000; and resigned on May 4, 2001.
He chronicled Murphy's activities during the time he was supposedly too sick to work: teaching one or two night law classes a week, serving as an instructor at a Citizen's Police Academy in Baldwin Park, completing pre-med physics and chemistry courses at Cleveland Chiropractic College in Los Angeles, and attending classes at a school of medicine on the island of Dominica in the West Indies from January to April of 2000.
Murphy did not contest Talcott's recommendation and was disbarred May 23, 2004.
Criminal Defense Lawyer
As a lawyer, Talcott specialized in white-collar criminal defense.
One of his clients was Edwin M. Ives, accused of enslaving 60 or more Mexican laborers at his 50-acre Ventura ranch. Talcott persuaded U.S. District Court Judge Robert Takasugi (now deceased) not to grant the government's request to seize Takauji Ives's assets, worth about $5 million, which would have precluded the defendant from continuing to employ a 10-lawyer defense team.
Takasugi found that the assets, which included three ranches, were not acquired through illegal activity and denied seizure.
Ives in 1992 pled guilty to lesser charges and agreed to pay $1.5 million in back wages. Talcott was quoted by the Los Angeles Times as saying that while he was "shocked" by the three-year prison sentence imposed, the disposition reflected the true nature of the offenses.
"It was an immigration and wage case, not a slavery case," he commented.
Magazine Article
The February 1998 issue of Los Angeles Magazine contains an article commenting:
"When it comes to defending well-heeled clients accused of non-violent crimes in federal court, no one in L.A. can match the reputation of Robert Talcott and Michael Lightfoot, partners at Talcott, Lightfoot, Vandevelde & Sadowsky, one of the city's largest white-collar defense shops.
"According to [attorney Frank] Rothman, Lightfoot and Talcott are revered for what is now a rather forgotten trait among defense lawyers: putting their client first. "You never see Talcott or Lightfoot make a scene in the courtroom. All they care about is the welfare of the client."
The article adds:
"Most of their clients—like Stanley Rifkin, implicated in a $10 million bank-fraud scheme—have so much money to protect that they can afford to pay for the best representation. But many are unknown to the public because the team's real skill, according to one competitor, is in persuading prosecutors not to file charges in the first place, a dying talent among defense attorneys."
Talcott was born was born on Sept. 18, 1932, in Connecticut. He earned both his law degree and a master's of law from Georgetown University.
Copyright 2023, Metropolitan News Company