Page 1
Siddall, Mitchell Enter Race for L.A. District Attorney
Total Is Now Seven Persons Who Have Said They Will Challenge Gascón in March Primary Election
By a MetNews Staff Writer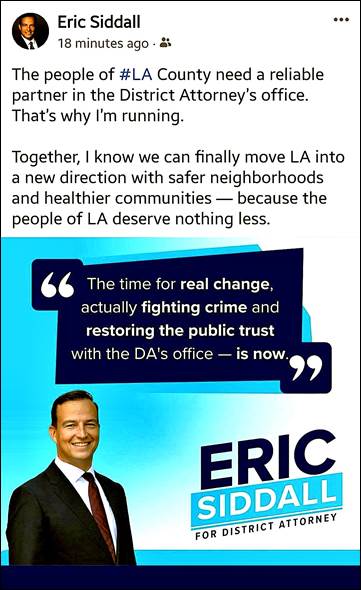 Deputy District Attorney Eric Siddall yesterday announced his candidacy for district attorney in a tweet, above.
Two more elections challengers to Los Angeles County's controversial district attorney, George Gascón, announced their candidacies yesterday: Association of Deputy District Attorneys immediate past Vice President Eric Siddall and Los Angeles Superior Court Judge Craig Mitchell.
Both were expected to run.
Mitchell announced his candidacy in front of the Hall of Justice, accompanied by members of his Skid Row running team, a project he fathered, and Siddall made known his candidacy in a press release and a tweet.
Others who have mounted campaigns are Nathan Hochman, a former U.S. assistant attorney general and former Los Angeles Ethics Commission president, Los Angeles Deputy District Attorneys Maria Ramirez, John McKinney, and Jon Hatami, and retired Los Angeles Superior Court Judge David S. Milton. All are actively campaigning other than Milton, now a mediator.
Mentioned as possible candidates are Jeffrey M. Chemerinsky, an assistant U.S. attorney for the Central District of California, and Los Angeles Superior Court Judge Debra Archuleta.
Siddall's Press Release
The press release issued by Siddall's campaign committee says:
"Siddall, a labor leader, openly gay Latino father, Democrat, and career prosecutor, is challenging the incumbent District Attorney George Gascón on a platform of advocating for responsible reform while prioritizing public safety. He vows to combat gun violence and fight crime, restore competency and trust in the district attorney's office, and institute sustainable, responsible reform."
It quotes him as saying (in part):
"I have sounded the alarm on the staffing crisis that has left fewer prosecutors working in LA., than at any other time in my 16 year career. Under my leadership, I will work to fully fund the district attorney's office, partner with local community groups, police, and sheriffs to fight back against gangs, crime, and illegal guns; collaborate with county leaders to address homelessness; and prioritize mental health, real housing solutions, drug diversion and addiction services. I'll fight to enact common sense criminal justice reforms, and focus on ones that are evidence-based, not based on ideology. I'll work to improve our system of justice for all people and all communities. As a law enforcement leader in Los Angeles County, I'll make it clear to any and all criminals that the George Gascon party is over.
"The People of Los Angeles need a reliable partner in the district attorney's office."
Message to Colleagues
In a message to colleagues, Siddall reflected on the ADDA's activities in recent years. Included in his message is this:
"We have also fought the fights that needed fighting. And no fight has been nastier or mattered more than the one in which we've been engaged since George Gascón became District Attorney in December 2020.
"For the past 32 months, we've worked like hell to protect our members from the most anti-labor District Attorney this county has ever seen:
"•We developed and executed a legal and political strategy to reverse Gascón's directives. Our efforts culminated in ADDA v. Gascón. This successful lawsuit stopped Gascón from forcing our members to choose between following the law or following his orders.
"•We supported member-initiated unfair labor complaints, lawsuits, and grievances, held Gascón accountable for his petty and nepotistic approach to personnel management, and battled his administration to protect our members' civil service rights.
"•We went over Gascon's head to negotiate directly with county leaders during this last bargaining cycle and got our members record salary increases. This strategy effectively blocked Gascon and his team from reopening bargaining on pet issues they wanted to address.
"•We made tough strategic decisions about when and how to use the ADDA's hard-won political capital, and we put that goodwill and political strength to work, in court and in the press, in our fight against Gascon and his anti-labor agenda."
Eligibility to Run
Art. VI, §17 of the California Constitution provides, in part: "A judge of a court of record…during the term for which the judge was selected is ineligible for Addax's public employment or public office other than judicial employment or judicial office." Although judges have, in past years, been deterred from running for non-judicial offices based on that provision, Div. Three of the Fourth District Court of Appeal on June 27, 2014, held that a judge may seek other public offices by simply resigning from the judgeship, enabling Mitchell to run.
Then Justice William F. Rylaarsdam explained:
"Because Section 17 applies only to sitting judges and not to persons who have resigned or retired from a judicial office, it does not prohibit such persons from holding other public office or engaging in other public employment, without regard to whether any time remains in the judicial 'term' for which that person had been previously selected."
The appeal in the case, Gilbert v. Chiang, was brought by Court of Appeal Presiding Justice Arthur Gilbert from a determination by Los Angeles Court Judge Richard L. Fruin Jr. that he would be ineligible to accept an appointive post in the administration of then-Gov. Jerry Brown. The opinion does not address the question of when a sitting judge who wanted to run for a public office would have to resign from the judgeship.
It says that the constitutional provision "does not prohibit any person who has resigned or retired from a judicial office—as Gilbert contemplates doing—from immediately commencing public service in another capacity," implying, but not holding, that a judge could run for district attorney (or some other post) while a judge, leaving the judicial post immediately before taking the oath of office.
Whether a judge would be obliged to resign before filing election papers is not determined.
However, Canon 5 of the California Canons of Judicial Ethics prohibit a judge from making "speeches for a… candidate for nonjudicial office" (which Mitchell arguably violated in making a speech yesterday on behalf of his own candidacy). It also prohibits a judge from making "statements to the electorate… that commit the candidate…with respect to cases, controversies, or issues that are 24 likely to come before the courts" which Mitchell is certain to do in assailing Gascón's policies.
 Mitchell's term as a judge ends in January 2025 and the next district attorney will commence a term in December 2024.
Mitchell's Comment
Mitchell said yesterday:
"I have been advised by the Superior Court administration that as long as I take a leave of absence from being a Superior Court judge—a leave that will result in me not being paid nor receiving benefits—I am eligible to seek the elective office of District Attorney. Practically speaking, insofar as my judicial term would require that I seek another judicial term at the time of filing in December of this year, if at that time I believe my candidacy for DA remains viable, I must choose to file for the office of District Attorney or Superior Court judge. If, after the filing deadline in December I remain a candidate for District Attorney, my leave of absence would continue through the general election in November of 2024."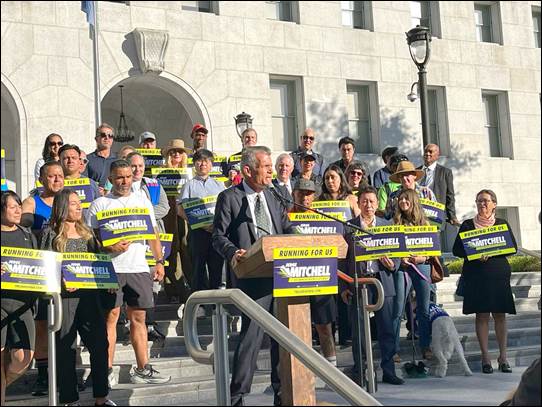 Los Angeles Superior Court Judge Craig Mitchell is seen in front of the Hall of Justice announcing that he will run for district attorney.
Differentiating himself from Gascón, he declared:
"I disagree with many of the policies enacted by DA Gascon. His policy to not charge enhancements—great bodily injury enhancements; specified gun enhancements; three strikes enhancements; gang enhancements—have resulted in many sentences that I believe do not appropriately sanction perpetrators of violent crimes, nor do such sentences fairly address the rights of victims of crime. I believe each case must be evaluated on its own merits. For instance: if a defendant has a lengthy criminal history; has served time in prison; shortly after being released from custody commits another crime—that individual warrants a harsher sentence than someone who has little or no criminal history. This conclusion is simply common sense. Another example: if a person has a lengthy history of theft, at some point that person should serve a state prison sentence. While the state legislature was well-intentioned in passing the law that reduced theft offenses under $950 to misdemeanors, the result is that theft offenses have increased significantly because repeat offenders know that they will face almost no consequences for stealing over and over again."
Drug Addiction
He continued:
"I further take issue with DA Gascon's silence and lack of initiative with respect to breaking the cycle of addiction and mental illness that underlie much of criminal conduct. Addicts too often steal or commit robberies to sustain their use of drugs. This is not a novel observation. But what must be implemented are sentencing options that create an incentive for someone suffering from addiction to enter into drug treatment. This is not happening. Drug addiction is NOT a victimless crime. The addict is the victim, along with his/her family and the larger society that is deprived of what this person has to contribute if they enjoyed sobriety.
"Another key disagreement concerns how he is managing the office. 90% of line prosecutors have no confidence in his leadership. Morale is at an all-time low. Before setting forth policy, an effective District Attorney needs to listen to his fellow prosecutors and build a consensus as to what initiatives need to be implemented. Unilateral and arbitrary decision making has lead to a dysfunctional work environment.
"These are but a few of the areas that distinguish me from George Gascon."
Copyright 2023, Metropolitan News Company