Page 1
Former D.A. Robert Philibosian Dies
By a MetNews Staff Writer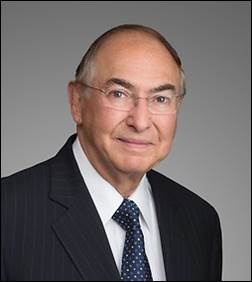 ROBERT PHILIBOSIAN
1940-2023
Robert H. Philibosian, who served as district attorney of Los Angeles County from Dec. 28, 1982 to Dec. 3, 1984 and since then was a civil practitioner with major law firms for nearly 40 years, died yesterday at the age of 83.
He was the first district attorney in the county to open the doors widely to female attorneys applying to become prosecutors.
Philibosian was articulate, incisive in his analysis, and, while sociable, was not a glad-hander. He was formal; never loud or confrontational, he was typically attired, in public, in a suit and tie.
 Appointed to fill out a term, he was district attorney for only about 23 months. He once said that he left his mark as district attorney, one that was short but deep.
Comments by admirers, upon hearing of his death, indicate that over his lifetime—which began Sept. 29, 1940—he left a mark that was both long and deep.
"While his tenure as D.A. was short, his influence and footprint were long lasting," former Los Angeles County Supervisor Michael D. Antonovich remarked.
He also observed:
"Bob Philibosian was a dedicated public servant, a good family man and a person of integrity! I knew and worked closely with Bob for over 40 years, even before he became the district attorney for Los Angeles County. His dedication to public safety and advocacy on behalf of crime victims have been the hallmark of his professional career. He was a tireless and reliable voice of reason at the county and at the state level." The Association of Deputy District Attorneys said in a statement: "Robert Philibosian's enduring legacy will continue to inspire us all." Former District Attorney Jackie Lacey commented:
"Robert Philibosian was a leader in the criminal justice legal profession who was outspoken and respected. I appreciated his sage advice and his unwavering support while I was in office.
Former County Counsel Lloyd Pellman, now a partner in Nossaman LLP, said:
"Bob Philibosian has been a fixture at Los Angeles County for years. He was appointed to a county commission over and over again. Not only was he a good friend personally, Bob steered his firm of Sheppard Mullin to assist the sheriff's department in resolving a long standing federal class action lawsuit regarding gender discrimination of its female officers.
"Working with him from the County Counsel's Office was Mary Wickham whose efforts in the matter eventually led to Mary's appointment by the Board to be county counsel. His wit, experience and insight into the politics of our local elected officials will be greatly missed."
Los Angeles County Supervisor Kathryn Barger said of Philibosian:
"He was a personal friend and a devoted public servant with an extraordinary command of criminal, environmental, and consumer law. He prosecuted civil cases with zeal and worked hard on behalf of the public's interest. Bob was also a thoughtful and collaborative individual who loved his family and friends. I always valued his opinion and insights."
Fifth District Court of Appeal Justice Charles Poochigian remarked:
"I am so saddened to hear about the passing of my good friend Robert Philibosian whose roots were in the Central Valley.  He cared deeply about crime victims and worked tirelessly to improve our criminal justice system. He was a trusted and able adviser to governors, other public officials and law enforcement leaders over the course of his long, impressive career." 
Grief-Stricken Friend
Former San Fernando Valley Bar Association President Lee Kanon Alpert, a former chair of the board of the City of Los Angeles Department of Water and Power, related that he and his wife, Arlene, "are both so upset, saddened and in disbelief." He declared:
"Bob and I have known each other and our families for decades. He was one of the kindest, most approachable, gentle, balanced and caring human beings I/we have met.
"Forgetting about his professional accomplishments which we all know, it is the person that stood out. He was a great American, fantastic family man and treated all with kindness and caring. He was respectful of women and all and didn't have an evil bone in his body and yet respectfully held firm to his beliefs. "It is unbelievable that we would lose such a moral, ethical and wonderful person.
"We pray for his family and for Robert tonight as always. While it is often trite to say, in Robert's passing there will forever be a hole in the hearts of those who know him and in the fiber of Los Angeles and this country."
'Giant' in Profession
Retired Los Angeles Superior Court Judge Elizabeth Feffer termed Philibosian "truly one of the giants in the Los Angeles legal profession," adding:
"Bob was one of my mentors from the very onset of my legal career. For over 30 years, every time I would see Bob, whether it was having an informal lunch (more often than not, over Armenian food) or seeing him at a formal bar event, it would be a treat.
"Bob was patient and kind, and also wise and witty. Bob was always eager to help, and was so generous with his time. Of course, he possessed not just a sharp legal mind, but also sharp political acumen."
Orange Superior Court Judge James Rogan, a former member of Congress, reflected:
"Forty years ago, and as a newly-minted California lawyer, I applied for the position of Los Angeles County Deputy District Attorney when Bob Philibosian was the county's D.A.. By the time the county funded the entry-level positions and I was hired, it was under his successor, Ira Reiner, who defeated Bob for election in 1984.
"The fact that I never worked with Bob in the D.A.'s office did nothing to hamper what became a many decades-long friendship. He loved the law, he cared for crime victims, and he brought passion and justice to every case he ever touched. On a personal level, he was a wonderful and warm man."
Joined D.A.'s Office
Philibosian was admitted to the State Bar on Jan. 5, 1968 and joined the District Attorney's Office that year. He tried major cases and became head deputy in Van Nuys.
One of his assignments was handling the investigation into allegations of ticket-fixing by the county Marshal's Office (which was later merged into the Sheriff's Department). In a written report, he identified politicians whose parking tickets and citations for moving offenses had been made to disappear, but said there was no evidence of any favors being conferred in return.
"I have concluded that 'ticket fixing' as such does not constitute a California crime," Philibosian said.
District Attorney Joseph Busch publicly released Philibosian's report and called for legislation to criminalize ticket-fixing.
Request to Jury
In his closing argument to a jury at the 1972 trial of John S. Gwynne, a then-medical doctor charged with the middle-of-the-night slaying of his live-in girlfriend, Philibosian asked jurors not to convict the defendant of first-degree murder, as charged—startling a defense lawyer. Seeing no evidence of premeditation, as the facts had unfolded at trial, he said the only appropriate verdict was guilty of second-degree murder.
And, he told jurors, they should either convict Gwynne of second-degree murder or acquit him, because the circumstances did not indicate that the crime was manslaughter.
The jury obliged, declaring Gwynne guilty of second-degree murder.
Years later, Philibosian related that, in chambers, Los Angeles Superior Court Judge Charles Older excoriated him for not seeking a first-degree murder conviction.
Then-Attorney General (later Gov.) George Deukmejian hired Philibosian in 1979 as chief assistant attorney general of the Criminal Law Division and elevated him to the post of chief deputy in 1982.
District Attorney Appointment
When District Attorney John Van de Kamp won election as attorney general in 1982, there were several applications for appointment by the Board of Supervisors as his successor. The board met on Dec. 28, 1982, in public session, to make a selection.
On the first two ballots, only one of the five supervisors—Deane Dana—voted for Philibosian.
Kenneth Hahn backed Johnnie Cochran, a criminal defense attorney recruited by Van de Kamp to serve as his assistant district attorney (and who was later a member of O.J. Simpson's "dream team"); Ed Edelman supported Stephen Trott, then U.S. attorney for the Central District of California, now a senior judge of the Ninth U.S. Circuit Court of Appeals; and Michael D. Antonovich's choice was M. David Stirling, with whom he had served in the state Assembly and who later became chief deputy attorney general under Dan Lungren. Pete Schabarum abstained.
On the third ballot, Philibosian attained the two additional votes he needed for appointment. Schabarum voted for Philibosian; Hahn did the same; the board then made it unanimous.
Enjoyed Job
Philibosian said of his stint as district attorney, in a 2008 interview:
"I did the job, and loved every minute of it."
He intensified the office's efforts in the areas of toxic waste disposal, environmental law, consumer law, and antitrust enforcement. His centralizing of narcotics prosecutions came at the suggestion of a young deputy—Steve Cooley—to whom Philibosian would later become a mentor when Cooley was a candidate for district attorney in 2000 and during his three terms in office.
'Deadbeat Dads'
Philibosian aggressively went after "deadbeat dads." A 1983-84 report by the District Attorney's Office shows that prosecutions for failure to provide child support had risen by 700 percent since 1982.
A hotline was set up for reporting the whereabouts of fathers who were delinquent in their payments. (In those days, support orders to mothers were rare.)
Philibosian, a conservative Republican, worked in tandem with feminist Gloria Allred, a liberal Democrat, in the effort to exact payments by delinquent fathers. It was she who came up with the idea of publishing names of the fathers in newspapers.
The District Attorney's Office compiled a list; the L.A. Times and the Daily News would not publish it, but the now-defunct Herald-Examiner did.
Legislative Program
According to the 1983-84 report, Philibosian's legislative program "ranged from omnibus child abuse legislation to narcotics, juvenile crime, rape, burglary and attacks on police officers."
One bill he pushed to have enacted into law before the 1984 Olympics was a police-horse protection bill. It was deemed needed in light of attacks on horses—at Raiders games and on other occasions when the steeds were used for crowd control.
The bill was drafted by then-Deputy District Attorney Lance Ito, later a Los Angeles Superior Court judge (viewed world-wide on television presiding over the O.J. Simpson murder trial). The Philibosian/Ito bill was passed and was signed into law by Deukmejian.
Court Appearance
Since 1850, a district attorney has served Los Angeles County, initially being an official of a district encompassing both Los Angeles and San Diego counties. In the early decades, the district attorney personally handled the prosecutions in court—as he had to because he had no deputies.
Such appearances by the district attorney became increasingly rare in the 1900s when deputies were employed. Philibosian had the distinction of being the last district attorney to make a court appearance on behalf of the People.
He made an appearance on Jan. 9, 1984, at the sentencing of Hillside Stranglers Kenneth Bianchi and Angelo Buono.
Bianchi had confessed to five slayings of young women here and two in the State of Washington on condition that he be committed to a prison in this state rather than Washington where conditions were more Spartan—but with the proviso that he testify "truthfully and completely" against his cousin and co-defendant, Buono.
Philibosian successfully urged then-Los Angeles Superior Court Judge (later California Chief Justice) Ronald George to send Bianchi to the State of Washington.
Philibosian later explained:
"It was the kind of case that required the D.A., himself, to appear. It was up to the D.A. to come in and say, 'Uh-uh, he didn't hold up his end of the deal.…He did not testify truthfully and completely.' "
Philibosian sat at the counsel table during a hearing in the McMartin Pre-School child molestation case to underscore the significance of the motion being argued.
Election Challenge
In 1984, Philibosian was challenged in the primary by then-Los Angeles City Attorney Ira Reiner.
Though the office is ostensibly non-partisan, Reiner received large funding from Democratic Party sources; the Republican Party did not provide financing to Philibosian.
The county was, then as now, heavily Democratic. And many Republicans did not vote in the primary; it was a foregone conclusion that President Ronald Reagan would win the balloting in California and elsewhere and be re-nominated.
Philibosian lost.
Becomes Civil Lawyer
Although his background was entirely in criminal law, Philibosian was not inclined to become a criminal defense lawyer. He joined the law firm of MacDonald, Halstead and Laybourne, which in 1988, was absorbed by what was the world's largest firm of Baker & McKenzie.
 In 1994, Baker & McKenzie closed its Los Angeles office and Philibosian, not wishing to stray from Los Angeles, joined Sheppard Mullin, at which he was a partner, then became of counsel, remaining so until the time of his death. Ronda Jamgotchian, a partner in that firm, offered these words of tribute:
"Robert Philibosian was my mentor, and I would not be where I am in my career without him. He was a brilliant lawyer with so much knowledge and wisdom to pass along, and I will be forever grateful for the guidance he gave me on so many occasions.
'Robert was also my very dear friend, and was beloved not only by me, but by everyone who was blessed enough to know him. His smile lit up every room he entered."
Service on Commissions
Since leaving the District Attorney's Office, he served as chairman of the county Economy and Efficiency Commission, the California Commission on Criminal Justice, and the California World Trade Commission.
Cooley, whose tribute appears separately, noted that Philibosian was a founder of Chapter 58 of the International Footprint Association, comprised primarily of lawyers and judges, which met at Taix Restaurant.
"He served as president on at least two occasions and attended meetings faithfully," he recalled.
Cooley said that Philibosian was a longtime member of the Peace Officers of Los Angeles County and was that group's representative to the Countywide Criminal Justice Coordinating Committee.
Attorney Brent Braun, a former executive in the Los Angeles office of the FBI, said:
"Robert Philibosian was a man of integrity and dedication to the citizens of California and most especially the County of Los Angeles. Bob was always the first to volunteer his help in the justice community.
A decades long member of the Peace Officers Association of Los Angeles County, he served on the Board of Directors and its Executive Committee.
"Bob was a much sought after counsel in matters of criminal law and equal justice. His presence was felt at a myriad of law enforcement, prosecutorial and political functions. His sage political advice was always solicited and typically very astute."
Former U.S. District Court Judge Robert Bonner of the Central District of California noted that he was U.S. attorney for the district when Philibosian was district attorney, relating that "we enjoyed a good and productive relationship," in part under Antonovich's guidance as chair of the Los Angeles County Criminal Justice Coordinating Committee.
"Bob was a true stalwart when it came to public safety and the rights of victims of crime, and he continued to be a voice for sound use of the criminal justice system to protect the public long after he left as district attorney," he added.
Legal Community
He emceed every Metropolitan News-Enterprise dinner since 1986 except the one held in 2008 when he was an honoree. Philibosian frequently attended bar association events.
Nowland Hong, co-founder and two time president of the Southern California Chinese Lawyers Association, said:
"Bob Philibosian was one of the warmest people I've ever known. We met when he became district attorney and we became friends, having similar political thoughts. He regularly attended the annual Southern California Chinese Lawyers Association Installation Dinner and knew all the dignitaries at them as he did at the Metropolitan News Person of the Year Dinner where he was the perennial master of ceremonies."
 Southwestern Alumni Activities
Philibosian was active in Southwestern Law School alumni events, religiously attending monthly board meetings and emceeing at dinners. He was selected as the Outstanding Mentor of the Year by the law school's Alumni Resource Network in 2018.
Darby Dickerson, president and Dean of Southwestern, had this to say:
"Robert was a titan of the legal community and one of Southwestern's most respected alums. I often sought out his wise counsel, as did others over his many years of service on our Board of Trustees.
He was always the consummate professional and worked tirelessly on the law school's behalf. "We will miss him, his quick wit, and his voice of reason, but his legacy will live on."
Armenian Community
Too, he was involved in the Armenian Bar Association and in the Armenian community.
"Robert was a leader in not only the legal community but the Armenian community in California," former Los Angeles County Bar Association President Brian Kabateck, an Armenian American, said, adding:
"He was a role model a mentor of mine and a dear friend."
Retired U.S. District Court Judge Dickran Tevrizian of the Central District of California recounted:
"I am deeply saddened as he was a close personal friend since we first met in Fowler, California when we were teenagers chasing the same good looking Armenian girls. This is a real loss to our community as Bob was an outstanding leader. He will be sorely missed in the legal world as a counselor to many."
Political Counseling
Philibosian was generous with his time, meeting with political and judicial candidates, providing advice and, when favorably impressed by an aspirant for office whom he interviewed, his endorsement.
One such person was Eric Early, a partner in Early Sullivan Wright Gizer & McRae LLP, who said:
"I regularly sought out Robert's wisdom and sage advice and was blessed to have his steadfast support in my political endeavors. Robert was very rare. He was wise, intelligent, experienced, tenacious, decent, fair, honorable, loyal and did not suffer fools lightly. He will be dearly missed by me and all who had the honor and privilege of calling him our friend."
Family Members
He is survived by his wife, Nancy Philibosian, their daughter, Janet Philibosian Valenzuela, their son, Robert Philibosian, five grandchildren, and siblings Dianne Philibosian and Richard Philibosian.
The daughter graduated from Southwestern Law School in 2004, magna cum laude, and after 16 years in private practice, joined the Southwestern faculty in 2021 as an associate professor.
Her husband is Craig Valenzuela, a Los Angeles Police Department commander.
Son Robert Philibosian, a sales representative, is married to Julia English Philibosian (daughter of the late Charlie English, a prominent criminal defense attorney).
Burial will be private and a celebration of life will take place in December.
Philibosian fell into a coma more than a month ago and had been on a life support system.
★★★★
Accomplished Lawyer, Mentor to Many
By Steve Cooley
(The writer is a former district attorney of Los Angeles County. He served from 2000 to 2012.)
obert "Bob" Philibosian was the 38th Los Angeles County district attorney and much more. I first met Bob as we were both walking to our cars from the Criminal Courts Building to Parking Lot 20 (now the sight of the cathedral). I was what was commonly referred to as a "baby D.A.." He encouraged me to join the Association of Deputy District Attorneys. He was the president is that group which was essentially a social group of Los Angeles County deputy district attorneys.
Bob was pretty experienced at that time having been assigned to East L.A. area office, the Santa Monica Branch, and the Juvenile Division. He was generally credited with leading the transition of prosecuting juvenile cases from the Probation Department to the D.A.'s Office. This was a major undertaking that benefited greatly from his organizational skills, attention to details, and sense of mission.
These traits served him well and lead to him being appointed Head Deputy at an early stage of his career. Bob's involvement in politics and established prosecutorial skills led Attorney General George Deukmejian to appoint him to be the assistant attorney general for the Criminal Division of that office. Upon the election of George Deukmejian as California's governor and the election of John Van de Kamp as attorney general, Bob was appointed by the Board of Supervisors to fill the open seat of Los Angeles County district attorney.
His career experience as a prosecutor in two prosecutorial offices made him eminently qualified to serve as Los Angeles County's 38th district attorney.
Bob Philibosian's tremendous career accomplishments were exceeded by his mentoring and supporting good quality people to achieve their aspirations. He was the ultimate "good government" guy. His many contributions to Los Angeles County government as a longtime member of the Economy and Efficiency Commission where he was declared Chairman Emeritus and his many years with the Countywide Criminal Justice Coordinating Committee were but just a couple examples of his contribution as a "good government guy."
After Bob's distinguished career in public service, Bob went on to work with prestigious law firms specializing in governmental relations.
Bob's career accomplishments and achievements do not tell the whole story about this remarkable man. He served as a genuine and important mentor to many great people who aspired to the bench and other forms of government service. He was a dedicated husband to Nancy and prominent father to Janet and Robbie. I will never forget how lucky I was to meet him back on our walk to Parking Lot 20 and the deep friendship of nearly five decades after that.
Copyright 2023, Metropolitan News Company