Page 1
Judges Shapiro, Dabney Set Official Dates for Retirement From Los Angeles Superior
By a MetNews Staff Writer
Two more Los Angeles Superior Court judges—Norman J. Shapiro and James R. Dabney—are retiring.
Shapiro's last day on the bench was March 14 and, after using up earned vacation days, will officially retire April 1. Dabney will actually leave his post on March 30 and his retirement will go into effect on April 25.
It was previously reported that Judges Christine Byrd, Nancy L. Newman, Yolanda Orozco, Randy Rhodes and Judge Dalila Corral Lyons were slated to hang up their robes earlier this month and Judge Monica Bachner will depart on March 30.
Shapiro was appointed to the bench by then-Gov. Pete Wilson in 1995. He was, at the time of the appointment, a Los Angeles deputy district attorney, a position he had held since 1970.
He received his law degree from the University of San Fernando Valley in 1969.
Dabney was awarded his judgeship by then-Gov. Gray Davis in 2002. He was also a deputy district attorney at the time of his selection.
In 1980, he graduated first in his class from Whittier College School of Law where he served as editor-in-chief of the law review.
Lindsay Lohan Case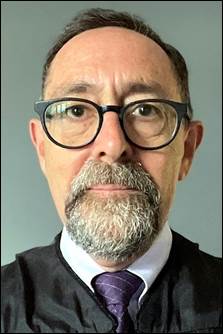 DABNEY
Dabney presided over proceedings in a misdemeanor prosecution of actress Lindsay Lohan on a charge of reckless driving and other offenses in connection with her sports car crashing into a dump truck on Pacific Coast Highway. On March 1, 2013, the judge denied a delay in of the trial and told New York lawyer Mark Heller that his pleadings did not meet California's standards and he would need to secure local counsel to assist him, unless Lohan (who was not present) were to sign a waiver of her right to competent counsel.
On March 19, pursuant to a plea bargain, Dabney ordered the actress to spend 90 days in a locked-down rehabilitation facility. He declared her to be in violation of probation imposed in 2011 in a necklace-theft case and ordered her jailed for six months, with the sentence to be lifted if she completed 30 days of community labor and a year-and-a-half of psychological therapy.
The judge did lift the jail sentence and ended her probation on Nov. 6, 2014.
On June 20, 2017, Dabney sentenced a former Los Angeles Department of Water and Power audio-visual technician, Thactus Carl Richard, to five years in prison for his participation in a bid-rigging scheme and ordered him to pay $4.4 million in restitution.
Dabney, on Nov, 28, 2018, sentenced Joel David Keyser, who had been an accountant for 20 years for Cleopatra Records, to six years and four months in prison for embezzling $3.1 million from the company, ordering restitution. He also ordered that Keyser, who had cheated on his state income taxes, to pay $290,670, plus interest, to the California Franchise Tax Board.
On May 6, 2005, Dabney ordered Jimmy James Johnson bound over for trial on an assault charge based on punching Dr. Dre at the taping of the 2004 Vibe Awards presentation after the rap star/producer declined his request to provide his autograph.
Shapiro on July 12, 2013, ordered dismissal of four felony conflict-of-interest charges against Nicholas Conway, the ousted San Gabriel Valley Council of Governments ("SGVCOG") executive director, declaring that there was "no crime here, period." He agreed with Conway's legal team—which included John Van de Kamp (now deceased) who was a former state attorney general and a former Los Angeles County district attorney—that everything Conway did was approved by the council's governing board and aired in public sessions.
Conway was charged in connection with his own company, Arroyo Associates, receiving money from SGVCOG for administering certain county and state grants.
The judge said, in dismissing charges:
"Everything Mr. Conway did was open. It was approved. I don't see a crime here."
He commented: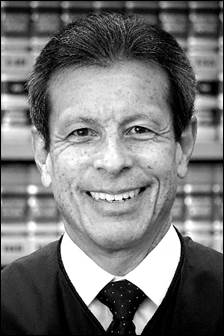 LANDIN
 "The DA may have gotten involved with people in city government who maybe had an ax to grind with Mr. Conway."
Shapiro's action prompted SGVCOG to settle Conway's claims—including the cost of his criminal defense and for wrongful termination—for $250,000.
Neither Shapiro nor Dabney responded to a request for information as to his plans or for reflections on his career on the bench.
Landin Comments
Landin—whose retirement was previously reported and whose last day on the bench is today—yesterday provided this statement:
"Regarding my future plans, I will be spending much more time with my 90 plus year old parents who still live by themselves. I will also take advantage of the long ski season, do some traveling and a start a few home improvement projects that I have put off for many years. I do intend to stay active in the legal field, but it will be on a part-time basis having recently learned that my wife and I will be grandparents later this year.
"I have many fond memories of my service on the court starting with the day I was sworn in as a judge in front of a group of family, friends, lawyers, and judges, including many who encouraged me to apply to the bench even though at the time it was rare for a public defender to be appointed. Foremost was the late Justice Paul Boland, my trial advocacy instructor when I was at UCLA. I am one of the many beneficiaries of his generosity and kindness.
"I had the most fun when I was conducting jury trials when the lawyers got along; sitting on the Court of Appeal for a four-month period with Justices Lamar Baker and Sandy Kriegler was the most intellectual challenging assignment; my time in a misdemeanor arraignment court in downtown L.A. was the most physically demanding; hearing general civil matters at the Mosk courthouse was the most work; and my current assignment—talking with attorneys and their clients to help them settle their cases—has been the most rewarding.
"I am grateful for the opportunity to have served alongside such a talented and friendly group of judicial officers and court staff. I will miss them dearly."
Copyright 2023, Metropolitan News Company