Tuesday, May 2, 2023
Page 1
Court of Appeal:
Catholic School Might Be Vulnerable to Age-Bias Suit
2021 U.S. High Court Opinion Does Not Necessarily Shield Defendant, Opinion Says, Explaining That 'Religious Exception' Cannot Be Applied in Advance of Factual Determinations as to Plaintiff's Role
By a MetNews Staff Writer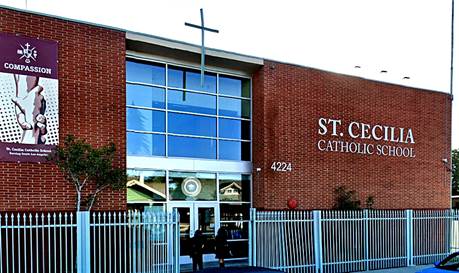 Pictured above is St. Cecilia Catholic School in South Los Angeles. The Court of Appeal for this district held Friday that the school is not necessarily exempt from exposure to liability in an age-discrimination case. There are triable issues of material fact that must be resolved before the religious exception doctrine can be applied, it declared.
An age-discrimination action brought by a woman who was fired by a Catholic school after 40 years of part-time employment in secretarial, administrative and teaching capacities might be barred by the "ministerial exception"—or maybe not—the Court of Appeal for this district has declared, saying that a judge erred in granting summary judgment to the school, with material factual issues unresolved.
"The ministerial exception, which is grounded in the religion clauses of the First Amendment, operates to preclude application of employment discrimination laws to certain claims arising out of the employment relationship between a religious institution and its ministers," Justice Victor Viramontes of Div. Eight explained in an opinion filed Friday.
That opinion reverses a summary judgment, granted by Los Angeles Superior Court Judge Robert S. Draper, in favor of St. Cecilia Catholic School, located in the Vermont Square area of South Los Angeles. It was sued by Frances Atkins, who worked for it from 1978 to 2018.
The plaintiff is not a Catholic, had only secular duties, and, when her service came to a halt, was teaching fine arts.  On the other hand, Atkins, a nondenominational Christian, testified at her deposition that, when teaching, she required  students to do "Christ-like things," adding:
"If their behavior was not Christ-like, I would say it's not Christ-like."
She also testified:
"We practiced Catholic faith every day we came into the class."
Draper's Ruling
In granting summary judgment on April 29, 2021, Draper cited the U.S. Supreme Court's 2020 decision in Our Lady of Guadalupe School v. Morrissey-Berru in which the religious exception was held to bar employment discrimination claims by two elementary school teachers, Agnes Morrissey-Berru and Kristen Biel, neither of whom had the title of a minister. However, "they both performed vital religious duties" Justice Samuel Alito said in his opinion for the majority, declaring that it's not the title that matters.
 "What matters, at bottom, is what an employee does," he wrote.
Applying that decision, Draper said:
"…St. Cecilia has presented extensive evidence that Atkins has performed various duties within her employment at St. Cecilia that qualifies her for the ministerial exemption. Morrisey- Berru instructs this Court to focus on what 'an employee does.'…Given this, St. Cecilia's evidence, particularly Atkins' own deposition, supports the finding that Atkins' role at St. Cecilia included 'perforating] vital religious duties, such as educating [the] students in the Catholic faith and guiding [the] students to live their lives in accordance with that faith" and in accordance with the religious tenants of the school….
"Whether Atkins is not actually a "minister," as argued by Atkins, is no longer central to the analysis, following the ruling in Morrissey-Berru….Atkins fails to cite any current, binding authority to support a finding that her claims in this case are outside the ministerial exception."
Viramontes's Opinion
Viramontes wrote:
"Viewing the evidence in the light most favorable to Atkins, we conclude the trial court erred in granting the summary judgment motion. Because there are triable issues of material fact as to whether the ministerial exception applies to Atkins's former job position as an art teacher and an office administrator, St. Cecilia was not entitled to judgment as a matter of law on Atkins's age discrimination suit."
The jurist distinguished the present fact situation from that present in Morrissey-Berru and in the U.S. Supreme Court's 2012 decision in Hosanna-Tabor Evangelical Lutheran Church and School v. EEOC which dealt with a teacher whose duties included teaching religious classes, attending services, and leading students in prayer.
He pointed out:
"Unlike the teachers in Hosanna-Tabor and Our Lady of Guadalupe, Atkins did not teach religion to the students, nor is there any indication in the record that she was required to do so.  Instead, Atkins testified that the subject of religion was 'taught by a separate teacher,' and that the students were instructed on Catholic doctrine 'when they had their religion class.' Atkins did include religious methodology in her teaching of art history if the class was "talking about an artist that had information about methodology for religion."  She explained, however, that '[t]his was not limited to any particular religion, but rather focused on how religion might have affected a particular artist's work.' "
Viramontes continued:
"Additionally, while the students did create some religious-themed art projects in the form of Christmas cards depicting the nativity scene, Atkins did not teach the students about any of the religious aspects of the nativity scene or Christmas.  This stands in stark contrast to the teacher in Hosanna-Tabor, who 'taught her students religion four days a week'…, and the teachers in Our Lady of Guadalupe, who 'were their students' primary teachers of religion' under a prescribed religious curriculum."
He went on to say:
"There was also no evidence that Atkins ever led any religious services, accompanied the students to religious services, or prepared the students to participate in religious services or activities.  Given that Atkins held dual roles at St. Cecilia as an art teacher and an office administrator, we cannot conclude on this record that educating students in the Catholic faith lay at the core of her job responsibilities." 
The case is Atkins v. St. Cecilia Catholic School, 2023 S.O.S. 1273.
Attorneys on appeal were Michael B. Eisenberg, Daniel Nomanim, and Joseph S. Socher of the mid-Wilshire firm of Eisenberg & Associates, for Aitkins, and Debra E. Meppen, Anthony J. Bellone and Christopher R. Wagner of the downtown Los Angeles firm of Gordon Rees Scully Mansukhani, for St. Cecilia.
Copyright 2023, Metropolitan News Company