Page 1
Ninth Circuit:
Rope, Box Cutter Were 'Dangerous Weapons' Though Not Used in Committing Crime
By a MetNews Staff Writer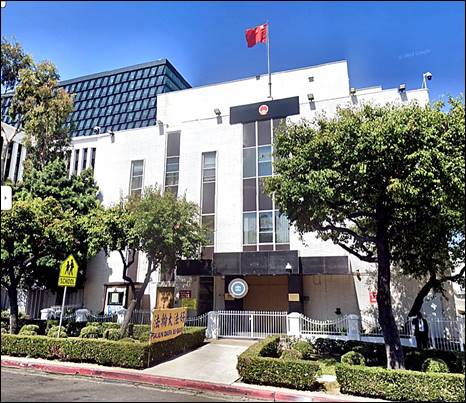 Above is a photograph of the Chinese consulate building in Los Angeles. The Ninth U.S. Circuit Court of Appeals yesterday affirmed the conviction and sentence of a man who damaged the building in 2021.
A District Court judge properly based a sentence enhancement, in part, on the defendant's possession in his car of a rope and a box cutter which he did not use in committing his crime of damaging property occupied by a foreign government but which, the Ninth U.S. Circuit Court of Appeals said yesterday, are nonetheless, "dangerous weapons."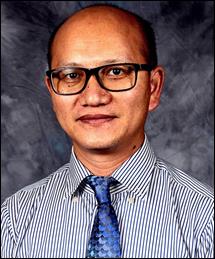 YEFEI WEN
researcher
The defendant, Yefei Wen, is a Chinese national lawfully residing in the United States. He was employed as a skeletal muscle researcher and assistant professor at the University of Houston at the time he came to Los Angeles in 2021 to attend a funeral and, exasperated at the unresponsiveness to his requests to the Chinese consulate-general that included a ticket to Hong Kong so he could visit his father, rammed his rented car into the gate of the consulate building in the Wilshire Center region.
He succeeded in breaking the gate and its lock. Wen also used a hammer to break a sign and to damage the façade of the building.
District Court Judge Fernando L. Aenlle-Rocha of the Central District of California declared the car and the hammer to be "dangerous weapons," but also included the rope and box cutter in that category, for sentence-enhancing purposes. The sentence was 10 months in prison, to be followed by two years of supervised release, a $7,500 fine, and restitution to the People's Republic of China in the amount of $4,975.
The Ninth Circuit said in a memorandum opinion that a commentary to the sentencing guidelines defines "dangerous weapon" as including any "instrument capable of inflicting death or serious bodily injury." There's no requirement, the three-judge panel said, of an intent to cause bodily injury with the implements.
"The car, hammer, box cutter, and rope are all self-evidently instruments capable of inflicting death or serious bodily injury, so the district court did not err in concluding that they constituted dangerous weapons within the meaning" of the enhancement provision, the judges declared.
They added that possession of dangerous weapons in committing a crime is all that is required, not use of them.
The case is U.S. v. Wen, 22-50207.
After his arrest, the University of Houston did not renew Wen's contract and, although he has a doctorate in veterinarian medicine and a PhD, he spent nearly a year as a Uber and Lyft driver. He now works for a private laboratory.
Copyright 2023, Metropolitan News Company