Page 1
No Deputy District Attorney Is Competing for One of the Superior Court Open Seats
By a MetNews Staff Writer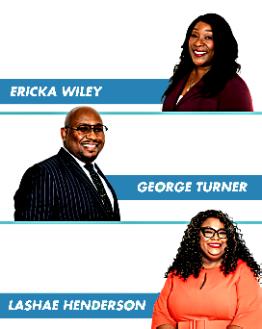 Three deputy public defenders are running for Los Angeles Superior Court open seats as "Defenders of Justice." The graphic above is from their website.
Yesterday marked the last day of the first phase of the election cycle for those seeking the eight open seats on the Los Angeles Superior Court, filing declarations of intent to run, with one surprising development: Office No. 39, has no deputy district attorney competing for it.
Deputy district attorney have traditionally had an edge in judicial elections.
The deadline for filing of declarations by incumbents and challengers was Wednesday, and two judges—Lynn Olson and Emily Spear—drew opposition.
On Sunday, the "Defenders of Justice"—a coalition of left-of center candidates funded by "Justice PAC By la Defensa, a Project of Tides Advocacy," remotely tied to billionaire financier George Soros—announced that its three contenders for Superior Court open seats in the March 5 primary will be Deputy Public Defenders Ericka Wiley, George Turner Jr., and Lashaw Henderson.
The three express, on their campaign website, "a strong commitment to alternatives-to-incarceration."
On its website, La Defensa states as a mission "to reduce the power and scope of the judiciary, law enforcement, and the legal injustice system." It adds:
"We challenge punitive approaches to public safety through public education and cross-movement collaboration."
It says it performs "transformative abolitionist work."
Last year, $473,552 went to four Defenders of Justice candidates, running as a team: Deputy Public Defenders Holly L. Hancock, Elizabeth Lashley-Haynes, and Anna Slotky Reitano, along with attorney Carolyn "Jiyoung" Park. Only Hancock, who had the endorsement of the Los Angeles Times, won.
Office No. 137
Family law attorney Diana Ruth James entered the race for Office No. 137 yesterday, as did Deputy County Counsel Tracey M. Blount.
A graduate of Whittier College School of Law, James was admitted to practice in 2013. Blount was added to the roll of attorneys in 2003 and earned her law degree at the University of LaVerne,
Deputy District Attorney Sharon Ransom joined the race for Office No. 97. She has a law degree from the University of West Los Angeles and was licensed to practice in 2004.
She ran unsuccessfully for an open seat last year.
Attorney Steve Napolitano filed a declaration for Office No. 39. His campaign website says he specializes in representing inmates at parole hearings.
It recites:
"In addition to his legal work, Steve is currently serving his fifth term as Mayor/City Councilmember for the City of Manhattan Beach. Prior to that, he served as Senior Deputy to L.A. County Supervisor Don Knabe and has served as an advisor to several other elected officials as well. In all, Steve has more than 30 years of experience in law and local government with a long track record of success."
He was admitted to practice in 2001. His law degree is from Loyola.
Cannibis Consultant Declares
Criminal defense lawyer Ronda Dixon on Friday filed a declaration of intent to seek Office No. 39. Her law office website says:
"Ronda is a City of Sacramento Cannabis Consultant, Cannabis Consultant for the City of Los Angeles and a Policy/Compliance Expert for Green Believers, a Social Equity Incubator featuring prominent and nationally recognized cannabis leaders, advocates, medical professionals, scientist, cultivators, extractors, attorneys."
Her Los Angeles law office is in a Miracle Mile apartment building.
Dixon was admitted to the State Bar in 1988. She was on inactive status from August 1994 to August 1997.
The University of California at Davis conferred a law degree on her.
Here is the line-up of candidates for open seats of press time yesterday, as well as the two challenged incumbents. Delays on the part of the Registrar-Recorder's Office in posting filings could result in some candidacies not being included below.
Office No. 12 (held by Judge Lynn D. Olson): Judge Lynn D. Olson, Deputy Public Defender Rhonda Antoinette Haymon.
Office No. 39 (held by Judge Philip L. Soto): criminal defense attorneys Michael Berg and Ronda Dixon, Deputy Public Defender George A. Turner Jr., and parole attorney Steve Napolitano.
Office No. 48 (held by Judge Margaret Miller Bernal): private practitioner Malik C. Burroughs, Deputy District Attorney Renee Rose, and Deputy Public Defender Ericka J. Wiley.
Office No. 93 (held by Judge Malcolm Mackey): Deputy District Attorney Victor Avila, criminal defense attorney Michael Berg.
Office No. 97 (held by Judge Craig Mitchell): Deputy District Attorneys Sam Abourched and Sharon Ransom, private practitioner La Shae Henderson.
Office No. 115 (held by Judge Mel Red Recana): Deputy District Attorneys Christmas Brookens and Keith Koyano.
Office No. 124 (held by Judge Emily Theresa Spear): Judge Emily Theresa Spear, Deputy Public Defender Kimberly Repecka.
Office No. 130 (held by Judge Brian C. Yep): Private practitioners D. Carlos Dammeier and Christopher Darden and Deputy District Attorneys Leslie Gutierrez and Jacob Lee.
Office No. 135 (held by Judge Cary Nishimoto): attorney Mohammad Ali Fakhreddine, Deputy District Attorneys Georgia Huerta and Steven Yee Mac, and private practitioner Eric Jeffrey Youngquist.
Office No. 137 (held by Judge Dianna Gould-Saltman): criminal defense attorney Michael Berg, law school Associate Dean Luz E. Herrera, family law attorney Diana Ruth James, and Deputy District Attorney Jacob Lee.
Copyright 2023, Metropolitan News Company