Page 1
Court of Appeal:
Judgment Creditor Cannot Seize Academy Award 'Oscar'
Opinion Says Right of Creditor Cannot Be Greater Than That of Oscar Recipient Who Is Bound by Contract, As Well As Bylaw, to Give Academy Right of First Refusal on Sale of Statuette, With Sale Price Set at $10
By a MetNews Staff Writer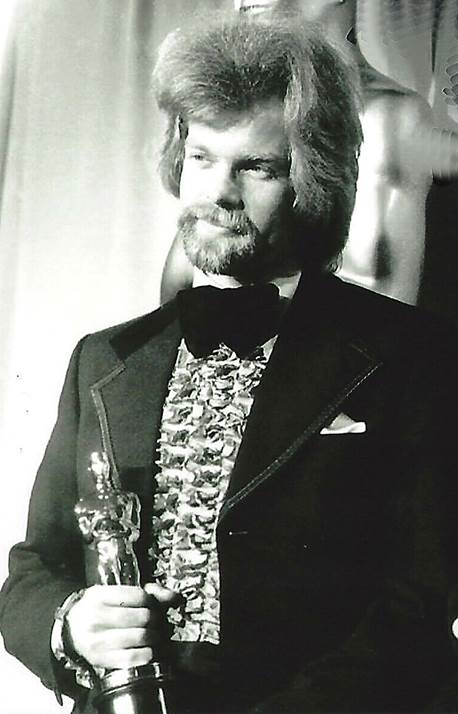 David S. Ward is seen at 1974 Academy Awards Ceremony holding the Oscar he won in the category of 1973's "Best Writing, Story and Screenplay Based on Factual Material or Material Not Previously Published or Produced." The award was for the script for "The Sting." The Court of Appeal held Friday that a judgment creditor did not have the power to levy execution on the Oscar.
A judgment creditor has no power to levy execution on an "Oscar" because the organization that bestows the award annually in various categories retains an equitable interest in the statuette, the Court of Appeal for this district held Friday.
The opinion by Presiding Justice Elwood Lui of Div. Two affirms a postjudgment order by Los Angeles Superior Court Judge Holly J. Fujie. She ruled that by virtue of a contract between the Academy of Motion Picture Arts and Sciences ("AMPAS") and David S. Ward, who at the 46th awards ceremony on April 2, 1974 was given the Oscar for the best script of 1973, for "The Sting," the academy had the right to buy back the Oscar for $10 by virtue of a right of first refusal.
Ward's judgment creditor, Maira Duarte Juarez, Fujie declared, is entitled to the $10. Juarez appealed.
Wording of Contact
The contract reads:
"I hereby acknowledge receipt from you of replica No. 1659 of your copyrighted statuette, commonly known as 'Oscar', as an Award for Best Story and Screenplay—The Sting'. I acknowledge that my receipt of said replica does not entitle me to any right whatever in your copyright of said statuette and that only the physical replica itself shall belong to me. In consideration of your delivering said replica to me, I agree to comply with your rules and regulations respecting its use and not to sell or otherwise dispose of it, nor permit it to be sold or disposed of by operation of law, without first offering to sell it to you for the sum of $10.00. You shall have thirty days after any such offer is made to you within which to accept it. This agreement shall be binding not only on me, but also on my heirs, legatees, executors, administrators, Estate, successors and assigns. My legatees and heirs shall have the right to acquire said replica if it becomes part of my Estate, subject to this agreement."
A bylaw of the academy is to the same effect.
Lui's Opinion
In Friday's opinion, Lui said:
"As Ward's creditor, Juarez is subject to the same restriction imposed by the Agreement and bylaws. Juarez had no greater rights than Ward."
Juarez argued on appeal that an equitable servitude can only exist as to real property and, in any event, applying the doctrine in the present instance would constitute an unlawful restraint on alienation.
"Most cases applying the doctrine of equitable servitudes involve real property," Lui acknowledged, but he pointed to one case where it was applied to personal property: Nadell & Co. v. Grasso.
In that Nov. 19, 1959 decision, Justice Mildred Lillie (later a presiding justice, now deceased) recognized that there can be "equitable servitudes on chattels." Applying the decision in Nadell, Lui said:
"A servitude may be enforced if personal property is subject to a written agreement imposing a reasonable restriction, and a later owner has notice of the restriction."
Restraint on Alienation
In responding to the contention that a restraint on alienation would be unreasonable, Lui quoted the academy's chief financial officer, Andy Horn, as saying in a declaration that AMPAS "has spent millions of dollars to promote the 'Oscar'"; that "[t]he prestige associated with receiving an 'Oscar' is unparalleled by any other award of its kind"; and that the award is not intended "to be treated as an article of trade." Horn said that if Juarez were to put the Oscar up for sale at an auction, as she planned, there would be irreparable harm to the academy and its members and to "the prestige of the Oscar in general." Accepting Horn's view, Lui wrote: "An Oscar is conferred on those who earn it by dint of artistic talent that is rewarded by acclamation of peers in the film industry. An Oscar that is sold by a creditor, who did not earn the award, diminishes the honor of the achievement and the value of AMPAS's copyrighted statuette."
Unpaid Overtime
Juarez had been Ward's housekeeper. The Labor Commission awarded her unpaid overtime, adding penalties, and the award became a judgment.
Knowledge of the Oscar was gained in a judgment debtor examination. Ward explained at the examination that he was virtually judgment proof; his wages and pension had been garnished based on unpaid taxes and his assets were few.
Juarez sought a turn-over order; the academy intervened; and Fujie accepted the academy's view.
Ward is now 77. He was nominated in 1993 for the best script award for "Sleepless in Seattle" but did not win it.
Copyright 2023, Metropolitan News Company