Page 1
Ninth Circuit:
'I Can't Believe It's Not Butter!' Spray Is Not Mislabeled
By a MetNews Staff Writer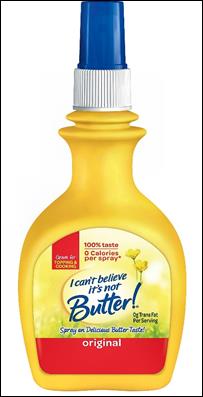 Pictured is a bottle of 'I Can't Believe It's Not Butter!' Spray. The Ninth U.S. Circuit Court of Appeals yesterday held that claims against the then-manufacturer were properly dismissed because they were based on proposed labeling that contravenes the Food Drug and Cosmetic Act which expressly precludes standards deviating from its own.
The Ninth U.S. Circuit Court of Appeals yesterday affirmed the dismissal of a consumers' action against the then-maker of 'I Can't Believe It's Not Butter!' Spray alleging that the claim on labels that it contains 0 calories and 0 grams of fat per serving is misleading because it is based on the false assumption that a consumer would discharge one to five sprays rather than using as much of the substitute as it would of butter.
Ninth Circuit Judge Daniel A. Bress wrote for the majority in saying that the label conforms to the Food Drug and Cosmetic Act ("FDCA") requirements for the labeling of sprays and that the plaintiffs' claims under California consumer protection statutes are preempted by the FDCA which does not permit deviating standards. Ninth Circuit Judge Lawrence VanDyke signed Bress's opinion and Tenth Circuit Judge Carlos F. Lucero, sitting by designation, dissented.
Bress wrote:
"Over 125 years ago. the Supreme Court decided whether a tomato is a fruit or a vegetable. See Nix v. Hedden, 149 U.S. 304. 307 (1893) (the answer: a vegetable). In a more modem iteration of this legal genre, we today decide, in effect, whether the product 'I Can't Believe It's Not Butter!' is a butter or a spray. The question turns out to matter because the plaintiff consumers contend that the product's label makes misrepresentations about fat and calorie content based on artificially low serving sizes.
"We hold that the information on the product's label complies with federal food labeling requirements for 'spray type' fats and oils. The product is a spray under federal regulations, and it was labeled accordingly."
Customary Usage
The plaintiffs contended that the serving sizes used—one discharge of the oil when used for cooking and five squirts when used as a topping—do not "reflect customary usage" because the product is intended as a substitute for butter and therefore "belongs in the same product category as butter itself with a required serving size of one tablespoon."
Under regulations that supplement the FDCA, if a product has less than five calories per serving, the calorie count "may be expressed as zero" and if it contains less than 0.5 grams of fat per serving, the fat content "shall be expressed as zero." If the standard for butter—one tablespoon—were applied, the 'Not Butter' spray could not claim to contain zero calories and no grams of fat per serving.
Responding to the plaintiffs' contention that the product in issue should be treated the same as butter, Bress said:
"The notion that Butter! Spray could be housed under the FDA's legal classification for 'butter,'…is simply implausible. The FDA's 'reference amount' for 'butter, margarine, oil, [and] shortening' is 1 tablespoon….Plaintiffs agree that to generate one tablespoon of Butter! Spray, 40 sprays would be required. '[C]ommon sense,'…tells us that this is not how such a product is typically used. Nor does the plaintiffs' complaint allege otherwise. The complaint states at one point that some consumers 'report using far more than one spray' and that '[s]ome even admit to pouring the product.' But under the FDCA and its implementing regulations, serving sizes are based on amounts 'customarily consumed.'…There is no well-pleaded allegation in the complaint that consumers customarily drown their food in 40 sprays of I Can't Believe It's Not Butter! Spray."
Further Contention
The jurist went on to say:
"Trying a different approach, plaintiffs argue that consumers do not typically use just one spray of Butter! Spray, and that Unilever's serving size information is therefore misleading because 'serving sizes must reflect customary usage.' In plaintiffs' view, food manufacturers must determine how their customers consume food products, creating a supposed issue of fact both in this case and presumably every other lawsuit like this alleging that customers eat more of something than an FDA serving size would suggest.
"Plaintiffs' theory has it backwards. It is the FDA that sets the reference amounts for serving sizes based on the data 'set forth in appropriate national food consumption surveys.' "
He added:
"[I]f plaintiffs (or the dissent) believe that the FDA should not allow products to be labeled as containing zero fat or calories when a given serving size may contain some of each, they may raise that issue with the agency. This argument cannot overcome the FDCA's express preemption provision."
Lucero's Dissent
Lucero asserted:
"The proposition that, absent some Canaan miracle, a bottle of flavored oil containing 1.160 calories and 124 grams of fat can be transformed into zero calories and zero grams of fat by the simple act of replacing the bottle cap with a pump device is ludicrous. Yet. that is appellee Unilever's defense to appellants' state law consumer protection claims. Unilever answers the appellants' claims not by asserting some molecular change that would result in such a transformation, but by asserting that the claims are preempted by the FDCA. hi other words, appellee tells us that its labelling complies with FDA requirements, allowing it to label its product as containing zero calories and zero grams of fat. Because I disagree with my respected colleagues hi then* analysis that permits Unilever to engage in such deception. I must dissent."
The case is Pardini v. Unilever United States, Inc., 21-16806.
The "I Can't Believe It's Not Butter" brand is now owned by Upfield, a Dutch company.
Copyright 2023, Metropolitan News Company