Page 1
Court of Appeal:
Jury Wasn't Coerced in Trial of Black Supremacist Slayer
By a MetNews Staff Writer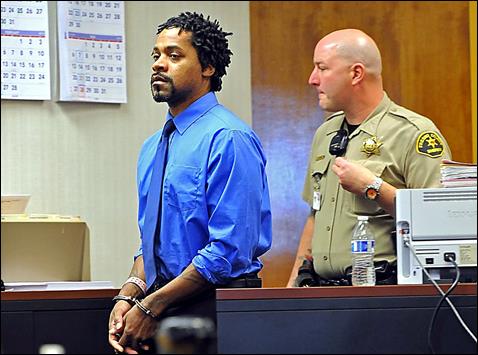 —AP
Kori Ali Muhammad is seen in court on Jan. 21, 2018, when he faced a competency hearing. His 2020 conviction on four counts of murder and other crimes were affirmed yesterday by the Court of Appeal for this district.
The Court of Appeal for this district yesterday affirmed the conviction of a Black supremacist who embarked on a 2017 shooting spree in downtown Fresno, firing 17 shots, with three white men killed, and with a security guard at a motel fatally shot be him five days earlier.
"Here we hold that allowing a jury to deliberate during the COVID pandemic is not coercive and does not deprive a defendant of the due process of law," Justice Kenneth Yegan wrote.
Kori Ali Muhammad—who was convicted on April 22, 2020, of four murders, one in the first degree, and four attempted murders—contended on appeal that Fresno Superior Court Judge Jonathan B. Conklin prejudicially erred by insisting that that jurors continue deliberations notwithstanding that the COVID-19 pandemic had flared, setting an April 30 deadline for reaching a verdict.
Yegan's Opinion
 Yegan responded:
"We are not persuaded the trial court coerced jurors by holding an immutable deadline over their heads. It assured them finishing trial '[did not] override your health and well-being and concerns about your health.' The trial court responded as follows when a juror asked whether proceedings would continue past April 30: 'I'm just about to send you back in to order you to pick up your deliberations right where you left off. Please take your time, whatever time you feel is necessary. We're here. We're still, believe it or not, within that schedule that we talked to you about. So, urn, we're doing fine. I don't want you to feel you need to rush in any way.'
"Appellant describes the proceedings below as 'a shambles' and having gone 'off the rails' because of the pressure placed on the parties and jury. We are not persuaded by this hyperbole. There was no 'hard deadline' of April 30. And the verdicts were reached 10 days before that. Appellant's case required verdicts."
Life Imprisonment
Following the jury's verdict, the defendant's lawyers reached a deal with prosecutors: Muhammad withdrew his plea of not guilty by reason of insanity, obviating a need for a sanity phase, and the People agreed not to drop its request for the death penalty.
With convictions for crimes that were charged in addition to the murders and attempted murders and with enhancements, Muhammad was sentenced to a determinate prison term of 61 years plus an indeterminate term of 145 years to life.
Conklin said, in sentencing Muhammad:
"I grant that the world has changed since this trial began. I hate to break it to you, Mr. Muhammad, but your delusional beliefs have nothing to do with that change.
"The only change you've caused is the loss of four lives, the deaths of four men who simply had the misfortune to cross your path. You've also inalterably impacted the lives of their families and friends and the others who you attempted to murder that day. But your ability to impact lives ends today, ends now, and ends here."
The case is People v. Muhammad, 2023 S.O.S. 611.
The appeal was one of 38 that on Aug. 9. 2020 were shifted by the California Supreme Court from the Fifth District Court of Appeal to this district while 28 appeals were transferred from the Fresno-based appeals court to the First District Court of Appeal in San Francisco. At the same time, 40 appeals were moved here from the Sixth District Court of Appeal in San Jose and 20 were assigned to the First District.
Copyright 2023, Metropolitan News Company