Page 1
Veteran Attorney John L. Moriarity, 90, Dies
By a MetNews Staff Writer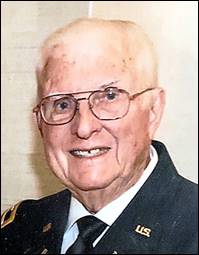 JOHN L. MORIARITY
1932-2023
Attorney John LeRoy Moriarity, dean of the San Fernando Valley practitioners, has died at the age of 90 after 62 years of law practice.
He succumbed Saturday night at Huntington Hospital, on his 100th day of hospitalization following a stroke. At his bedside were his fiancée/companion, Kelley Nelson, a son, Dr. Jack Moriarity, and his long-time employee, paralegal Gayle Stark.
Former Los Angeles County District Attorney Steve Cooley remarked:
"Honest accomplished Lawyer, Philanthropist, Military Man, Supporter of Law Enforcement, Patron of the Arts, Contributor to the Civic Well Being—John was all of these in addition to being a great friend to many and an exquisite gentleman. I have known John for nearly three decades. We belonged to some of the same organizations. John was an American patriot and true citizen!"
Parris's Reflections
Attorney R. Rex Parris, now in his fifth term of mayor of Lancaster, said:
"John was the most gracious and professional attorney I know. I met him when a client fired me and hired him. His letter requesting the file was so gracious that I not only sent him the file, I became friends with him. "He mastered the art of being an aggressive trial attorney without ever losing his sense of decency and civility. He was an example we all should follow."
Former Los Angeles County Supervisor Michael D. Antonovich commented:
"John Moriarity was one of those special people you meet in life who truly made a difference. Our friendship goes back to my first election to the Community College Board of Trustees and deepened over the years as we worked together on many causes, including the election of President Reagan and Governor Deukmejian.
"He was generous and a class act. And, he never wavered in his dedication to California and our nation. May he rest in peace!"
Hong Comments
 Nowland Hong, co-founder and two-time president of the Southern California Chinese Lawyers Association, had this to say:
"Knowing John Moriarity personally for 50 years is one of the great benefits in my life. I met John in 1973 when Roger Arnebergh, the former city attorney of Los Angeles, joined John in his practice of law. I asked Roger why he joined John? The answer was forthright. It was because John was straight forward, an outstanding practitioner, was a true conservative, and reliable."
He said he "knew that Roger was sincere, having worked for him for 12 years" as a deputy in his office. Hong, who is of counsel to Best Arnsberg & Krieger, continued:
"I recall that John was always known as an outstanding trial lawyer, well respected by the City Attorney's Office—which knew that one had to be well prepared in opposing him.
"This year, I had the great honor to be included with John and long-time friend Harry Hathaway to be one of three Persons of the Year for 2020 honored by the Metropolitan News at a dinner. I was overwhelmed to be included with receiving that honor with John and Harry."
Law-Enforcement Supporter
Los Angeles Chief of Police Michel Moore described Moriarity as "a true American hero" a "man who believed deeply in our values," adding:
"John held law enforcement, particularly the men and women of the Los Angeles Police Department, with the highest regard.  He will be remembered for his tireless optimism and love for his family."
Tom Martin, a retired Los Angeles Sheriff's Department commander, said:
"John was one of the kindest and most giving individuals I've have know. He loved his family, country and friends in law enforcement.
"My wife and I were privileged to know him and his family over the years. He held a special place in our hearts. He was generous to a fault, often inviting us to the myriad of fund-raisers and black-tie affairs.
"John was a generous supporter of the Los Angeles County Sheriff's Department. He offered us encouragement and support of our various outreach projects.
"We will miss his gregarious smile and gracious personality."
Other Tributes
Former District Attorney Robert H. Philibosian, of counsel to Sheppard Mullin, hailed Moriarity as "a genuine gentleman, old school lawyer, and a true patriot."
Also lauding him as a "true patriot"—as well as being a "friend for over 40 years"—was political commentator Michael Reagan, adopted son of President Ronald Reagan. He expressed thanks to Moriarity "for your love of country."
Patrick M. Kelly, a former president of the State Bar and the Los Angeles County Bar Association, termed him "a fabulous lawyer" whose death is "a great loss to the community."
Retired U.S. District Court Judge Dickran Tevrizian of the Central District of California said that Moriarity was "a very decent man."
UCLA Alumnus
Moriarity graduated from the law school at UCLA in 1960, receiving his diploma at about 11 a.m., and roughly three hours later was at work in a law-related post. He had been acting as a "student attorney" at the California Department of Transportation. He passed the bar exam and was sworn in as a lawyer on June 6, 1961. The lawyer quickly gravitated to personal injury work and at the 1973 annual convention of the California Trial Lawyers Association (now known as Consumer Attorneys of California) Los Angeles chapter President Stanley Jacobs announced that in the past year, Moriarity had tried more personal injury cases to verdict than any other lawyer in the state.
He was married for nearly 50 years to Maria Ann Moriarity, who died of cancer on Nov. 17, 2009. They had six children: Donald, Lloyd, Lynda, Robert, Jack, and Douglas.
In 1994, Moriarity ran for an open seat on the Los Angeles Superior Court. His opponent was a member of state Assembly, Terry Friedman, whose campaign received overflow funds from election campaigns of Democratic candidates, and Moriarity narrowly lost.
Professional organizations in which he had membership were the California Trial Lawyers Association, Federalist Society, Irish American Bar Association, San Fernando Valley Bar Association, San Fernando Valley Business and Professional Association, and the Sheriff's Youth Foundation.
Moriarity was a member of the Pepperdine Law School's Board of Advisors. The "Col. John L. and Maria Moriarity First-Year Moot Court Competition" is held annually. He had been a member of the U.S. Department of Transportation National Highway Safety Commission and the Los Angeles County Commission for Narcotics and Dangerous Drugs, in addition to serving as president of the Footprinters, a law enforcement support organization.
He was active in the San Fernando Valley chapter of the American Red Cross, the Valley chapter of the Americanism Educational League, the California chapter of the Sons of the Revolution, the Society of the Friendly Sons of St. Patrick, the Order of St. Lazarus, and the Ronald Reagan Presidential Foundation and Institute. Moriarity held posts in several military organizations, including that of judge advocate general of the national Military Order of the World Wars.
Services are pending.
★★★★
Moriarity Was a Patriot, Law School Patron, Supporter of Law Enforcement, Friend
By RONALD F. PHILLIPS
(The writer is senior vice chancellor of Pepperdine University and dean emeritus of Pepperdine's Caruso School of Law.)
OLONEL JOHN L. MORIARITY was many things, but anyone who spent even a few minutes with him likely knows that he was a patriot of the first order. That could mean different things to different people perhaps, but in John's case, that meant he loved his country far more than most, and did all that he could to honor it, and make it even better.
John truly did make the country even better through his extended time in the military service, his active membership in more organizations than one would ever imagine, and his ability to bring people together who shared a common interest of some sort. Even before one of their children, Seaver College alumnus Donald Moriarity ('79), joined the Pepperdine community, John and Maria Moriarity were loyal supporters of the University, particularly its Caruso School of Law.
We are grateful for John's devoted advocacy over more than four decades. He was a strong supporter of the law school, serving on its Board of Visitors, and its successor organization, the Board of Advisors, and he and his late wife established the Colonel John L. and Maria Moriarity First-Year Moot Court Competition. John cared about the University mission, believing that the world needed more Pepperdine lawyers. He was responsible for encouraging a number of excellent students to attend Caruso School of Law.
Natalie White served as his assistant, and he encouraged her to go to law school. When she graduated from Pepperdine Caruso School of Law, John hired her as an associate in his law firm.
John was a most successful trial lawyer, and an indefatigable advocate for his clients. John was a cultivator of friends, and he invested in them faithfully.
It is widely known that John was a staunch supporter of law enforcement, and Los Angeles sheriffs and police Chiefs over time were his close friends.
Speaking of friends, John made them easily and constantly. For the last several years, John has been most fortunate and benefited greatly by having Kelley Nelson by his side.
Countless organizations of widely varying description and purpose are better, and more effective because of Colonel John L. Moriarity, and it was most appropriate that his dear, long-time friends, Roger and Jo-Ann Grace, and the Metropolitan News-Enterprise, honored him as Person of the Year of 2020/2021.
John Moriarity will be greatly missed by his family, friends, and all of the organizations that he has given his attention and support. John was very much an original, in the finest sense.
Copyright 2023, Metropolitan News Company