Page 1
Retired Judge David Milton to Run for D.A.
By a MetNews Staff Writer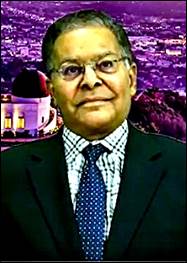 DAVID MILTON
Arbitrator/mediator
Retired Los Angeles Superior Court Judge David S. Milton has announced his candidacy for Los Angeles County district attorney, but without fanfare and with scant notice being taken of his bid.
He declared his intent to oppose incumbent George Gascón on May 23 in a video posted on YouTube. Milton, who is now an arbitrator/mediator and a real estate broker, appears on the video with San Gabriel Valley attorney Long Z. Liu who expresses his support for the former judge's candidacy.
Milton does not have a campaign website.
Delivers Message
Setting forth his qualifications for the post of the county's chief prosecutor, Milton—who was a Los Angeles County deputy district attorney for eight years prior to his appointment to the Los Angeles Municipal Court in 1987—says on the video:
"I'm not aware of the full list of the candidates for this office but what I guess I'm aware of today, I am the only candidate with judicial perspective, and that's important. Think about my candidacy—my experience as a prosecutor now coupled with that judicial experience."
He remarks, without elaborating, that Gascón "has done a complete disservice to the community, to the citizens of Los Angeles."
Death Penalty
Milton also comments on the video, reflecting on his days as a Superior Court judge:
"I have sentenced defendants to death. It's a serious matter. "Whether you agree or not with the death penalty, it's not my job. My job is to carry out the will of the people of the State of California….
"The voters have asked that the death penalty be the law and my job is to enforce that law."
Missed Deadline
In 1992, he missed the deadline for filing his nominating papers for his Municipal Court seat, seemingly creating an open seat.
However, claiming inadvertence, he sought a writ, which then-Los Angeles Superior Court Judge Robert O'Brien granted, allowing Milton's nominating papers to be filed, and back-dated.
Notwithstanding having obtained the writ, he announced soon after his retirement from the bench. Milton became chief assistant prosecuting attorney for Marion County, Ind.
He returned to California after two years and became assistant chief trial counsel for the State Bar of California. Then-Gov. Pete Wilson appointed him to the Superior Court in 1995, and he retired from that office on Feb. 19, 2014.
Anticipated Candidacy
Although Milton boasts of being the only candidate for district attorney with judicial experience, a current Los Angeles Superior Court judge, Craig Mitchell, is expected to go on leave soon and compete for the office.
He has a political consultant, Crystal Litz.
Association of Deputy District Attorneys Vice President Eric Siddall is also expected to become a candidate.
Those whose hats are already in the ring are former Assistant U.S. Attorney General Nathan Hochman and Los Angeles County Deputy District Attorneys Jonathan Hatami, John McKinney, and Maria Ramirez.
Copyright 2023, Metropolitan News Company