Page 1
David Milton to Seek Ballot Designation of 'Judge Retired' in District Attorney Bid
Roger M. Grace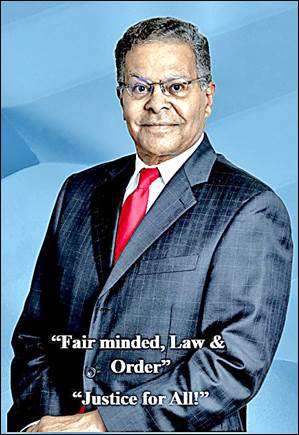 Above is a snapshot from former Los Angeles Superior Court Judge David S. Milton's campaign website.
Retired Los Angeles Superior Court Judge David S. Milton said Friday he will seek to run for the office of Los Angeles County district attorney with the ballot designation of "Judge Retired," signaling the prospect of a writ petition by one or more of the rival candidates if the Office of Registrar-Recorder does not reject the proposed designation.
Elections Code §13107 provides that a candidate may have a designation included under his or her name consisting of "[n]o more than three words designating either the current principal professions, vocations, or occupations of the candidate, or the principal professions, vocations, or occupations of the candidate during the calendar year immediately preceding the filing of nomination documents."
Also, 2 Code of Regulations §20716 provides:
"A candidate may not use the word 'retired' in his or her ballot designation if that candidate possesses another more recent, intervening principal profession, vocation, or occupation."
Milton has current occupations. He is an arbitrator/mediator with ADR Services, as well as being, according to that outfit's website, "an active real estate broker."
His own campaign website says:
"After 36 years in public service, David entered practice as a private judge where he handles arbitrations, mediations, and complex discovery matters."
Order of Words
Less significantly, even if Milton were not currently engaged as an arbitrator/mediator and a real estate broker, his proposed designation would be impermissible based on the order of the words.
The word "retired" may not be used, under Elections Code §13107(e)(3), "following any word or words which it modifies."
Examples of an impermissible ballot designation, provided by the 2 Code of Regulations §20716, are "Major USAF, Retired" and "City Attorney, Retired."
Outright Victory Sought
Milton is calling for his outright election as district attorney in the March 5 primary election—although incumbent District Attorney George Gascón is expected to seek reelection and seven others have announced their candidacies.
His campaign website says:
"HAVE YOUR NEW DISTRICT ATTORNEY IN OFFICE BY MARCH 2024.
"Avoid the continuing and protracted risk to Los Angeles County citizens,  created by Gascon, by voting for Judge David Milton, (Ret) as District  Attorney and giving him 50% plus votes during the primary election,  obviating the need for a November run-off." Even if Milton attained 50 percent of the ballots plus one in the primary, he would not take office in March; Gascón's term ends at noon on Dec. 4, 2024.
Milton was appointed to the Los Angeles Municipal Court on Nov. 4, 1987; missed the deadline for filing his nominating papers in 1992 but obtained a writ, based on a claim of inadvertence, directing that back-dated papers be accepted; retired on Sept. 8, 1992 and went to Indiana; was appointed to the Superior Court on Sept. 13, 1995; and retired from office on Feb. 19, 2014.
Copyright 2023, Metropolitan News Company