Page 1
Court of Appeal:
Owners of Building Might Be Liable to Daredevil Tenant
Man Who Locked Himself Out of Apartment, Went to Roof, Tried to Lower Himself to Balcony and Fell, Obtains Reversal of Summary Judgment Issued by Judge Who Says He Had Only Himself to Blame for Injuries
By a MetNews Staff Writer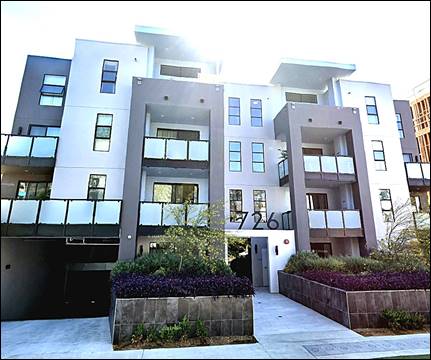 Depicted above is an apartment building in Hollywood, near Paramount Studios, where a tenant tried to lower himself from the roof onto his fourth-floor balcony, sustaining injuries when he fell to the ground. The Court of Appeal held Friday that the owners and managers of the building might be liable to him.
The Court of Appeal for this district on Friday reversed a summary judgment in favor of the owners and managers of an apartment building sued by a tenant who, having locked himself out of his unit and unable to obtain help from the management, went to the roof and tried to lower himself to his top-floor balcony but instead fell to the ground, sustaining injuries.
Justice John L. Segal of Div. Seven authored the opinion. He declared that "the default rule that, under Civil Code section 1714" is that the defendants owed the tenant "a duty of care to provide and maintain safe conditions at the apartment building."
The first sentence of that section says:
"Everyone is responsible, not only for the result of his or her willful acts, but also for an injury occasioned to another by his or her want of ordinary care or skill in the management of his or her property or person, except so far as the latter has, willfully or by want of ordinary care, brought the injury upon himself or herself."
Foreseeability, he declared, is a matter for a jury to determine.
Mori's Ruling
In ruling in favor of defendant 726 Hudson Ave LLC and others in an action brought by Arkadi Razoumovitch for negligence and premises liability, Los Angeles Superior Court Judge Audra Mori said on Aug. 27, 2021:
"[T]here is no evidence that any condition of the roofs caused the subject incident—that is, that any condition caused Plaintiff to intentionally lower himself off the roof and hang by his hands to try to balance on the retainer wall of his balcony before losing his balance, which caused him to fall.
"Plaintiff fails to raise a triable issue of material fact concerning the foreseeability of the incident.
"In addition, Plaintiff did not address Defendants' argument Plaintiff's own conduct was a superseding cause of Plaintiff's harm. Courts have determined that a plaintiffs conduct can be the 'sole' proximate cause of his or her own harm."
Mori added that "there is no evidence to suggest Defendants were aware or should have been aware people would attempt to intentionally climb down the roof of the property."
Segal's Opinion
In his opinion reversing the summary judgment, Segal said:
"…California law imposes a duty on everyone, including landlords, to exercise reasonable care, and the 726 Hudson defendants have not shown public policy considerations justify departing from that general duty; and causation, as it is in most cases, is a factual issue."
Citing §1714, Segal said:
"The proper inquiry begins by assuming there is a duty under that general rule, not by asking, as the 726 Hudson defendants ask, whether Razoumovitch's injuries were foreseeable."
The jurist proclaimed that "the 726 Hudson defendants have not established that this case falls into 'an entire category of cases; warranting a departure from the general duty rule." Segal said that Razoumovitch "created a triable issue" as to whether the defendants' breach proximately caused his injuries "by stating in his declaration that, had the 726 Hudson defendants not breached their duty of care to him—by, for example, not having an on-site property manager or an alarm on the roof-access door—he would not have gone onto the roof on the night of his injury."
The defendants argued that it was not foreseeable "that a tenant being locked out of his or her apartment would result in the tenant intentionally climbing down the side of a building to access his apartment." Segal responded: "A jury may well agree (or assign Razoumovitch considerable comparative fault), but the issue cannot be decided as a matter of law on this record."
The case is Razoumovitch v. 726 Hudson Avenue, LLC, 2023 S.O.S. 1446.
Attorneys on appeal were Laura F. Sedrish of Jacoby & Meyers and Steven B. Stevens for Razoumovitch and James P. Souza of Kennedy & Souza and Arezoo Jamshidi of Haight Brown & Bonesteel and for the defendants.
Copyright 2023, Metropolitan News Company