Page 1
Deputy D.A. Faces Three Defense Lawyers in Race
By a MetNews Staff Writer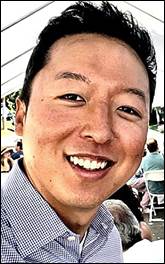 JACOB LEE
judicial candidate
There is a deputy district attorney in each of the eight races for open seats on the Los Angeles Superior Court, contrary to appearances as of closing time of the Registrar-Recorder's Office on Monday, the last day for filing declarations of intent.
Deputy District Attorney Jacob Lee filed a declaration for Office No. 39 on Monday, but the paperwork was not processed until that night.
Others who filed declarations for the seat are criminal defense attorneys Michael Berg and Ronda Dixon and Deputy Public Defender George A. Turner Jr.
Lee took out nominating papers yesterday for Office No. 39.
On Nov. 2, he pulled a declaration of intent to run for Office No. 137 and was, at that point, represented by political consultant Crystal M. Litz. However, on Nov. 8, he took out a declaration for Office No. 130 and Litz's representation of him came to an end because another client, Christopher Darden, is in that race.
Theoretically, Lee could still file nominating papers for any of the three seats for which he filed a declaration of intent.
Nominating papers may only be filed for only one office.
One other candidate's choice of seats is uncertain. Criminal defense lawyer Michael Berg filed declarations of intent for three seats—Nos. 39, 93, and 137—and on Monday took out nominating papers for all three offices.
Berg is represented by Litz so that, should Berg opt to run for Office 39, renewed representation of Lee would be precluded should Lee also file nominating papers for that seat.
Copyright 2023, Metropolitan News Company