Page 1
Retired Los Angeles Judge Arnold Gold Dies
By a MetNews Staff Writer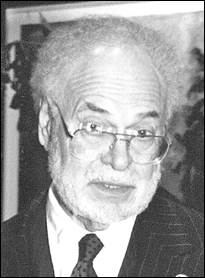 1932-2023
Retired Los Angeles Superior Court Judge Arnold H. Gold, lead author of a five-volume treatise on probate and trust law, has died.
He was 91. Gold succumbed on Sunday.
Gov. George Deukmejian appointed him to the bench in 1988. From 1993-94 Gold supervised the Probate Department.
He was known as a judge who was knowledgeable of the law, stuck to the law in his rulings, and was patient.
Gold retired from the bench in 2001, becoming a mediator/arbitrator. In 2006, the National College of Probate Judges presented him with its Treat Award for Excellence (named after the college's founder, William W. Treat, who had served as a probate judge in New Hampshire).
Gilbert's Thoughts
Court of Appeal Presiding Justice Arthur Gilbert said that Gold was a "dear friend" whose passing creates a "gaping hole" in his life. He reflected:
"He had no compunctions about letting me know when he disagreed with a case or article I wrote; to be more precise, when he vigorously and vociferously disagreed with what I had written. What's a close friend for anyway? And now and then I got a pat on the back.
"He was the world's champion nitpicker. Once I wrote an article and failed to accurately add up some fractions. Arnold caught it. Who, I ask you, would take the time to add up fractions when they are not germane to the point of an article?"
Gilbert continued:
"Arnold, how lucky I am to have you as a dear friend who has enriched my life and kept me on my toes. You are still there with me Arnold, and keep up the watchful eye. I will do my best dear friend."
Alpert Comments
Arbitrator/mediator Lee Kanon Alpert, a former president of the San Fernando Valley Bar Association, remarked:
"I have had the pleasure of knowing 'Arnie' for years both as an attorney and as a judge. As an attorney he was a worthy advocate in the number of cases that we had with/against each other. He could be gruff and tough but was always professional, had the greatest integrity and fought vigorously for his client.
"As a judicial officer, when I appeared before him, or saw him off the bench, he was always professional, pleasant and happy. He seemed like he was in a good place in his personal and professional life where he always wanted to be. He had mellowed personally and professionally and enjoyed not having the battles as a lawyer. He listened to those before him, researched or had researched opposing views he may have been uncertain of and was diligent and fair in his rulings.
"Bottom line was I both respected and liked Arnie very much as a person and saddened deeply by his passing."
Robert L. Kern, a Pomona probate specialist and former president of the Eastern Bar Association, described Gold as "fair and decisive on the bench and, after retirement, a relentless, tenacious advocate for settlements."
Gold's Background
Gold received his law degree from Stanford in 1955. Upon graduating, he became a law clerk for John W. Shenk, a justice of the California Supreme Court.
In 1956, Gold joined the law firm of Loeb & Loeb as an associate, was a sole practitioner from 1961-70, and was a name partner in Pachter, Gold & Schaeffer from 1970 until his appointment to the bench. His specialties were family law and probate.
He served on the Board of Trustees of the Los Angeles County Bar Association and the Beverly County Bar Association, and served as president of the Los Angeles County Board of Law Library Trustees.
In addition to being principal author of "Probate and Trust Litigation Module," he was co-author of a Handbook on Depositions and wrote several chapters for California CEB publications. He was a frequent lecturer and panelist.
Copyright 2023, Metropolitan News Company