Page 1
ADDA Accuses Gascón of Breaching Ethics, Office Policy
Group Takes District Attorney to Task for Public Statement That Suspect Had Made a Confession
By a MetNews Staff Writer
The Association of Deputy District Attorneys yesterday lambasted District Attorney George Gascón for violating legal ethics as well as a provision in the office's policy manual by publicly announcing that the man accused of murdering a Catholic auxiliary bishop had confessed.
A statement by the Board of Directors of the association, which has a membership exceeding 500 persons, asserts that Gascón on Feb. 22 "violated the Los Angeles County District Attorney's Legal Policy Manual when discussing the case of the man arrested for the murder of Bishop David O'Connell," pointing out:
"Office policy states that '[l]nformation shall not be released' to the media and public, which includes 'Information regarding a confession, admission or statement' made by the defendant. Despite the policy prohibition, Gascon discussed the alleged confession made by the defendant."
Press Conference
In answering a question, in Spanish, at a press conference, Gascón of the suspect, Carlos Medina, what translates as:
"He admitted he had committed the murder."
The ADDA statement adds:
"Not only does office policy forbid the statements made by Gascon, the State Bar Rules of Professional Conduct prohibit prosecutors from making out-of-court statements they know will be publicly disseminated and that have a substantial likelihood of materially prejudicing an adjudicative proceeding in the matter. Comments to the ABA rule, on which the California rule is based, singled out revealing the existence or contents of a confession as misconduct because it is likely to have a material prejudicial effect on future proceedings."
'Rocky Week'
Turning to another matter, it continues:
These fumbles concluded a rocky week for Gascon, as earlier in the week, he was forced to take the stand and testify in a lawsuit accusing him of retaliating against Deputy District Attorney Shawn Randolph after she told him some of his 'reform' efforts were unethical and illegal.
"Gascon testified under oath that the policies he implemented were all legal, notwithstanding the rulings of a Superior Court and California Court of Appeal that some of those policies violated the law and forced prosecutors to violate their ethical obligations if they followed them."
The statement notes that there are nine pending lawsuits against the district attorney based on alleged unlawful retaliation.
"Whether it be office policy, state bar rules of professional conduct, or civil service rules, Gascon continues to violate one rule after another, guided not by the law or ethics, but by ideology and politics," the ADDA's statement declares.
Deputy Disciplined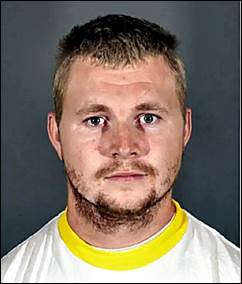 TUBBS
Fox News reported on Feb. 24 that Deputy District Attorney Shea Sanna, who prosecuted a child molester, was suspended based on misgendering the defendant.
The five-day suspension ends today.
At the time of the 2014 offense—committed against a 10-year-old girl in a bathroom at a Denny's Restaurant in Palmdale—the perpetrator was known as James Tubbs. Tubbs subsequently adopted the name, "Hannah Tubbs."
Sanna said Monday on "Tucker Carlson Tonight":
"I was suspended because I did not use the preferred pronouns of a child molester when notifying the administration that I had evidence that James Tubbs was perpetrating a fraud on the court, playing the D.A.'s Office and perpetrating a fraud on our justice system."
He added:
"So by notifying everybody that they're being played, I was punished because I hurt a child molester's feelings by not using the correct pronouns."
In a tweet, Sanna said his alleged political incorrectness was pretextual. He alleged:
Sanna publicly criticized the decision to try Tubbs as a juvenile, though Tubbs was 26. At the time of the offense, the molester was two weeks shy of turning 18.
In a May 10 tweet, he said:
"George Gascón is dangerous. He put a murderer/repeat child sexual predator in a juvenile facility with kids. Then he tried to silence everyone who tried to speak up."
The embattled district attorney subsequently said that if he had it to do over again, he would try Tubbs as an adult.
Meanwhile, volunteers are continuing to review signatures on petitions to recall Gascón that were not counted by the Registrar-Recorder's Office and a substantial number are, according to the recall proponents, clearly valid. The proponents also say the office, headed by Dean Logan, has failed, through the years, to remove the names of persons who are no longer qualified to vote, creating an inflated number of registered voters, thus heightening the number of signatures thought to be needed to bring about a recall election.
Copyright 2023, Metropolitan News Company