Page 1
Former Prosecutor Brentford J. Ferreira Dies
By a MetNews Staff Writer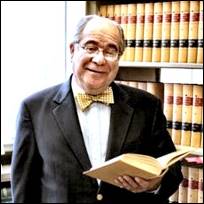 BRENTFORD J. FERREIRA
1947-2023
Retired Deputy District Attorney Brentford J. Ferreira, a prosecutor for 32 years, has died, it was announced yesterday.
He was 75.
Ferreira has worked recently with former District Attorney Steve Cooley and former Deputy District Attorney Kathleen Cady, on a pro bono basis, in representing crime victims and their families.
He headed the Habeas Corpus Unit of the District Attorney's Office for 10 years. Ferreira was ethics advisor for the office and for his colleagues and successfully defended deputy district attorneys in contempt hearings.
After his retirement in 2013, he became a sole practitioner in Long Beach, specializing in writs and appeals and criminal case motions. He said in his LinkedIn page:
"I am currently litigating habeas corpus, and coram nobis petitions involving immigration consequences. I specialize in all criminal motions, writs and appeals and I am currently litigating a civil appeal. I have thirty years of experience in criminal law."
Ferreira also served as special counsel and adjunct professor for the Loyola Law School Project for the Innocent. Based on that work, he became the first prosecutor to receive the Johnnie L. Cochran, Jr. Ethics Award from the Criminal Courts Bar Association.
He earned his law degree at Loyola in 1983.
No services or celebration of life are presently planned.
★★★★


Colleague Comments on Death of Ferreira
Victims' rights attorney Kathleen Cady commented yesterday:
I had the privilege of working with Brent over the last two years advocating for victims' rights in response to LADA Gascon's willful failure to uphold the law, endanger the public and abandon victims. Brent had a long history of advocating for victims and their Constitutional rights. Brent advocated for a victim seeking restitution and filed a petition for writ of mandate in the Court of Appeal in 2018 following the passage of Marsy's Law in 2008. That case resulted in the published opinion of Crump v. Superior Court which clarified that victims have a right to seek a writ of mandate to enforce their Constitutional or Marsy's Law rights.
Brent was also the major author of several writs and amicus briefs filed on behalf of victims whose rights have been violated by District Attorney George Gascón. In 2022, Brent argued on behalf of murder victims' families before the Court of Appeal in Gonzalez v Superior Court.
On Dec. 11, 2017, Gonzalez murdered Bobby Ryan and Jacob Dominguez while they slept because he wanted $3,000 cash Bobby Ryan had in his pocket. Shortly after shooting the two young men to death, Gonzalez walked to a nearby home and carjacked a woman at gunpoint and then used her minivan to transport and dump the victims' bodies in the desert near Victorville, California. A criminal case was filed with appropriate gun and gang allegations as well as the special circumstance that the defendant committed multiple murders. Gascón's blanket policies required the prosecutor to dismiss all allegations and enhancements, despite the fact that there was no legal justification to do so.
The trial court initially dismissed the allegations and enhancements based on the prosecutor's motion, but subsequently reconsidered his ruling and reinstated the allegations and enhancements. The defense filed a petition for writ of mandate and Gascón's office essentially joined with the defense. Brent's was the sole voice representing the victim's right to justice and due process in arguing to the Court of Appeal and asking the court to follow the law and deny the defense writ which the Court of Appeal did. Gonzalez was subsequently convicted by a jury of all charges and allegations and enhancements and sentenced to life without the possibility of parole.
In addition to being a very skilled attorney, Brent was also a really kind man with a wicked sense of humor.
Copyright 2023, Metropolitan News Company