Page 1
State Bar Court:
Extended Media Coverage of Eastman Hearing Disallowed
By a MetNews Staff Writer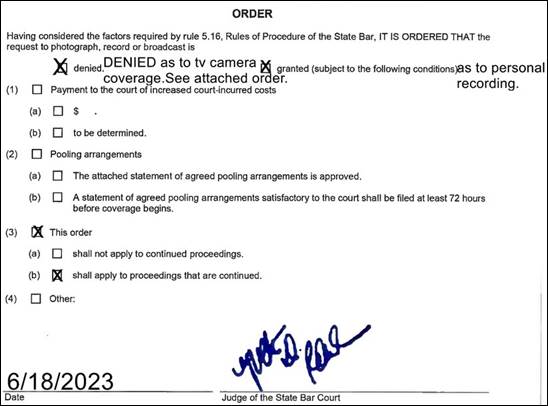 Above is one of six orders denying extended media coverage of a hearing on the State Bar Office of Chief Trial Counsel's call for the disbarment of John Eastman.
A State Bar Court judge is denying requests by news media organizations for extended coverage of the June 30 disbarment hearing in the case of former Chapman University School of Law Dean John Eastman, accused of a role in igniting the Jan. 6, 2021 storming of the Capitol through his claim at a rally that then-Vice President Mike Pence had the prerogative of blocking the certification of Joseph Biden's election as president.
Judge Yvette D. Roland, on Thursday issued an order saying that audio recording would be allowed for personal note-taking purposes but that permission would have to be sought for video or audio recording or still photography for news purposes. Since then, six requests for such coverage have been made and each was denied.
Seeking to record proceedings by audio and video recording and publishing those recordings were The Associated Press, CNN, and Legal Affairs writer Meghann Cuniff of San Clemente.
Asking to audio record the hearing for broadcast purposes was National Public Radio.
The Associated Press also asked to have a still photographer there to take pictures, a request also made by Bloomberg News and the Los Angeles Daily Journal.
Not rejected was a request by the Washington Post which merely requested to be allowed to cover the proceeding for "print" purposes.
Lawyers' Contention
In a filing yesterday, attorneys Randall A. Miller and Zachary Mayer of the Los Angeles law firm of Miller Law Associates, representing Eastman, argued that even if their client's legal theory was cockeyed, that's no cause for discipline. Addressing Eastman's alleged violation of Business and Professions Code §6068(a)—the duty of an attorney "[t]o support the Constitution and laws of the United States and of this state"—they set forth in a "bench brief" that "the Court opinions show that a lawyer has violated his or her duties under 6068(a) only when they are convicted of a crime or have clearly violated a specific statute," maintaining:
"It therefore appears to be novel (and likely improper) to argue that a lawyer who merely advises a client or sets forth arguments before a court that involve unpopular opinions or questionable legal theories (that may or may not be frivolous) would be subject to discipline under Cal. Bus. & Prof. Code § 6068(a). In fact, there does not appear to be any case (repotted or unreported) or any state bar opinion that sets forth the legal standard to be applied to situations in which an attorney has not violated a law. but has merely advised a client or prosecuted a questionable case. Accordingly, if the court is to consider the argument that a lawyer who presents a frivolous argument or advises a client regarding actions that may violate a law may be subject to discipline pursuant to Cal. Bus. & Prof. Code §6068(a). the proper standard must be the objective tenability test."
'Chilling Effect'
Applying any other standard, they contended, "would impose an unreasonably high burden on attorneys that would have an effect on chilling effect on the ability of lawyers to represent their clients by preventing them from putting forth arguments or effectively advocating for their client's position or, in many cases, from taking on controversial or uncertain cases at all."
The lawyers added:
"An argument may be wrong or against the weight of authority while still being tenable."
They submitted that "if there is a tenable legal position to be advanced, based on scholarship or an extension or reversal of the law, the actions of the attorney would be objectively reasonable."
Copyright 2023, Metropolitan News Company