Page 1
Court of Appeal:
Summary Judgment Proper in Suits Over Diabetes Drug
Opinion Says Judge Properly Excluded Testimony of Expert Witness, Then Gave Victory to Defendants Based
On Lack of Expert Testimony on Causation; Disallowing Substitute Expert Was Not Abuse of Discretion
By a MetNews Staff Writer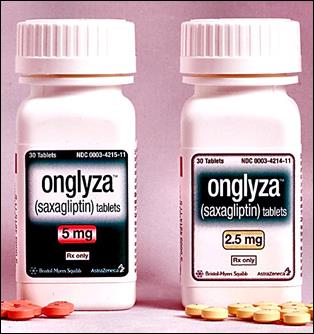 Depicted above are bottles of Onglyza, Bristol-Myers Squibb's brand of saxagliptin, used to treat type 2 diabetes. The Court of Appeal on Wednesday affirmed a summary judgment in favor of Bristol-Myers Squibb and two other pharmaceutical companies in lawsuits that allege that the drug induces heart failures.
The First District Court of Appeal has affirmed a summary judgment in favor of defendant Bristol-Myers Squibb Company and two other makers of drugs to treat type 2 diabetes which the plaintiffs, in 13 coordinated cases, contend can cause heart failure.
Summary judgment was granted by San Francisco Superior Court Judge Anne-Christine Massullo after she barred testimony by the plaintiffs' sole expert witness on causation, Dr. Parag Goyal, a cardiologist at Weill Cornell Medicine in New York. Massullo denied leave to substitute another expert on the alleged dangers posed by saxagliptin.
Justice Jeremy M. Goldman of Div. Four said in Wednesday's opinion:
"Plaintiffs designated Dr. Goyal as their only expert to opine that saxagliptin can cause heart failure, and sought to identify a new expert only after Dr. Goyal was excluded. Although the court's decision to exclude Dr. Goyal may have been unexpected to plaintiffs, they made the strategic decision to identify only one expert in this area, despite knowing how crucial it was to prevail on the issue of general causation."
Prejudice to Defendants
Goldman said that Massullo did not abuse her discretion in disallowing a different expert to be designated because that "would prejudice defendants given the amount of time and resources needed to conduct additional expert discovery and likely another round of…briefing and hearings" on the issue of the proposed witness's qualifications.
 Goyal's testimony was disallowed because his opinion was based on a single study which the researchers, themselves, said was inconclusive.
The jurist wrote:
"While we agree that the trial court may not weigh an expert opinion's probative value or persuasiveness, it must still consider whether the opinion is logically sound….Here, the trial court explained in its detailed exclusion order that 'Dr. Goyal's opinion does not contain a reliable methodology for weighing the evidence but a shifting results-based methodology that fails to logically and consistently weigh all relevant evidence.' We find no abuse of discretion."
Single Study
He added:
"A trial court does not abuse its discretion in excluding expert testimony on general causation when the expert's opinion is based on a single study that provides no reasonable basis for the opinion offered."
Roughly 250 actions have been brought alleging that saxagliptin causes heart failures, most of them in federal courts.
Sued along with Bristol-Myers Squibb in the California suits were AstraZeneca Pharmaceuticals LP and McKesson Corporation.
Brand names of saxagliptin are Onglyza, Qternmet XR, Qtern, and Kombiglyze XR.
The opinion comes in Onglyza Product Cases, 2023 S.O.S 1586.
Copyright 2023, Metropolitan News Company