Page 1
Ninth Circuit Will Not Disturb 1990 Death Sentence
Panel Says Then-Prosecutor Mader's Biblical References in Closing Argument Did Not Run Afoul of 'Clearly Established Federal Law,' As Established by U.S. Supreme Court, Precluding Relief
By a MetNews Staff Writer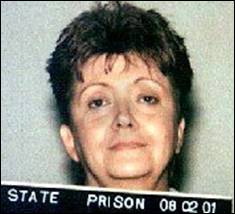 MAUREEN McDERMOTT
death row inmate
The Ninth U.S. Circuit Court of Appeals yesterday denied a petition for a writ of habeas corpus sought by a woman who hired three men to slay her house-mate in order to collect on an insurance policy on his life, rejecting the contention that then-Deputy District Attorney Katherine Mader, who was later a Los Angeles Superior Court judge, committed prejudicial error by quoting passages of the Bible in closing argument.
If the woman, Maureen McDermott, 76, is executed for the April 28,1985 murder—which appears unlikely in light of Gov. Gavin Newsom's moratorium on the death penalty and other factors—she will be the first woman to face the gas chamber in California since 1962 and will be the fifth women put to death by the state.
Although the California Supreme Court, in upholding the judgment in 2002, considered several alleged instances of misconduct on Mader's part—including comparing McDermott to a Nazi working in a crematorium by day and listening to Mozart by night and likening her to a germ, a mad dog, and a snake—the Ninth Circuit concerned itself only with the biblical references.
 Mader told jurors:
"Now, I'm [not] a biblical scholar. I don't know much about the Bible. But most biblical scholars, as I understand it, interpret the commandment 'Thou shalt not kill' as in actually meaning 'Thou shall not commit murder.'
"And there are in fact several references to the death penalty in the Bible. In Exodus 21, verse 12, the Bible states, 'Whoever strikith a man a mortal blow must be put to death.'
"And in verse 14, which I would suggest to you is incredibly apropos for this situation, 'When a man kills another after maliciously scheming to do so, you must take him from my altar and put him to death.' "
Habeas relief is unavailable based on those remarks, Ninth Circuit Judge Kim Wardlaw said in yesterday's opinion, because the conduct was not clear error under U.S. Supreme Court precedents.
 33 Years Ago
Los Angeles Superior Court Judge Alan B. Haber (now deceased) imposed the death penalty on June 8, 1990.
The conviction and sentence were affirmed by the California Supreme Court on Aug. 12, 2002, in an opinion for a unanimous court by then-Justice Joyce Kennard, now retired.
McDermott raised on appeal the matter of alleged prosecutorial misconduct during the closing argument, included Mader's references to the Bible. Kennard said that because her lawyer did not object at the time and seek a curative instruction, McDermott "may not now raise these claims."
The jurist added that the matter of ineffectiveness of counsel would not be considered in connection with the direct appeal, explaining:
"Because the record does not show the reasons for counsel's actions, defendant's claim of ineffective assistance is more appropriately decided in a habeas corpus proceeding."
McDermott's first state habeas petition was summarily denied by the California Supreme Court on Jan. 14, 2004, "on the merits" and subsequent petitions were denied by the state high court on Jan. 3, 2007 and May 21, 2008.
On Jan. 14, 2005, she instituted habeas proceedings in the U.S. District Court for the Central District of California which stretched out for years. At the outset, proceedings were stayed pending action on the second state habeas petition; the stay was lifted on Jan. 25, 2007; District Court proceedings ended with a May 14, 2018 denial by Judge David O. Carter of a motion to vacate or amend an adverse judgment.
'High Bar'
Wardlaw, writing for a three-judge panel, said that "McDermott's prosecutorial misconduct claim fails because McDermott cannot overcome the high bar to relief" erected in the Antiterrorism and Effective Death Penalty Act ("AEDPA").
Under that act, a state inmate whose claim was "adjudicated on the merits" in state court is ineligible for habeas relief in the District Court, she set forth,  unless the adjudication meets one of two criteria:
"(1) resulted in a decision that was contrary to, or involved an unreasonable application of, clearly established Federal law, as determined by the Supreme Court of the United States; or (2) resulted in a decision that was based on an unreasonable determination of the facts in light of the evidence presented in the State court proceeding."
Wardlaw said the California Supreme Court's rejection of McDermott's claim of prosecutorial misconduct in the second habeas proceeding "is not contrary to clearly established Supreme Court precedent," explaining:
"Although a prosecutor's references to the Bible in closing argument in a capital case have been held unconstitutional as violative of the Eighth Amendment under our circuit precedent,…only Supreme Court precedent operates as 'clearly established' law for AEDPA purposes….
"Indeed, the Supreme Court has never announced a rule about invocations of religious authority in a closing argument: it has only recited general principles about prosecutorial misconduct related to sentencing and the death penalty."
She commented that "we have no doubt that the prosecutor's references to quotations of Biblical verses during closing arguments were unconstitutional prosecutorial misconduct, and prejudiced McDermott," but said relief must be denied "because McDermott cannot overcome the high bar to relief established by AEDPA."
African Americans Excluded
Also rejected was the contention by McDermott, who is white, that Haber erred in denying her objection to Mader's exclusion of eight African Americans from the jury, in purported violation of the U.S. Supreme Court's 1986 decision in Batson v. Kentucky. Haber found that a prima facie case of discrimination had been shown, placing the burden on the prosecution to show reasonable grounds for the peremptory challenges, and Mader—who went on to serve as a judge from 2000-2020—explained that they were based on views on the death penalty expressed by the venirepersons in their questionnaires. 
Kennard said in her 2002 opinion affirming the judgment that "[a] prospective juror's views about the death penalty are a permissible race- and group-neutral basis for exercising a peremptory challenge in a capital case" and found, as to each of the eight challenged prospective jurors, substantial evidence supported Haber's determination that the challenge was based on such views, not race.
Wardlaw also examined the views expressed by each of the prospective jurors and found that the California Supreme Court's "finding of no purposeful discrimination was not an unreasonable determination of the facts."
The case is McDermott v. Johnson, 17-99005.
Copyright 2023, Metropolitan News Company