Page 1
Ninth Circuit Requires Resentencing of Man Who Orchestrated Courthouse Bombing
By a MetNews Staff Writer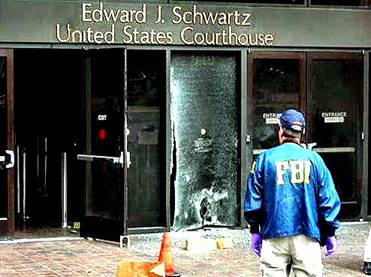 An FBI agent is seen at the scene of the 2008 bombing of a federal courthouse in San Diego. The sentence of the primary culprit will be recalculated, under a  Ninth U.S. Circuit Court of Appeals opinion filed Thursday.
The Ninth U.S. Circuit Court of Appeals has vacated the 55-year prison sentence imposed on the ringleader of a small group of persons who bombed the United States Courthouse in San Diego in 2008, holding that gaffes in calculating the term that were detrimental to him cannot be simply offset by mistakes in his favor, in order to validate the outcome.
Utilizing language contained in the U.S. Supreme Court's 2008 opinion in Greenlaw v. United States, the memorandum in Thursday's opinion says the court will "vacate the entire sentence on all counts so that, on remand, the trial court can reconfigure the sentencing plan to ensure that it remains adequate to satisfy the sentencing factors" set forth in the federal sentencing statute.
Among the findings made by the panel—comprised of Ninth Circuit Judges Marsha S. Berzon, Kenneth Kiyul Lee, and Eric D. Miller—is that Ninth Circuit Judge M. Margaret McKeown, serving on the District Court for the Eastern District of California, did not abuse her discretion in boosting Flint's sentence based on government property being destroyed.
'Significant Disruption'
 Their opinion says:
"[A] court may increase the sentence if 'the defendant's conduct resulted in a significant disruption of a governmental function.' Love's actions caused a busy federal courthouse to close for an entire day. It was not an abuse of discretion to determine that the disruption was significant. Love argues that the property-damage departure already accounted for those consequences. Although one way in which Love's actions disrupted the government was by physically damaging the courthouse, his actions further disrupted the government because they led to the closure of the courthouse—a consequence not covered by the property-damage departure."
The purpose of the bombing—which caused no personal injuries—was to gain money. Flint was out of work; he persuaded two persons who were dependent on him for drugs to help him; the Edward J. Schwartz Federal Courthouse in San Diego was bombed on May 4, 2008; Flint's lawyer contacted the FBI a few days later and proposed that Flint receive the $75,000 reward by providing information and that he receive leniency.
Two of Flint's co-conspirators received 10-year sentences and one received a seven-year prison term.
U.S. Attorney's Comments
Then-United States Attorney Laura E. Duffy of the Southern District of California (now a San Diego Superior Court judge) commented at the time of the sentencing:
"It is only by blind luck that no one, including Love's coconspirator, Rachelle Carlock, was killed or injured by Love's actions. The device detonated at the doors of the federal courthouse in the early morning hours of May 4, 2008, contained over two pounds of explosive powder jammed into three galvanized steel pipes with end caps, along with over 100 roofing nails."
She continued:
"The subsequent explosion not only blew out the doors to the federal courthouse, causing substantial property damage, but also sent shrapnel and nails flying in all directions – over a block away and at least six stories into the air. Defendant's actions showed a callous disregard for the lives of those individuals who were still working in the federal courthouse in those early morning hours, as well as the lives of pedestrians passing by."
Copyright 2023, Metropolitan News Company