Page 1
Federal Prosecutor Jeff Chemerinsky Enters Race for D.A.
His Father, Dean Erwin Chemerinsky—Formerly a Gascón Ally—Says He Supports His Son's Candidacy
By a MetNews Staff Writer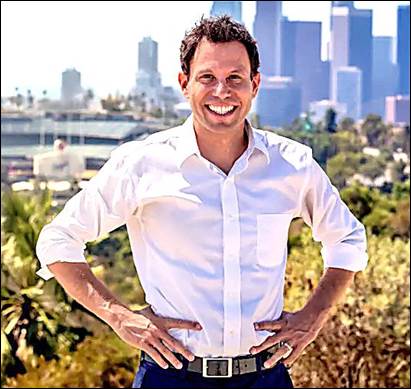 Above is a campaign publicity shot of Jeff Chemerinsky, candidate for Los Angeles County district attorney.
Entering the race for Los Angeles County District Attorney yesterday was Assistant U.S. Attorney Jeff Chemerinsky, whose father, Berkeley Law School Dean Erwin Chemerinsky, was on the transition team for incumbent George Gascón and has criticized a legal challenge to his policies.
However, the educator told METNEWS yesterday:
"I support my son's candidacy for District Attorney wholeheartedly and enthusiastically. I firmly believe that Jeff would be a terrific District Attorney for Los Angeles County.
"I very much admire his decision to seek this office and look forward to supporting his campaign in every way I can."
Candidate's Announcement
Jeff Chemerinsky made his announcement at the Santa Monica Place shopping mall where a major robbery of a jewelry store occurred in 2016. He said:
"It's clear that many in Los Angeles County have lost confidence in the District Attorney as both a prosecutor and reformer of our criminal justice system, and we can do better.
"As a federal prosecutor, I've won convictions of violent criminals and gang leaders, child predators, and armed robbers across Southern California. Now I'm running for D.A. to keep our communities safe, to ensure fairness in our criminal justice system, and to bring new leadership to the District Attorney's office.
"I look forward to meeting voters across L.A. County to hear their concerns and discuss how we can increase public safety and ensure that everybody has a fair shot at justice."
Democratic Party Affiliation
A press release from the campaign says:
"Chemerinsky is a Democrat who worked for then-Senator Joe Biden and the Senate Judiciary Committee when he was in law school. While the job of District Attorney is not partisan, Chemerinsky shares the values of his community, proudly, and always has."
It also declares:
"He has never lost a case, and personally prosecuted cases involving murder, sex trafficking, firearms trafficking, corruption, and sex assault offenses. He won convictions of more than 30 members of the MS-13 gang, including the leader of MS-13 in Los Angeles, and the leader of the East Coast Crips. He also led federal robbery prosecutions for the office, partnering with local law enforcement agencies to win convictions in many major organized retail theft cases."
Los Angeles City Attorney Hydee Feldstein Soto, civil rights attorney Connie Rice, and former Los Angeles City Controller Laura Chick are identified as endorsers.
 The candidate on Friday stepped down as chief of the Violent and Organized Crime Section of the U.S. Attorney's Office for the Central District of California to devote time to campaigning.
Aided Gascón
On Jan. 28, 2021, the Los Angeles Times published an op-ed piece authored by Erwin Chemerinsky and by Miriam Aroni Krinsky, executive director of Fair and Just Prosecution, criticizing a lawsuit by the Association of Deputy District Attorneys challenging some of Gascón's directives. The article comments:
"If Gascón's policies fail or if the voters decide they don't approve, he can be voted out of office at the next election. But stripping him of control over officewide policymaking—as the lawsuit is trying to do—rejects the agenda the voters of Los Angeles County chose, erodes the discretion vested in the district attorney and sets a bad precedent for judicial control over the prosecutor's office."
Erwin Chemerinsky signed and participated in the preparation of an amicus brief in support of Gascón.
Other Candidates
Already campaigning for votes in the March 5, 2024 primary are former U.S. Assistant Attorney General Nathan Hochman, Los Angeles Superior Court Judge Craig Mitchell, and Deputy District Attorneys Eric Siddall, Jonathan Hatami, John McKinney and Maria Ramirez.
Chemerinsky is either the seventh or eighth candidate to throw his hat in the ring, depending on whether retired Los Angeles Superior Court Judge David Milton's announcement of candidacy in a video is to be taken seriously. He has mounted no discernible campaign and did not respond to an email inquiring as to his intent.
Widely rumored to be readying to run is Los Angeles Superior Court Judge Debra Archuleta. Should she declare her candidacy, it would weaken Ramirez's chances by taking votes from her and would bring to the public's attention highly negative impressions of Archuleta's performance as a judge on the part of many colleagues and attorneys.
Copyright 2023, Metropolitan News Company