Page 1
Newsom Chooses Alameda Resident Martinez for Court of Appeal Spot in Los Angeles
Names Alexander, Davis, Kronstadt to LASC
By a MetNews Staff Writer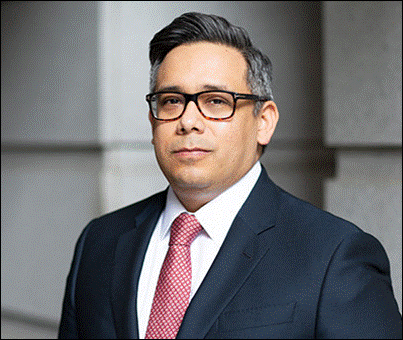 GONZALO MARTINEZ
Court of Appeal nominee
Gov. Gavin Newsom on Thursday announced his nomination of his deputy judicial appointments secretary, who resides in Alameda County, as a justice of the Los Angeles-based Div. Seven of the Court of Appeal for this district, and named three persons to the Los Angeles Superior Court.
If confirmed by the Commission on Judicial Appointments—comprised of Chief Justice Patricia Guerrero, Attorney General Rob Bonta, and the district's senior presiding, Arthur Gilbert of Div. Six—Gonzalo Martinez will fill the vacancy created by the retirement of Justice Laurie D. Zelon.
Martinez has been at his present post since 2019. He served as a deputy solicitor general in the California Attorney General's Office from 2017-19. He was a law clerk at the U.S. District Court for the Northern District of California 2010 and for Eastern District of California in 2007, and, since 2007, when not working as a government lawyer, was a partner in the Appellate and Supreme Court Practice Group at Squire Patton Boggs.
His law degree is from Harvard.
DANIEL ALEXANDER

STEPHANIE DAVIS

Los Angeles Superior Court appointees

JESSICA KRONSTADT
Appointed to the Superior Court for this county were Daniel Alexander, a senior appellate court attorney for this district's Court of Appeal, whose law degree is from Southern Methodist University; Los Angeles Superior Court Commissioner Stephanie Davis, a Loyola Law School graduate, and Deputy Los Angeles County District Attorney Jessica Kronstadt, who earned her law degree at Washington University.
Newsom also announced his appointment of 11 others to superior courts in other counties.
Copyright 2023, Metropolitan News Company