Page 1
Order Denying Anti-SLAPP Motion Reversed in Suit Against Comic Book Writer/Artist
By a MetNews Staff Writer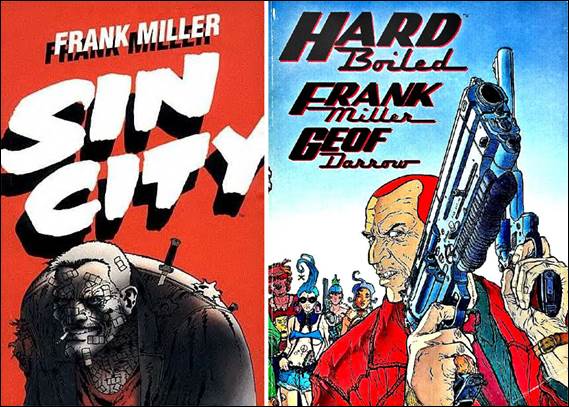 The Court of Appeal has held that a producer's claim that his rights to turn two comic book series with adult themes—one into a television series and the other into a movie—were wrongfully repudiated by the publications' writer/artist and others are, except as to one claim, barred by the anti-SLAPP statute.
The Court of Appeal for this district has reversed an order denying an anti-SLAPP motion sought by the writer/artist who created a neo-noir comic book series called "Sin City" and was sued, along with his company, by a producer who claims he was wrongfully harmed by statements to MGM and others that he does not actually hold the contractual rights he professes to hold to turn the works into a television series.
A far cry from comic books aimed at youngsters, "Sin City," devised by defendant Frank Miller, deals with killers, corrupt police, mobs, prostitutes and white slavers.
Monday's unpublished opinion by Justice John L. Segal of Div. Seven also, for the most part, reverses an order denying the anti-SLAPP motion as it applies to plaintiff Stephen L'Heureux's claim that Miller and his company, Frank Miller, Inc., tortiously represented that he additionally lacks rights to turn another comic book series, "Hard Boiled," into a movie. Left intact is a cause of action for breach of the covenant of good faith and fair dealing against Miller, personally, but not L'Heureux's claim against the company or its chief executive officer, co-defendant Silenn Thomas.
The complaint sought "compensatory damages, including lost revenue, loss of future revenue, damage to reputation, loss of good will, and emotional distress in an amount to be proven at trial but estimated to be in excess of $25,000,000."
Miller's works were previously adapted in other movie and television presentations, including "Sin City: A Dame to Kill for," released in 2014, with Miller credited as writer/co-director and L'Heureux as a producer.
Trial Court's Decision
Los Angeles Superior Court Judge Stephanie M. Bowick held that statements made by the defendants as to L'Heureux's claim of the contractual right to further exploit "Sin City" constituted protected conduct, satisfying the first prong of the anti-SLAPP statute, Code of Civil Procedure §425.16, but that L'Heureux met the burden that was thus shifting to him, under the second prong, of showing a probability of prevailing on the merits.
She also ruled that the producer failed to show that the defendants' statements in connection with his asserted lack of rights to "Hard Boiled" were protected, and the judge did not discuss the second prong.
All of the statements, Segal declared, were protected, but concluded that L'Heureux has not shown a probability of prevailing on any of his causes action except one predicated on Miller's alleged assurances of reasonableness and flexibility in their dealings in seeking to gain production of "Hard Boiled" as a movie.
First Prong
Addressing the first prong, Segal pointed to the California Supreme Court's 2019 decision in FilmOn.com, Inc. v. DoubleVerify Inc. There, the court cited with approval a Court of Appeal pronouncement that "it is not enough that the statement" placed in issue by an anti-SLAPP motion "refer to a subject of widespread public interest; the statement must in some manner itself contribute to the public debate."
Segal found no difficulty in determining that the controversy was a matter of public interest, explaining:
"The production of both a Sin City series and Hard Boiled movie can reasonably be understood to implicate public issues. The Miller parties demonstrated Miller was a person in the public eye—at least in the comic book and entertainment industries. He and his comic books won multiple industry awards. Miller's works have been adapted into major motion pictures and a television series that reached wide audiences, and Miller was a director or producer of several of the productions.
"The production of either the series or the movie would also affect a large number of people. Both the Hard Boiled comic book series and the Sin City comic book series generated significant interest in the comic book and entertainment industries. Miller and Darrow won a Comic-Con Eisner Award for Hard Boiled, and Miller won multiple Eisner Awards and Harvey Awards for several of the comic book issues in the Sin City series. Sin City was also adapted into two major motion pictures codirected by Miller, one of which was commercially successful. And the studios interested in obtaining the rights to the television series and movie, Legendary and MGM, produce major motion pictures that reach wide audiences."
He also noted that there had been media coverage of the dispute.
'Closer Question'
The jurist went on to say that there was a "closer question" as to whether non-public statements to MGM and others that L'Heureux lacked rights he was attempting to market "contributed to public discussion of the issues of public interest." Segal said:
"In the circumstances of this case, they did."
He explained:
"The people who stated L'Heureux had no rights to Sin City or Hard Boiled were not random people. They were agents of Miller, the creator of the works. One would expect comments from a prominent creator about adaptations of his (also prominent) works to generate public interest. The audiences were major motion picture studios interested in producing adaptations for a wide audience….By making statements about whom they wanted involved in the production, the Miller parties participated in the developments of a potential movie and television series that had already generated public interest and that, if produced, would be topics of public discussion."
Again, he alluded to ensuing media coverage of the matter.
Hearsay Objection
Among the issues delved into by Segal in assessing whether L'Heureux was apt to prevail on the merits was whether an alleged statement by Natalie Viscuso, an executive with Legendary Television Productions—which had expressed an interest in producing a "Sin City" television series, was admissible under an exception to the hearsay rule. According to L'Heureux, Viscuso told him that Miller's agent asserted to her while negotiations were in progress that L'Heureux possessed no rights to "Sin City" and that if a series were produced, his compensation and credit should be minimized.
 That statement, L'Heureux asserted, is admissible under Evidence Code §1230 which provides:
"Evidence of a statement by a declarant having sufficient knowledge of the subject is not made inadmissible by the hearsay rule if the declarant is unavailable as a witness and the statement, when made, was so far contrary to the declarant's pecuniary or proprietary interest…or created such a risk of making him an object of hatred, ridicule, or social disgrace in the community, that a reasonable man in his position would not have made the statement unless he believed it to be true."
Viscuso, located in the United Kingdom and impervious to a summons to testify, and unwilling to testify, was unavailable. L'Heureux contended that she came under §1230 because her statement subjected her to societal disapprobation based on betraying a confidence and potential loss of future employment.
Segal said:
"Even under L'Heureux's understanding of section 1230, the potential adverse consequences to Viscuso of making the statement were too remote and speculative, and the statement lacked sufficient indicia of trustworthiness, to make it admissible."
The case is L'Heureux v. Miller, B322839.
Attorneys on appeal were Allen B. Grodsky and Tim B. Henderson of Grodsky, Olecki & Puritsky, for Miller and his co-defendants and Kenneth E. Keller, Alekzandir Morton and John J. Steger of Shaw Pittmam for L'Heureux.
Copyright 2023, Metropolitan News Company