Page 1
Justice Paul J. Watford to Leave Ninth Circuit
By a MetNews Staff Writer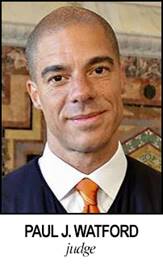 Paul J. Watford will be relinquishing his lifetime position as a judge of the Ninth U.S. Circuit Court of Appeals after 11 years on the bench.
In a Jan 5 letter to President Joseph Biden, made public yesterday, Watford said:
"I am writing to inform you that I intend to resign as a United States Circuit Judge for the Ninth Circuit Court of Appeals, effective May 31, 2023.
"It has been the honor of a lifetime to serve as a judge on the Ninth Circuit for the past ten years. I will be forever grateful to President Obama and the Senate for giving me the opportunity to serve our country as a member of the federal judiciary."
Watford, 55, assumed office on May 22, 2012, after having been confirmed by the Senate the day before by a vote of 61–34.
Obama's Comment
"Paul J. Watford has displayed exceptional dedication to the legal profession through his work and I am honored to nominate him to serve the American people as a judge on the United States Court of Appeals," President Barack Obama said in announcing his nomination of Watford on Oct. 17, 2011. "He will be a diligent, judicious and esteemed addition to the Ninth Circuit bench."
Watford was rumored to be on Obama's short list for nomination to the U.S. Supreme Court following the death of death of Justice Antonin Scalia. The New York Times commented on Feb. 14, 2016:
"He is seen as [a]… relatively moderate potential pick because he came up through the law enforcement and corporate litigation world, rather than in work on hot-button social issues."
Native Californian
The jurist was born in Orange County's City of Garden Grove on Aug. 25, 1967.
He received his law degree from UCLA in 1994 and became a law clerk that year for then-Judge Alex Kozinski of the Ninth Circuit (now retired) and from 1995-96 was a law clerk for U.S. Supreme Court Justice Ruth Bader Ginsburg (now deceased).
Watford joined the Los Angeles law firm of Munger, Tolles & Olson LLP in 1996, became an assistant United States Attorney in the Central District of California in 1997 as a prosecutor, went to work for Sidley & Austin LLP in Los Angeles in 2000, and rejoined Munger Tolles in 2001. He was a appellate litigation partner in Munger Tolles at the time of his appointment to the bench. There was no indication of what role Watford will play following his retirement from the bench.
Copyright 2023, Metropolitan News Company