Page 1
Deputy Will Seek to Unseat D.A. Gascón in 2024 Election
Maria Ramirez, Who Is Suing County Over Allegedly Retaliatory Demotion, Commences Fund-Raising
By a MetNews Staff Writer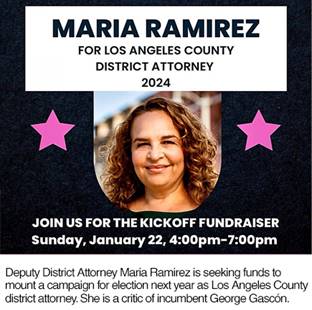 Maria Ramirez, a veteran deputy district attorney who is suing the County of Los Angeles over the demotion of her by District Attorney George Gascón, allegedly in retaliation for opposing policies of his which she says are unlawful, has launched a campaign for the post he now holds.
A "kickoff fundraiser" is slated for Jan. 22 at the home of her co-plaintiff in that Los Angeles Superior Court suit, Deputy District Attorney Victor Rodriguez. Hers is the first election challenge to emerge.
Gascón is expected to be a candidate for reelection next year unless The Committee to Recall District Attorney George Gascón succeeds in its effort to persuade Los Angeles Superior Court Judge James Chalfant that it did, in actuality, obtain a sufficient number of valid signatures to force a recall election—despite a contrary determination by Registrar-Recorder Dean Logan—and a recall election results in the incumbent's ouster. Such an ejection would not legally preclude his candidacy next year, but would substantially impede his chances of winning, and predictably deter him from running.
'Outpouring of Support'
Ramirez told the METNEWS yesterday:
"While admittedly L.A. County's size has prevented me from making it through my entire contact list, yet, I have been blown away by the initial outpouring of support. More than 30 years of relationships at the DA's Office, and my involvement with the Mexican American Bar Association, and a lifetime of friendships from having grown up in Boyle Heights, give me bases of support inside and outside the legal world that I believe will give me a leg up politically."
(Her "involvement" with MABA included serving as its president in 2016.)
She said the "fundraising success of the recall campaign showed the appetite for change that exists in our community." The candidate estimated that the campaign in the primary "will be waged in the six-figures" and in the general election "will reach into the seven-figures," adding:
"And I am confident I'll be able to raise the funds needed to win."
Her lawsuit against Gascón, she noted, is "ongoing." Ramirez remarked:
"Nobody knows firsthand more than I do how this DA has mismanaged the Office and endangered our communities."
Ramirez's Lawsuit
Ramirez and Rodriguez brought their suit March 7 and filed an amended complaint the following day. The amended complaint alleges that "both Plaintiffs were subjected to retaliation in the form of removal from their positions as Bureau Directors and demoted to the positions of Head Deputy because they disclosed and/or refused to take actions that they reasonably believed were violations of law."
The pleading notes that as director of the Bureau of Specialized Prosecutions (to which she was appointed by Gascón's predecessor, Jackie Lacey), Ramirez supervised about 260 employees, including those in the juvenile divisions. The complaint sets forth:
"Because of Plaintiff Ramirez' disclosures and refusals to violate the law, on September 7, 2021, she was demoted from her position to the Head Deputy of Target Crimes. Plaintiff went from supervising hundreds of employees to supervising 11 employees."
The pleading recites:
"Both Plaintiffs served more than 30-years in the District Attorney's Office and were in positions of high authority with regular access to the District Attorney. Both Plaintiffs aspired to achieve the position of Assistant District Attorney."
Special Directives
Ramirez was at loggerheads with Gascón from the start of his tenure as district attorney. On Dec. 7, 2020, the day he was sworn into office, Gascón released a spate of special directives drastically altering office procedures, to the benefit of defendants, by barring actions to seek tough sentencing or to oppose certain efforts by convicts to obtain relief.
Some of the directives were challenged by the Association of Deputy District Attorneys ("ADDA"). Their contentions were, for the most part, found valid by Chalfant who granted a preliminary injunction.
That action was largely affirmed by the Court of Appeal, with the matter now before the California Supreme Court.
Special Directive 20-09
In particular, Ramirez was reviled by Special Directive 20-09, applicable to Juvenile Court proceedings, a directive not specifically at issue in the ADDA's action. The directive declares:
"Our prosecutorial approach should be biased towards keeping youth out of the juvenile justice system and when they must become involved, our system must employ the 'lightest touch' necessary in order to provide public safety."
The pleading says, in a portion that applies to Ramirez, alone:
"The Directive mandated that Plaintiff must use alternative theories of prosecution that minimized a juvenile's criminal conduct, no matter how violent, which did not accurately reflect the true offense. In essence, Plaintiff was directed not to file "Strike" offenses against juveniles, and this Directive creates a false and misleading description to the court of the crime(s) that was/were actually committed."
Multiple Victims
It also notes that the directive "mandated that Plaintiff could not file crimes that were committed by juveniles if a juvenile committed a crime against more than one victim at one time," explaining:
"For instance, if a juvenile robbed three people at gunpoint, Gascon's policy prohibited Plaintiff from filing three robbery charges. Plaintiff was forced to randomly select only one victim and charge one crime pertaining to that chosen victim. Plaintiff raised concerns that at trial, if the randomly chosen victim was not available and the case not therefore provable, the case could be dismissed, and the juvenile would have no accountability. All these filings would constitute fraud on the court and, among other things, violate Plaintiff's ethical and prosecutorial obligations under the law."
The amended complaint adds that the directive "mandated that Plaintiff could not file any enhancements for egregious violent conduct" and "created a blanket prohibition on prosecuting violent youth felonies as adults."
It recites that Ramirez repeatedly pointed out legal infirmities in the directive.
"Plaintiff Ramirez personally brought to the attention of George Gascon and others in his administration an unethical and unlawful disposition of a case through a backroom deal that shortened the life sentence of a murderer to a seven-year prison term," the pleading asserts.
Other Cases
The action brought by Ramirez and Rodriguez (22STCV08110) has been assigned to Los Angeles Superior Court Judge Terry Green, along with six related cases. A status conference is scheduled for Feb. 14.
The plaintiffs in the other actions alleging unlawful retaliation by Gascón are Deputy District Attorneys Shawn Randolph (21STCV36796), Victoria Adams (22STCV37350), Peter Cagney, Richard Todd Hicks, Mindy Paige, Karen Thorp (22STCV13730), Michael Matoba (22STCV17988), Isidoro Baly (22STCV31110) and Lesley Klein Sonnenberg (21STCV36770).
All are represented by the Law Offices of Gregory W. Smith, LLP.
Ramirez's Background
Ramirez, whose law degree is from Loyola, was admitted to the State Bar on Dec. 4, 1990, and immediately joined the District Attorney's Office.
The website of the Latina Lawyers Bar Association makes note that before becoming director of the Bureau of Specialized Prosecutions, Ramirez was head deputy of the Cyber Crime Division.
"Maria was the first Latina in the history of the LADA to be appointed to the Head Deputy position and is now the first Latina Director," it advises.
Her husband, Edward Guerrero, is a retired Alhambra Fire Department battalion chief.
Copyright 2023, Metropolitan News Company