Page 1
LASC Judge Naranjo Leaves the Bench
By a MetNews Staff Writer
Yesterday was the last day on the bench for Los Angeles Superior Court Judge Richard E. Naranjo, after spending two decades presiding over cases.
He will officially retire on Feb. 23 after using up earned vacation days.
The judge, 70, said yesterday that he and his wife, Wendy Naranjo, will return to the East Coast, settling either in New Hampshire or Massachusetts, "as close to the ocean as we can." It was in New Hampshire that they met and where he attended undergraduate school, and he was once employed in Massachusetts as an inventory control/warehouse manager.
"I plan on growing grapes to make wine, catching lobster, digging clams and traveling the world," Naranjo related.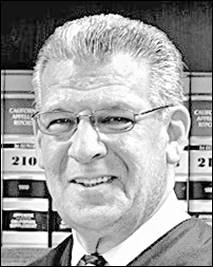 RICHARD E. NARANJO
Superior Court Judge
Fond Memories, Nightmares
Looking back on his judicial career he said that the four years he spent in the juvenile delinquency court provide his "fondest memories and worst nightmares," elaborating:
"I would always impress the minors that they should get their educations because the was the one thing that could never be taken from them. One of the minors sent me a copy of his report card upon graduation, he had straight 'A's.'
"The worst was seeing these young people ruin their lives by not thinking before they acted." Naranjo reflected: "Being a judge is very demanding. I used to think that my gray hair was being caused by my children but they only helped a tiny bit.
"Most of came from trying to try to please everyone all the time but that is impossible. I found that if you followed the law and served justice, you could look at yourself in the mirror and not regret your decisions."
Naranjo gained his seat through election on Nov. 5, 2002, defeating another deputy district attorney, Craig Renetzky (now in private practice), in a run-off. Both had been admitted to practice on Dec. 16, 1991, and both had spent their entire legal careers in the District Attorney's Office.
'Tall, Stern'
In a candidate profile, then-METNEWS staff writer Robert Greene wrote:
"In appearance, Naranjo fits the television profile of a prosecutor—tall, stern, businesslike. He says that as a prosecutor he is even-tempered, but that he has been known to attack if attacked by opposing counsel."
Naranjo received his law degree from Southwestern in 1991. While a student there, he was intern with the District Attorney's Office.
While he was studying law at Southwestern, his wife was a law student at Loyola. They were admitted to the State Bar the same day.
Copyright 2023, Metropolitan News Company