Monday, January 9, 2023
Special Section
PERSONALITY PROFILE:
By Sherri Okamoto
MARY ANN MURPHY
A Judge Dedicated to the Law, to Her Irish Heritage, and to a Quest for Adventure
Los Angeles Superior Court Judge Mary Ann Murphy's parents used "Ann" as her middle name when she was born, but she's opted to make Ann part of her first name, and jokes that her middle name is "Adventure."
Murphy has driven across the continental United States three times, and hopscotched to places around the nation from Portland, Maine to Honolulu. She's also explored the globe, from the Antarctic up to the Arctic. She's seen "the nearly perfectly cut triangular mountains in Svalbard [in Greenland], the way the basalt cooled slowly and crystalized in Ireland and Oregon, and the terrain created by the Missoula floods at the end of the last ice age."
As a fan of penguins, polar bears, sea birds, earth science and geology many of Murphy's trips involve hiking rough terrain, making shore on military-grade Zodiac landing crafts, and sailing the high seas. Fortunately, Murphy is unafflicted by seasickness.
"I may get that from my seafaring Viking ancestors who invaded Ireland," she says laughing.
Perhaps Murphy's love of travel derives from her father—an aerospace engineer who spent decades at Grumman Aerospace who helped change the ways mankind moves through the air and space.
Edward Joseph Murphy worked in manufacturing engineering at Grumman Aerospace. He had a hand in the development of the hydrofoil, the A-6 intruder, the sweep wing of F-14 Tomcat of Top Gun fame, and the Lunar Excursion Module which became a lifeboat for the astronauts during the Apollo 13 moon landing when the command module developed problems.
Murphy's mother was also an intellectual force to be reckoned with.
"She would have had a great career had she been a mom decades later when women worked outside the home," Murphy says.
Instead, Lucille Murphy stayed at home, raising her six children in Long Island, New York.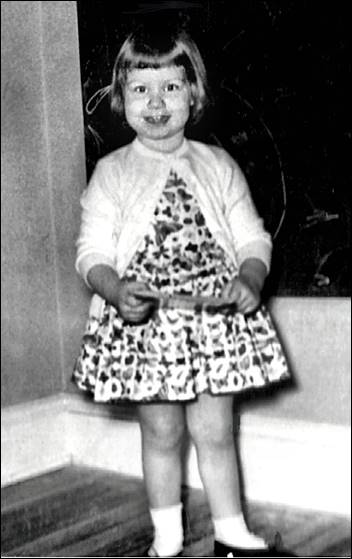 Depicted in this undated photo is Mary Ann Murphy as a child in New York.
Professor's Influence
Growing up, Murphy recalls, women tended to be "funneled into two careers, teaching and nursing." She says she "looked into both and was not enthusiastic." Then, her corporate finance professor at the State University of New York at Albany showed her another option.
Warren Saint James was also an attorney and after class, he told Murphy her midterm exam read like a legal brief. It was Saint James who suggested law school and sent Murphy down the path to who she is today.
"That professor giving me just a few minutes of time changed my life," Murphy says.
For law school, Murphy traded in the Atlantic Ocean for the Pacific, heading to the California Western Law School in San Diego.
Murphy thrived in the warmth and sunshine of Southern California, and under the rigors of law school. She was on Law Review, the Advocacy Honors Board, and had two articles published. Murphy also interned at the U.S. Attorney's office in San Diego, and received the Dean's Award and the Benjamin Disraeli Award for advocacy before graduating cum laude in 1978.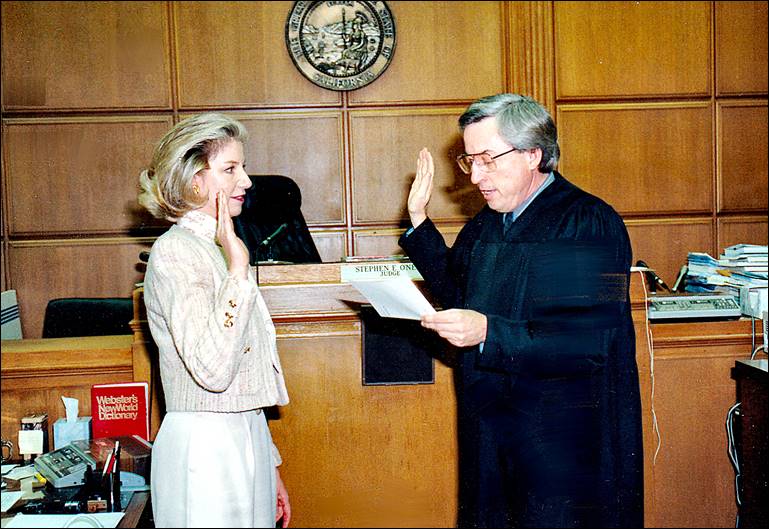 Los Angeles Superior Court Judge Stephen O'Neil swears Murphy in as a judge in 1993. She is 40. She and O'Neil, now deceased, served together in the Civil Division of the U.S. Attorney's Office for the Central District of California.
Assistant Attorney General
After law school, Murphy headed back east to her new job with the U.S. Department of Justice ("DOJ") in Washington, D.C.
As a trial attorney in the civil division, Murphy remembers, she was "promptly thrown into the super, super, deep end of the pool." At the time, some 42 million Americans had been immunized with an influenza vaccine that caused serious adverse reactions. Murphy was put on the team working the multi-district litigation ("MDL") for the ensuing products liability actions.
At her first deposition, she examined an expert neurologist whose testimony for the plaintiffs would have applicability to all MDL cases. She spent one week with a neuroimmunologist at the National Institutes of Health in Bethesda Maryland to prepare for that deposition.
Murphy met with Nobel laureates, epidemiologists, neuropathologists, cardiologists, and more.
During her time with the DOJ, Murphy tried 10 cases in U.S. district courts throughout the nation and prevailed in all.
She also got permission from the Appellate Section to handle her own appeals, and, she says, "I would encourage young lawyers to do this, as it is enormously helpful in building skills."
Looking back, Murphy says, the DOJ provided "a strong, solid foundation for my legal career" for which she is grateful. She also "made lifelong friends with many wonderful people," and reunites with some of her former tort branch colleagues at least once a year.
Murphy says she learned a lot in those early days about being a lawyer, including how to make clear appellate records and to think about the downstream consequences when handling matters in the trial court. She also learned that Gulf Coast hurricanes are nothing to scoff at, having flown into Houston to meet with a witness the same day Hurricane Alicia made landfall in August 1983. Murphy recounts the wind was up to 98 miles per hour, and pebbles were made into airborne projectiles shattering the windows of buildings. The next morning, there was glass all over the streets when Murphy headed back out of town.
Back to California
Murphy says her plan was always to return to Southern California, with its "perfect weather," and one of her DOJ colleagues had "raved" to her about the Los Angeles U.S. Attorney's Office, so that's where she went next.
Murphy defended Bivens actions (against federal officials for alleged constitutional violations), including one against a U.S. District Court judge, as well as handling other civil matters.
In 1986, Murphy moved out of government service and into a position with Haight, Brown & Bonesteel. Once again, she was handling vaccine matters, but this time it was nationwide litigation against the manufacturer of the pertussis vaccine.
Goes on Bench
Government service still called to Murphy though, and she decided to apply for a judgeship. Then-Gov. Pete Wilson selected her for the bench in 1993.
Once again, Murphy found herself "thrown into the deep end." Her first assignment was a felony calendar court, and all of her practice up until this point had been in civil law. Still, she says it was "an outstanding experience."
In addition to learning criminal law, Murphy says, she got to see many skilled attorneys with a great deal of trial experience, capable of thinking quickly on their feet to accomplish their goals.
"Watching good attorneys practice their craft is one of the best parts of being a judge," she relates.
After two years in criminal court, Murphy moved to the civil courtroom being vacated by Judge John Zebrowski when he was elevated to the Court of Appeal.
She was also asked to become an associate editor, then editor, for The Rutter Group's treatise, "Weil and Brown, Civil Procedure Before Trial."
Murphy notes that she felt honored, as she considered the treatise "the Bible on civil procedure," and when she was practicing in state courts, she never filed a motion without referencing it first.
McCoy's Request
One thing of which she says she is most proud, was having then-Judge Charles "Tim" McCoy, in 2005 when he was supervising judge of the civil courts, ask her to start a Best Practices for Central Civil Judges program. That program led to numerous innovations in the court, including formation of the asbestos working group which Murphy ran until 2014.
Murphy says she is also proud of her work in teaching and presenting seminars for judges and lawyers.
"I like to teach, I like to mentor," she remarks, adding that it is a "luxury" to her to be able to sit in her chambers, researching and writing.
"As a judge, you can research and apply the law," she says. "Attorneys must advocate for their clients even if they do not have the facts or law in their favor, but a judge has to apply the law."
Murphy adds that she feels "fortunate to discover an area that is a good fit for my natural abilities and propensities, and in which I am fascinated and highly interested."
She has served on the statewide Civil and Small Claims Committee, on the Superior Court's Executive Committee, and on the Executive Board of the California Judges Association, as well being the group's secretary-treasurer.
Every year since 2017, Murphy has also been a member of the Irish Legal 100—a group of the top Irish-American judges, legal scholars, and lawyers in the United States. The Irish ambassador to the United States hosts a reception for the members each year at the Irish Embassy in Washington, D.C.
Irish Bar Group
Murphy was president of the Irish American Bar Association in 2006, and the 2011 recipient of the group's Daniel O'Connell Award for continuing and significant contributions to the legal community and the Irish community.
She recalls that she joined the IABA "years ago" when Judge Michael Farrell (now deceased) suggested she do so. Murphy says "most people, in their daily lives, don't think about your heritage or your roots all that much," and this is why she finds the ethnic bars "such an excellent thing."
After being deprived of social interaction during the COVID-19 lockdown, Murphy says, "it has been great to see all of the lawyers again at the bar association events and see that they came through the pandemic successfully, when many were not so fortunate."
She comments that she supposes that other members of the legal community are, like her, "most grateful to be gathering together again and probably have a greater appreciation for bar association events."
Murphy also says her membership in IABA "has made me think about what life was like for our Irish ancestors," and how "some were so poor, they left no trace, and they cannot be found in the Irish census or in any other records."
Murphy chokes up a bit when she relates that she imagines "how difficult it must have been to say goodbye to loved ones as they left Ireland for America, knowing they would never see them again," and "how frightening the 40-to-90-day journey to America on the coffin ships must have been, watching people die around them, wondering if they would make it."
She says the IABA celebrates "how brave they were to start a new life in a strange land with nothing but the Irish spirit, enthusiasm, courage, and work ethic."
Irish Interns
Murphy is also making sure the legacy continues; the IABA sponsors interns from the five major law schools in Ireland every summer. When the program began, the interns were placed with U.S. District Court judges, but in 2008, there were more interns than judges, so Murphy was asked to take one on.
After seeing Murphy take this student under her wing, showing him around Los Angeles and the different courtrooms, the IABA had her start mentoring all the interns the next year.
"I am in charge of the state court program for the first two weeks of the summer," Murphy explains. "For the rest of the summer, the externs are assigned to judges in the federal courts and are able to participate in the Superior Court intern program activities."
Murphy says she loves this program, and it's "a great honor to help the Irish law students follow their dreams, and to help them as others have helped me."
Murphy says she tries to tailor the summer program to the interests of the students, while mentoring and teaching them to network. "The Irish don't network as much as we do," she says, reflecting that when she was a young attorney, "I didn't know networking from the side of a barn."
Many of the interns are interested in the Children's Court, since Ireland does not have one, Murphy notes. Ireland also does not have a death penalty, so capital trials are also fascinating for the interns. The Coroner's Office tour is popular, too.
She keeps the program fun by assigning "homework" that includes the students dipping their feet in the Pacific Ocean, visiting the Getty Center, or trying a hip restaurant or bar.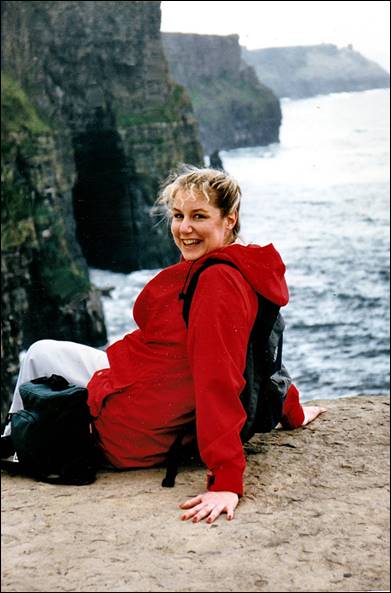 The "Person of the Year" honoree is 35 in this photograph. (She supplied her age in connection with the photos.) She is seated on the edge of the cliffs of Moher in County Claire, Ireland, in August 1988.
Getting Away
While Murphy often works long hours, she also knows how to play. She's keen on taking trips hiking through polar bear territory, staring into the eyes of a leopard seal, or kayaking across icy waters with a global positioning system tag "just in case," she says.
Murphy's ability to be prepared for anything in the courtroom also serves her well outside of it.
She relates that on one trip to a remote location in South Georgia, strong katabatic winds suddenly came up, gusting strong enough to knock people over. Murphy found herself standing at the shore awaiting evacuation, with a group of penguins, and Peter Hillary, the son of Sir Edmund Hillary, the first person to reach the summit of Mt. Everest.
The younger Hillary, who has himself been atop Mt. Everest twice, had just been regaling the others on the Georgia excursion with stories about his harrowing climb of K2, the world's second highest mountain.
Murphy remembers Hillary turning to her and saying, "Mary Ann, this is the real deal," about their predicament.
Thankfully, everyone safely made it aboard their ship and were able to laugh about their "bonus" adventure that "was not advertised in the catalogue," Murphy recalls.
Murphy has retraced many of the steps of the Irish explorer, Sir Ernest Henry Shackleton, during his 1914-17 Imperial Trans-Antarctic Expedition, going through the Antarctic, South Georgia and Falkland Islands.
Her next trip begins on North Island of New Zealand and goes south to the Subantarctic islands of New Zealand—which include two UNESCO world heritage sites: the Auckland Islands, home of rare yellow-eyed penguins, and Macquarie Island, habitat of millions of penguins and the only place on earth where rocks from the earth's mantle are actively exposed above sea level.
'Just Extraordinary'
Attorney Donna M. Melby of Paul Hastings says Murphy is "just extraordinary." She's known Murphy since their first year of law school together, relating that Murphy had driven her Volkswagen beetle from New York to San Diego, and done the trip solo, without knowing anyone at her destination, without any qualms.
Melby said it was quickly apparent that Murphy was an "extremely hard-worker," who "never lost her focus." She also is "a tremendous hostess and wonderful cook," often feeding dinner to members of their study group.
Murphy "has continued to show those same strengths in all of the years that I've known her, as [an assistant] U.S. attorney and then afterward on the bench," Melby comment. "She's one of the hardest working judges you could ever find."
Retired Los Angeles Superior Court Judge Jacqueline A. Connor similarly observes that when Murphy "pours herself into something, she really pours herself in."
When it comes to presiding over trials, Conner says, Murphy does "a deep dive into the law." If an attorney before her cites a case, Conner says, Murphy "will read that case and know more than the attorneys do about it." By the time a trial is concluded, "she ends up knowing everything about whatever issue," Conner relates.
Murphy is "really focused on getting it right," Conner says. "She wants to understand the arguments, she wants to understand the law being cited, and she takes it all very seriously."
While Conner says Murphy "doesn't cut corners anywhere," she does cut crusts—because aside from all the preparation and research she does, she "will also roll up her sleeves and make hundreds of ham and cheese sandwiches for the homeless too."
Czuleger 'Quite Impressed'
Los Angeles Superior Court Judge J. Stephen Czuleger (a former presiding judge) says he "was always quite impressed" with Murphy once they became colleagues.
"She's one of the most hard-working judges on our bench, she always tries to do the right thing, and she's willing to expend whatever energy is necessary for that," Czuleger says. "She puts the work in on everything she does."
Czuleger, noting her service on several court committees and her bar activities, remarks:
"She's probably best known for her incredibly high energy level and ability to make a commitment to whatever case or project she's working on. She tires me out sometimes, that's how hard she works."
Murphy also is "in a perfect assignment in civil," Czuleger adds. "She reads all the papers, holds the attorneys' feet to the fire, she knows the rules, she follows the rules, she expects all the lawyers to follow the rules, and the advantage of that is that cases move right along."
Hammock Comments
Los Angeles Superior Court Judge Randolph Hammock says he has known Murphy for almost 14 years.
"What distinguishes her from my colleagues is that there are very few judges so dedicated to the court itself," Hammock says. "She's very dedicated to the court as an institution."
Murphy is "one of our great fighters, a great foot soldier for the judges, as we say, in the trenches," Hammock claims. "She always stands up for us, whether it be against the court administration, the Judicial Council…or whatever." No matter the issue, she's not only "cognizant," but "always on the side of what I call the rank-and-file," Hammock declares.
Murphy is known to be "very protective of the court and gets involved in supporting judges when they're challenged, and trying to prevent us from getting challenged in the first place," Hammock adds. "There's a saying among those of us who know her, which is 'You want Mary Ann Murphy on your side.' "
Hammock says Murphy "tells it like it is," is "very forceful" as an advocate, and "well-respected."
Former Los Angeles District Attorney and METNEWS Person of the Year Steve Cooley says he too was struck by Murphy's dedication to the court, and the legal system.
"I met Mary Ann a few decades ago, when we were both supporting John Moriarity in his bid to become a Superior Court judge," Cooley remembers.
Since then, they have belonged to many of the same groups and crossed paths at bar-related activities.
"I know Judge Murphy is very dedicated to having the Superior Court be the best it could be," Cooley says.
'Quite Remarkable'
Court of Appeal Justice Victoria Chaney of this district's Div. One says Murphy is "quite remarkable" with all she has done for the legal community. "She has devoted her life to all things legal, and has really helped our profession, judges, and attorneys."
The two first met at a bar social function decades ago, Chaney remembers, and "we just clicked." They have been friends ever since.
"She's so, so smart, and a great resource for other judges," Chaney says. "When I was on the trial court, she was a great resource for me" since she's had "so much wonderful experience and she's just incredibly brilliant." Chaney says she appreciated the lunchtime "best practices" seminars Murphy would organize too.
Now being a member of the appellate court, Chaney relates, she gets to read the transcripts of some of Murphy's trials. She says she has noted Murphy has "such good control of the courtroom," she "sees problems coming before they become huge," and "she can smell an issue and deal with it right away." Chaney reflects that these skills "come from years of experience as an attorney and as a judge."
The transcripts also provide "a very unique perspective of her thought processes and the quality of her rulings," Chaney says. "She's wonderful, she researches things a lot, and she has a good grasp of what the issues are."
Chaney says she believes "one of the secrets to (Murphy's) success is her preparation—she will read the file, and research cases" so the trial attorneys "don't have to spend time educating the judge."
Veteran El Segundo attorney Jerome M. Jackson says he has appeared before Murphy several times over the course of his career and he has "always been impressed."
Murphy is "a judge's judge, always well-prepared, always knows the law, and isn't afraid to make a decision," Jackson says. He surmises it's because Murphy "had a terrific practice and was very successful as a litigator," since" those qualities transfer to the bench."
Jackson adds that Murphy expects attorneys to come to court prepared, but "she doesn't ask anything of others she hasn't already asked of herself- and that's what I really admire about her."
Attorney Patrick M. Kelly says he has known Murphy for more than 20 years and once "had the honor of trying a two-month trial in front of her."
Kelly's Assessment
Kelly says Murphy is "very highly regarded as a jurist," being possessed of "a great judicial temperament" and being willing to listen to arguments.
"She's just about the best judge I've ever been in front of," he observes.
Jeffrey Axelrad, former director of the U.S. Department of Justice Torts Branch, Civil Division (now a lecturer in the District of Columbia), says he remembers supervising Murphy when she was a young attorney, and she was "a premiere litigator."
When Murphy started handling the swine flu vaccine litigation, Axelrad recalls, there were over 1000 suits and 4000 claims. "She was so meticulous and so focused on swine flu science and medical expertise that she got the most difficult cases." Axelrad says. "She also worked so effectively with our experts that as the litigation progressed, she not only far exceeded my expertise—and I was lead counsel, so I knew something about it—but even her experts' expertise."
Murphy was "a superb lawyer," a "real lawyer's lawyer" who was "on top of all the evidence and could present it in a way the court would understand, but also with a very, very high level of knowledge and expertise," Axelrad says.
Marcella Smyth, the Irish consul general in Los Angeles, says she is "delighted" to hear Murphy will be honored as a METNEWS Person of the Year because "she really deserves to be commended."
Over the years, Murphy "has been a huge friend of Ireland," and the relationships she has developed through the Irish-American Bar Association are "very much appreciated by Ireland," Smyth reports. "We understand our global family to be very diverse, including not just people of Irish heritage, but people who share our values and cultures and an affinity for Ireland. That is very much reflected in the association's membership, and very much thanks to Mary Ann Murphy and her sense of inclusivity."
The work that Murphy has done with the externship has also been invaluable, Smyth says, adding: "It's just fantastic to be able to bring the Irish law students over to Los Angeles to gain work experience, look at a different law system, and to help connect and develop relationships with people here and other parts of Ireland."
Copyright 2023, Metropolitan News Company