Page 1
Ninth Circuit:
ADA Claim Improperly Rejected Based on Credibility Call
Opinion Requires Judgment for Plaintiff, a Serial Litigator
By a MetNews Staff Writer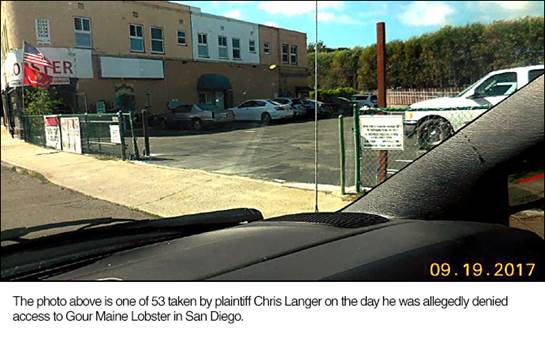 The Ninth U.S. Circuit Court of Appeals has reversed a judgment in favor of lessors who were sued for disability discrimination because their parking lot lacked a van-accessible space with an access aisle, with the panel holding, over a dissent, that that the District Court improperly took into consideration that the plaintiff is a serial litigant.
Judge Ronald M. Gould authored Monday's majority opinion, in which Judge William A. Fletcher joined. Judge Daniel P. Collins dissented.
Rather than ordering a new trial, Gould's opinion directs that judgment be entered in favor of plaintiff Chris Langer in his action under Title III of the Americans with Disabilities Act ("ADA") against San Diego landowners Milan and Diana Kiser. Langer, a a paraplegic, complained that he was unable to shop at Gour Maine Lobster, a tenant of the Kisers, based on lack of access.
Gould acknowledged that Langer is a " 'serial' ADA litigant" who "has filed close to 2,000 ADA lawsuits in the thirty-two years since Congress enacted the ADA," but said it was "legal error" to take that into account "by concluding that Langer's 'professed intent to return' was not credible."
Interpreting ADA
Gould, who is himself disabled—he suffers from multiple sclerosis and uses a wheelchair—declared:
"If the ADA is to live up to its promise of being a 'comprehensive national mandate for the elimination of discrimination against individuals with disabilities,'…we must interpret it to require businesses to make facilities that are open to some customers accessible to those that are disabled. And we must not allow district courts to question the 'legitimacy' of an ADA plaintiff's intent to return to a place of public accommodation simply because the plaintiff is an ADA tester or serial litigant."
Gould's opinion reverses a Feb. 1, 2021 judgment by District Court Judge Roger T. Benitez of the Southern District of California. Benitez held that while Langer, by professing an intent to return to the Lobster Shop if it were rendered ADA compliant, "has Article III standing" but "the subject property (a private parking lot) was not a place of public accommodation, and the owners of the property did not discriminate against Plaintiff by failing to offer an ADA-complaint place to park his vehicle."
Credibility Doubted
Benitez went on to question Langer's credibility, saying:
"During trial, this Court also took judicial notice of the fact that since May 1. 2002. or over the course of the past eighteen (18) years. Plaintiff has been a plaintiff in 1,498 federal lawsuits….This extensive litigation history coupled with Plaintiff s inability to recall details about the businesses involved and allegations made, including whether he intended to return to those businesses, weighs against Plaintiff with respect to the credibility of this professed intent to return. To the contrary, the Court finds that, at the time he filed suit. Mr. Langer did not intend to return to the Property (at least to purchase lobster). The Court finds that Plaintiffs purpose in visiting the Property was to identify potential ADA violations, not to actually purchase lobster or patronize the Smoke Shop."
Langer initially complained of lacking access to the Smoke Shop, another tenant of the Kisers, but did not contend that he was a smoker, and dropped his claim with respect to that business. Doing so, Benitez remarked, "directly undercuts his credibility with respect to having a legitimate intent to return to the Property" inasmuch as he originally professed an equal desire to patronize each of the businesses.
The judge pointed to various inconsistencies in Langer's statement during the course of the litigation.
He recited that Langer testified that he likes lobster and recently purchased a "big lot from Costco," noting, "luckily they deliver" so he has no need to go inside the store. Benitez observed: "Absent testimony regarding where Plaintiff lives or whether the Lobster Shop has better prices than Costco, which delivers to him, the Court finds it doubtful that Plaintiff would frequently travel to the Property to purchase lobster, as he testified. This is bolstered by the fact Plaintiff has filed previous lawsuits in which he admits he never intended to return to the premises….Plaintiff was also cross-examined regarding the fact that on the day he filed this lawsuit, he also filed six (6) other lawsuits. Yet, Plaintiff was unfamiliar with those suits as well as the businesses involved."
Error Declared
Rejecting Benitez's reasoning Gould said:
"Here…, the district court focused on Langer's past ADA litigation to impugn his credibility, expressing doubt that Langer would return to the Lobster Shop expressly because of the previous lawsuits he filed….But…, the record does not contain information about whether the places of public accommodation in Langer's previous cases were made accessible….Nor does the record contain information about whether Langer actually returned to those places, and the defense did not ask him if he had. Instead, the defense only asked him whether he had alleged an intent to return in his previous complaints, which he had.
"Langer's intent to visit unrelated places he previously sued 'says little' about his intent to visit the Lobster Shop…, particularly in light of its proximity to his house, his professed taste for lobster, and that he returned to the premises since filing the lawsuit to assess its compliance with the ADA. His inability to recall details from other lawsuits without any opportunity to refresh his memory—for example, which specific items he picked up three years earlier from an auction house that he sued—does not shed light on his intent to return to the Lobster Shop. And Langer's work as an accessibility advocate….undermines the district court's 'speculation about the plausibility' of his intent to return to the Lobster Shop….His several return visits to the premises remove any doubt."
Gould said Benitez was "wrong" to note the other complaints Langer filed the same day and that dropping his claim as to the Smoke Shop "proves nothing."
Public Parking Barred
Two signs were posted on the parking lot's fence, near the entryway, reading:
"OPEN PUBLIC PARKING PROHIBITED
"NO TRESPASSING PC 602 (M) (N)2
"ALL UNAUTHORIZED VEHICLES WILL BE TOWED
"AT VEHICLE OWNER'S EXPENSE
"C.V.22658A    SDPD 619-531-2000 "FOR INFORMATION STAR TOWING 858-573-8700."  Disputing Benitez's view that the parking lot was not a public accommodation because it was not open to the public, Gould said the District Court judge put too much emphasis on the fact that the lease for the Lobster House premises specifies that the lessee had one space for personal use, and what matters is that the evidence showed that members of the public did park in the lot.
Collins's Dissent
Collins, also, disagreed with Benitez, but on a different basis.  He maintained that that Langer lacked Article Three standing. He noted that Langer "was not a credible witness in light of his less-than-trustworthy demeanor, the stark inconsistencies in his testimony and past statements, and the implausibility of some of his claims" and did not actually intend to patronize the Lobster Shop, under Benitez's finding. He wrote:
"This factual finding is not clearly erroneous, and it means that Langer lacked Article III standing to seek prospective injunctive relief. Because such relief is the only remedy available in a private suit under the ADA Langer's ADA claim should have been dismissed for lack of Article III standing.  Although the district court failed to recognize that its findings meant that Langer lacked Article III standing, it nonetheless proceeded to reject Langer's ADA claim on the merits. I would affirm the dismissal of Langer's ADA claim with prejudice, but only on the threshold ground that Langer failed to prove Article III standing."
The case is Langer v. Kiser, 21-55183.
Copyright 2023, Metropolitan News Company