Page 1
Retired Court of Appeal Presiding Justice Epstein, 89, Dies
Word 'Brilliant' Is Used Repeatedly in Tributes to Epstein, Who Was a Jurist, Author, Lecturer, Mentor, Family Man
By a MetNews Staff Writer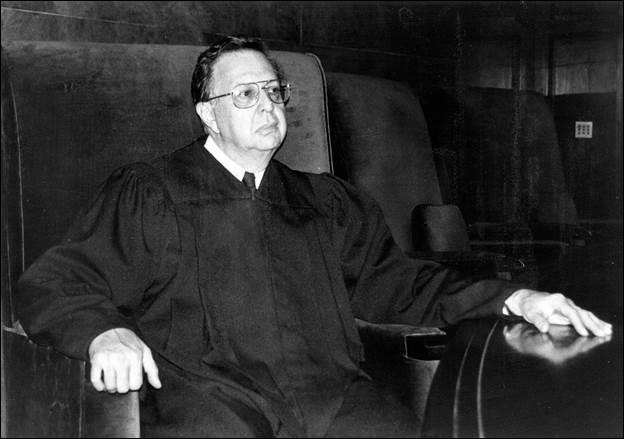 NORMAN L. EPSTEIN
1933-2023
Retired Court of Appeal Presiding Justice Norman L. Epstein, widely regarded as one of the most brilliant jurists in California's history, died Friday morning 16 days before reaching the age of 90.
Despite his revered status, he was not only approachable, but warm, personable, and outgoing.
"Never was there a greater distance between a man's intelligence and his ego," his successor as presiding justice of this district's Div. Four, Nora Manella (now retired), said Friday. (Her comments, in full, appear in a box below.)
Epstein retired on Aug. 22, 2018, after 45 years of judicial service, starting with the Los Angeles Municipal Court, to which Gov. Ronald Reagan appointed him on Jan. 3, 1975.
"He dedicated nearly 45 years to judicial service at every level of our branch" Chief Justice Patricia Guerrero noted Friday.
Described As 'Brilliant'
Tributes to Epstein Friday, one after the other, included the word "brilliant."
His extraordinary mental acumen is reflected not only in his judicial opinions but also in the treatise on "California Criminal Law" which he co-authored with scholar Bernard Witkin and, after Witkin's death in 1995, on his own, for several years. Indefatigable, he also contributed to several other works and lectured for several years at the California Judicial College (of which he was dean in 1981-83) and elsewhere.
In 1987, when Epstein was on the Los Angeles Superior Court, Witkin was a speaker at a Los Angeles County Bar Association ceremony. The occasion was the presentation to Epstein, then a judge of the Los Angeles Superior Court, of the association's "Outstanding Trial Jurist Award."
Witkin remarked:
"With a little bit of luck, and lots of dedicated effort, not to mention acute gubernatorial insight, we will see him sitting on the Court of Appeal."
Appellate Court Appointments
Displaying such insight was Gov. George Deukmejian who appointed Epstein to Div. Four of this district's Court of Appeal in 1990. Gov, Arnold Schwarzenegger elevated him to the post of presiding justice of that division in 2004.
Deukmejian and Schwarzenegger were Republicans, as was Reagan; Epstein was, at the time, a Democrat (later an independent). His appointment to the Superior Court in 1980 was by Democratic Gov. Edmund G. Brown Jr.
In a statement Friday, issued by the Judicial Council, Guerrero noted the appointment of Epstein by four governors, remarking that this stands as "a testament to his fidelity to the law irrespective of ideology." She added:
"Justice Epstein shared his legal brilliance with the next generation of scholars by hiring one-year externs and later inspiring other justices on his court to do so. Justice Epstein will be remembered as one of our most exceptional jurists."
The Judicial Council also released this comment by this district's administrative presiding justice, Elwood Lui of Div. Two:
"He was a brilliant colleague who dedicated himself to a lifetime of public service. He was respected for his commitment to his judicial duties. The work on his many judicial education projects was exceptional. A kind and sincere man who was devoted to his family and friends."
The Court of Appeal for this district said in a statement Friday:
"Throughout his career, Epstein was known for his kindness, humility, and collegiality. He was respected by his colleagues and peers for his deep knowledge of the law, his fairness, and his commitment to justice. He will be deeply missed by his family, friends, colleagues, and the entire legal community.
"The legacy of Norman L. Epstein will continue to live on through the countless lives he touched and the contributions he made to the legal profession and the justice system. His passing is a great loss, but his legacy will endure."
Cantil-Sakauye Comments
Former California Chief Justice Tani Cantil-Sakauye told the METNEWS Friday:
"Justice Epstein, Norm, to the jurist community, was a brilliant, beloved and generous scholar, educator, jurist.
"His criminal law updates were the highlight of the California Judges Association events and must-attends at the Appellate Justice Institutes. He was an influential legal giant on the bench. When he spoke, we listened.
"The legal community mourns him and my condolences to his family. We will miss him, but his teachings will be with us forever."
So far as audiences paying heed to his words, then-Court of Appeal Justice (now Presiding Justice) Arthur Gilbert of this district's Div. Six said in a 1994 tribute to Epstein:
"He is like that old brokerage form, 'When Norm Epstein talks, everyone listens.' The only difference is that he won't be acquired by another company."
Justices Offer Tributes
Court of Appeal Presiding Justice Lee Smalley Edmon reflected:
"My first exposure to the Court of Appeal was serving as a pro tem for Division Four, with Presiding Justice Norm Epstein at the helm. He was a kind and generous mentor in teaching me 'the ropes'—always willing to take the time to answer questions, give advice and pass along a funny story.
"He was a brilliant jurist and a wonderful man. I owe him more than I could ever repay."
"He affected the lives of so many judges and lawyers. I cannot imagine the number. His mentoring and teaching skills made so many of us better judges, and his contribution to the law both in California and nationally will be his legacy."
Laurence D. Rubin, presiding justice of Div. Five of this district's Court of Appeal, remarked:
"He affected the lives of so many judges and lawyers. I cannot imagine the number. His mentoring and teaching skills made so many of us better judges, and his contribution to the law both in California and nationally will be his legacy."
 Court of Appeal Justice William Bedsworth of the Fourth District's Div. Three, termed Epstein "a brilliant jurist and an even better human being," adding:
"He was what all appellate justices want to be when they grow up."
Hailed As 'Brilliant'
Former U.S. District Court Judge Robert Bonner, who served in the Central District of California, was among those pointing to Epstein's intellect, saying:
"Justice Epstein was beyond doubt one of the most brilliant judges to serve on the California appellate courts"
Another former member of the District Court for the Central District, Dickran Tevrizian, observed:
"This is one jurist that will truly be missed. He was always a gentleman on and off the bench. I had the privilege of serving with Justice Epstein on both the Municipal and Superior Court and I say he was always prepared and was one of the most brilliant legal minds on the appellate court."
Retired Los Angeles Superior Court Judge Isabel R. Cohen, a former president of California Women Lawyers, described Epstein as "brilliant, prodigious, caring, and kind," adding:
"A giant in law. In a league of his own. Norm Epstein was a dear friend for 45 years. There will never be another. Sui generis."
Well-Known Jurist
In 1994, Gilbert noted in a tribute published by the METNEWS that Epstein "is one of the state's best known and most respected judges after Judges Wapner and Ito." Joseph Wapner, a former Los Angeles Superior Court judge (now deceased), presided over television's "People's Court" and Ito was viewed on television internationally presiding over the O.J. Simpson case.
Ito Friday said:
"We have lost a true giant."
Native Angeleno
That giant as a jurist was born April 9, 1933, in Los Angeles. He graduated from Fairfax High School and from the undergraduate and law schools at UCLA.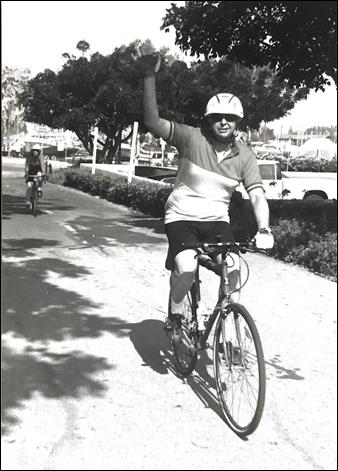 Presiding Justice Norman Epstein frequently went bicycle riding, often in the company of then-Los Angeles Superior Court Judge David Yaffe.
While in law school, he met an undergraduate at UCLA, Ann Snyder. They wed and had a son and a daughter.
The son, Mark H. Epstein, is a Los Angeles Superior Court judge.
Ann Epstein died in 2008. His engagement to be married to retired Butte Superior Court Judge Ann Rutherford was publicly announced, with Epstein's consent, at the Jan. 29, 2010 Metropolitan News-Enterprise "Person of the Year" dinner.
Alumnus of Year
Norman Epstein is pictured in his UCLA Law School yearbook.
Epstein was named UCLA alumnus of the year in 1970, prior to his appointment to the bench. He was, at the time, general counsel to the California State University and Colleges system, a post he assumed in 1962.
He later became, additionally, vice chancellor, remaining at the posts until Reagan tapped him for the Municipal Court. From 1959—the year he was admitted to the State Bar—until 1962, he was a California deputy attorney general.
His awards include the Los Angeles County Bar Association Distinguished Trial Jurist Award (1987-88), the California Judges Association's President's Award (1988), the Los Angeles Trial Lawyers Association Appellate Justice of the Year Award (1993), the Metropolitan News-Enterprise Person of the Year Award (1994). the Friends of the Los Angeles County Law Library Beacon of Justice Award (2005), and the Judicial Council's Jurist of the Year Award (2007).
Presiding Judge
Once, he almost be­came a presiding judge, and once, he was in contention that role. As a Los Angeles Municipal Court judge, he defied the unwritten rule that the court's most senior member would be the presiding judge, gaining election as assistant presiding judge for 1980 which rendered him virtually assured of being unopposed for the post of presiding judge the following year.
He did not assume that office, however, having been appointed to the Superior Court.
His appointment to the Court of Appeal ended the contest for 1990 Los Angeles Superior Court assistant presiding judge between him and Robert Mallano. (Mallano was elected to that post, became presiding judge, later a Court of Appeal justice, then presiding justice, and is now retired).
Epstein is survived by his wife and by his two adult children.
★★★★
Norman Epstein Was My Idol
BY NORA MANELLA
(Below are remarks by the jurist who succeeded Norman Epstein as presiding justice of Div. Four of this district's Court of Appeal. She retired in January. Epstein was present, in a wheelchair, at her retirement party at the Disney Concert Hall on Feb. 22.)
s you can imagine, we are all in mourning over Norm's passing. He was my idol for the better part of my judicial career and my colleague for over a dozen. While on the federal bench, I timed my application to the Court of Appeal to coincide with an opening on Division Four because I wanted to sit with Norm Epstein. It was the only strategic career decision I ever made and was, frankly, a brilliant one.
Never was there a greater distance between a man's intelligence and his ego. A brilliant and thoughtful jurist, Norm was personally modest, gentle, caring and considerate of the opinions of others—even those (like most of us) less gifted than he was.
He never lorded his intelligence over anyone. At oral argument, his questions were neutral, almost professorial—asking the lawyers to articulate what rule they were asking the court to establish and what effect a ruling in their favor would have on future cases. In at least one instance, I saw a lawyer 'get' the import of his question and realize the position he was taking was untenable.
He was equally respectful to lawyers and pro se litigants. He recognized how intimidating a courtroom could be and did his best to make lay people feel at ease. He spoke to them, not at them, using language non-lawyers could understand.
Norm was non-ideological. He followed the law as he understood it, while trying to do justice within the limits of established jurisprudence. I recall his once saying ''Usually we just apply the law, but every once in a while we get to do justice.'
Norm genuinely 'loved' the law—not the way most of us like it or are on amicable terms with it—but with a passion. The thornier the issue, the more fascinating he found it.
"Giant of the law" doesn't do justice to Norm Epstein. He was that, but in his gentle, kind and modest way, a giant among men as well.
I am so glad he was able to attend the recent gatherings for Tom Willhite's and my retirements. I know it meant the world to both Tom and me that he was there.
—————
(Epstein received innumerable honors. One was bestowed on Sept. 6, 2018 by the Los Angeles County Bar Association. Remarks by Manella at that occasion appear below.)
When asked to direct my comments this evening to what it has been like to serve as a colleague with Presiding Justice Epstein, I wondered how I could make it interesting. It occurred to me that I could tell you about the dark underbelly of Division Four.
•I could tell you it's a lot like working in the White House.
•I could tell you about the constant struggle Justices Willhite, Collins and I have had to prevent our presiding justice from indulging his worst impulses.
•I could tell you we've removed orders from his desk, shielded him from rash decisions, and walked back proposed opinions that would have precipitated the jurisprudential equivalent of World War III.
•I could tell you we're dealing with someone with the intelligence of a fifth grader, the attention span of a gnat, no understanding of legal issues, no intellectual curiosity, and a penchant for erupting into profane temper tantrums.
Now that would be interesting. Unfortunately, it would also be fake news.
The truth is there could be no finer colleague than Norm Epstein.
First, there is his prodigious intelligence, coupled with his exhaustive knowledge of the law. But as brilliant as Norm is, his intelligence is untethered to a proportionately large ego. We all know people who are uncommonly bright; many are eager to show it. Not Norm. Norm has no need to impress others with how smart he is. He never uses his intelligence to prove his superiority or to belittle others. He doesn't do it on the bench, and I assure you he doesn't do it off the bench either.
Next, there is his legendary love of the law. All of us here are presumably on pretty good terms with the law. Some of us may feel we've been married to it for decades; others may have been co-habiting; others still may have been dating the law. Many of us have cheated on the law with other passions—like opera, or skiing, or collecting rare books.
But Norm's love of the law is passionate and enduring. I recall the time I walked into his chambers to discuss a case in which I thought the result was pretty much determined by precedent, but was not one I particularly liked. I was also troubled by the direction the law in this area was taking. After talking for about 20 minutes, I looked down at my papers and realized that Norm was not actually on the panel assigned to the case. I said, "I'm so sorry; I've taken up your time and you're not even on the case." "There's no need to apologize," he said, "This is the fun part." The law genuinely is the fun part for Norm. For the rest of us, working with Norm has been the fun part.
Norm's love of the law does not stem from any desire to use it as a vehicle for imposing his will on the world. Rather, he loves the law for what it aspires to be—in the context of litigation, a means of resolving disputes in a way that is rational, principled, understandable and just. His approach to the law is genuinely disinterested – and there are enough appellate lawyers in this room to know the difference between "disinterested" and "uninterested." He is, in short, intellectual honesty personified.
Finally, there is his temperament. As those of you who have appeared before him can attest, on the bench he is a model of judicial temperament – invariably courteous and respectful of both lawyers and self-represented litigants. He is genuinely interested in understanding your arguments and their implications.
Off the bench, Norm is no different. He is the same thoughtful, temperate, courteous, considerate, gentlemanly colleague. In fact, everyone who has worked with Norm will tell you that his intelligence and breadth of knowledge are exceeded only by his uncommon decency, his kindness, his collegiality, his sweetness, and his desire to make our court a place that brings out the best in everyone who works there.
I'm sorry if my remarks about what it's like to be a colleague of Norm's have not turned out to be the incendiary exposé of how a group of loyal judicial colleagues and dedicated court employees have worked tirelessly to reign in the impetuous impulses of a puerile, mercurial and tyrannical presiding justice. Those remarks will have to await my retirement. But whatever they lack in surprise I hope they make up for in sincerity. I could easily have responded to the request to recount what it's been like to be a colleague of Norm Epstein's in two simple words: Sheer Heaven.
Norm, I know I speak for everyone who has ever worked with you when I say it has been the privilege of a lifetime. We are all better for your influence. We hope some of your extraordinary qualities have rubbed off on us, and we know that our court and our legal system will be the beneficiaries of your legacy for years to come.
Copyright 2023, Metropolitan News Company