Monday, January 9, 2023
Special Section
PERSONALITY PROFILE:
By Sherri Okamoto
This Lawyer Has, With a Badge, Apprehended Bad Guys, And With a Heart, Aided the fight Against Cancer
It is often said that character is doing the right thing when no one is looking, and 2022 METNEWS Person of the Year Brent A. Braun is a consummate man of character. From his childhood, throughout his career, Braun has been in the service of others, and in pursuit of the greater good for all.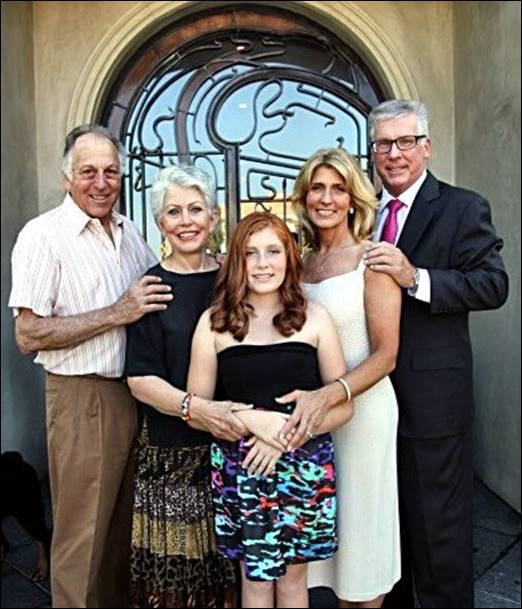 Brent Braun, at right, is seen with his wife, Los Angeles Superior Court Judge Daviann Mitchell and, from left, Dave and Mary Ann Brooks, his parents-in-law, and Mary Ann Brooks Mitchell, the judge's daughter from a previous marriage.
Braun was born in Chicago, Illinois on Veteran's Day, 1950. He is the second son of Harold Braun, a certified public accountant, and Alberta "Birdie" Braun, a homemaker.
Braun, his elder brother Bruce, and his parents moved to North Hills, California in 1959, because of his father's work. A short time after that, his mother was stricken with breast cancer. Braun spent his time after school at Northridge Junior High and then Monroe High helping to care for his mother.
"The memories of the disease are horrible," Braun recalls, "but she was a warrior."
Braun's mother fought her cancer, without complaint, for nearly two-and-a-half years, before succumbing at the age of 43.
About a year later, Braun's father remarried. His new bride was Rudd Dodd, the widow of Jimmie Dodd, who was the songwriter behind the famed "Mickey Mouse March" and the host of the original Mickey Mouse Club television series, aired locally on KABC from 5-6 p.m., starting in 1955.
The Disney Company had two guitars custom-made for Jimmie Dodd for use on the show, aptly named the "Mousegetars"—a take-off on the name of the bevy of juvenile stars, including Annette Funicello, known as the "Mouseketeers." When he died, Rudd Dodd donated one of the guitars to Disney to keep in its archives, and upon her death, the other guitar was bestowed upon Braun and his brother who donated the instrument to the Disney Family Museum in San Francisco.
Years later, Braun would be involved in the fight against the disease from which his mother died and Disney would play a role, though tangentially, in his adult life. But before then, he marched down a few other career paths.
Wore a Uniform
While attending California State University Northridge and then Southwestern Law School, Braun was a member of the California Air National Guard, and he served in the Los Angeles Police Department as a reserve officer.
He was named the Reserve Officer of the Year for the Operations Valley Bureau and North Hollywood Area in 1975. During this same time, Braun was also a member of the Los Angeles County Institutional Inspection Commission. He was appointed by then-Los Angeles County Supervisor Baxter Ward (now deceased) to a four-year term on the commission, which advised the supervisors on the efficient and economical administration and operation of all Los Angeles County Sheriff's and Probation Department's Custody facilities.
Braun says that at the time, he was told he was the youngest person ever appointed to an "adult commission" in Los Angeles history, being just 23 years old.
Joins the FBI
After graduating law school, Braun joined the Federal Bureau of Investigation as a special agent.
That move, he credits to his locker partner from his LAPD reserve days. Braun's partner had been a CPA, and got bored, then joined the FBI. Seeing his partner take that step was all the motivation Braun needed to do the same.
In July of 1978, Braun was appointed a special agent of the FBI. After four months of rigorous training at the FBI Academy in Quantico, Virginia, Braun was assigned to the Seattle office, and then came back to Los Angeles in 1981.
During his time in Seattle, Braun helped secure the office's first successful civil rights convictions for a racial hate crime—a cross burning in the front yard of a home belonging to an African-American single mother. He also successfully reopened a murder investigation resulting in a guilty plea to first degree murder, 12 years after the crime was committed.
Handles Fraud Cases
In 1981, Braun moved back south, joining the FBI office in the City of Angels. Here, fraud was the name of his game, with Braun investigating corporate and securities fraud, insurance fraud, wire fraud, mail fraud, copyright, and intellectual property rights frauds.
Looking back, Braun says, "It's a different FBI today than the one I was in." During his time, he recalls, the agency was steadfastly "apolitical, independent, and neutral." While the same might not be said of the current FBI, Braun remarks, it was, then, "very rewarding" and "very exciting" to be a member of the organization.
As an agent, Braun reflects, "you're kind of like a voyeur on life," and "you get to see and do a lot of things you wouldn't get to do if you weren't in the FBI." Granted, he observes, it's nothing at all like Hollywood portrays it to be.
"Entertainment is entertainment, and if we did half the things they do on the TV shows, we'd all be in jail," he says. "And going in with guns blazing and things like that, that's what we wanted to avoid."
If anyone were to do an accurate rendition of a day in the life of an agent, he continues, it would be pretty dull just because of the time it takes for things to happen, but adds that when things do happen, it's not hard to depict those events on a big screen.
Cites Incident
There was one instance, Braun recalls, where he was investigating a scam involving gold sales and he learned one of his suspects was on an oil supertanker that was in Alaska and sailing for Panama. Braun was able to get the shipping company to divert the tanker into the United States' territorial waters off Los Angeles/San Pedro as it sailed down the coast, and he moved in with his team to intercept the vessel on a Coast Guard cutter.
At 96-feet long, the cutter wasn't a small ship, but "it looked like a rubber duckie" next to the tanker, Braun relates. The cutter pulled up along the side of the tanker, and the tanker crew threw down a rope ladder for him to climb. Braun says he had a moment's pause about having to jump for the ladder and climb "up the side of what was like a four-story building," when a misstep could lead to being crushed between the hulls of the ships or falling into the water and being sucked into the tanker's propellers.
Braun says the cutter captain advised him, "Don't miss, and don't let go or you'll be history."
Thankfully, Braun made it up to the tanker's top deck, apprehended his suspect, and they both made the treacherous climb back down the rope ladder unharmed.
9/11 Attack
As an FBI supervisory special agent, one of his most treasured memories, Braun says, was the agency's response to the Sept. 11, 2001 terrorist attacks.
He was on his way in to work when the attacks began, and he says he was immediately concerned that the terrorists could also go after locations in the Midwest, and on the west coast.
Believing that the Federal Building was a potential target, he went to an alternate location the FBI had in order to set up a command center and directed the special agents he supervised to meet him there. Other FBI supervisory special agents heard his radio transmission and joined. Braun was bursting with pride to see hundreds of agents rallying, organizing themselves into teams and heading out.
"It was a fantastic team effort by some wonderful colleagues," he says.
"Everyone put service above self, exponentially," Braun says. "We had to protect the country, our fellow citizens," and the agents worked around the clock until the immediate threat of the attack had passed.
When "the dust settled a bit," Braun was asked to take a team of agents east to Las Vegas to help investigate the activities of the six hijackers who had participated in a rendezvous in there about 40 days prior to the World Trade Center, Pentagon and Pennsylvania hijackings. The hijackers took flights to Las Vegas on the same type of aircraft they later used in the actual attacks. The team did some amazing investigative work determining what the hijackers were doing in Las Vegas.
Braun confirms there is a military base in the desert between Los Angeles and Las Vegas. The fact that it exists is no secret, but "what goes on in there is a big secret," he says.
As far as he knows, Braun says, the base develops new technologies. When pressed for an elaboration, Braun says that there are things he can't discuss, and although he hates the cliché, he is impelled to respond: "If I tell you, I'd have to kill you."
Training Activities
Not everything is hush-hush, spy games though. Braun notes that he enjoyed conducting training and investigative assistance programs under the U.S. Department of State in Romania, Bulgaria, Latvia, Moldova, Russia, Thailand and the United Arab Emirates.
Braun headed up the teams taking the first FBI team into Bulgaria, an exciting time given Bulgaria's relationship with Russia. The mission was to provide education "on democracy and constitutional law, the rule of law, and how to investigate complex cases," he says. "It was really exciting to be doing this, a pivotal time in the development of those countries, especially after the fall of the USSR."
By 2002, Braun was the acting assistant special agent in charge of the Los Angeles White Collar Crime Division, where he supervised 185 special agents and nine supervisory special agents and support personnel. During his tenure, the Los Angeles White Collar Crime program achieved the highest three-year average of asset seizures and forfeitures of any FBI field office in the nation.
A memorable seizure, Braun relates, involved a fraudster who was running a charity scam. Braun assigned the case to a female agent on his squad who Braun describes as one of the most persistent, top-notch investigators he'd ever met.
She developed sufficient probable cause to secure more than nine asset seizure warrants and was successful in getting forfeitures in each case. The FBI took as seized and forfeited property not only a $1.5 million bank account, but a practically new $450,000 luxury motorhome, which came completely stocked, including a cooler full of beer.
The FBI special agent investigating the case also learned that some of the fraudster's ill-gotten gains had been used for breast augmentation surgeries for his wife and daughter. The culprit ended up taking a plea deal which eliminated the need to figure out how that particular asset seizure and forfeiture issue would figure into an indictment, Braun recounts, with a laugh.
Departs FBI
In 2003, Braun left the FBI to become legal counsel for Galpin Motors Inc., the largest Ford dealership in the world along with a number of other dealerships including Aston Martin, Jaguar, Lincoln, Volvo, Honda, and Mazda at that time.
Six years later, he was recruited to become the general manager for Southern California Edison's Corporate Security and Business Resiliency department.
Braun spent about seven years there, during which time he was the on-site "commander" in an active shooter incident impacting more than 450 employees at the site, and sadly resulting in three deaths–including the employee/shooter who killed himself—and three serious injuries including one woman who was shot six times and managed to survive.
Private Endeavor
During all this time, Braun didn't let his FBI training gather any dust. While maintaining his legal career, he established the Braun Consulting Group in 2003, which he continues to operate.
His company provides security and legal consulting for white collar crime matters and independent security risk assessments. The firm also provides technical surveillance countermeasure examinations, also known as "bug sweeps," which involve the use of sophisticated electronic equipment to find phone bugs, transmitters, recording devices, cameras, and similar information technical intercepts. Braun's clients include Fortune 100 level multinational corporations, law firms, governmental entities, schools, and high net worth individuals.
He also sits on the Board of Directors and Audit Committee for the Western Mutual Group of Insurance companies.
During those years, Braun was also a member of various organizations for FBI agents, peace officers and security professionals. He served on the Board of Directors and Executive Committee of the Peace Officers Association of Los Angeles County and was also appointed as a member of the Los Angeles County Sheriff's Department Inmate Welfare Commission and the Los Angeles County Immigrant Protection and Advancement Taskforce.
In addition, he was appointed to the working group that drafted recommendations for the Los Angeles County Board of Supervisors when it was forming the Los Angeles County Sheriff's Department Civilian Oversight Commission and served on interview committees for the four "at-large" appointments made by the full board.
Braun further served as an expert consultant and investigative supervisor for the Rampart Blue Ribbon Review Committee. The committee, chaired by noted civil rights attorney Constance L. "Connie" Rice, conducted a management and supervision "autopsy" regarding the Los Angeles Police Department's Rampart Division corruption scandal.
Involvement in LACBA
Braun has been active in the Los Angeles County Bar Association as well, including service as a member of the Outstanding Jurist of the Year Selection Committee since 2005.
He was a committee member, subcommittee chair, vice-chair and ultimately chair of the Judicial Elections Evaluations Committee ("JEEC"). Braun served on JEEC for more than 25 years, and was chair from 2005-09.
During the 2006 elections, Braun met then-judicial candidate Daviann Mitchell, a deputy district attorney.
In light of her busy schedule and the packed calendars of the members of JEEC, Braun recalls, Mitchell's interview wound up happening quite late in the evening. Afterwards, both he and Mitchell expressed gratitude to each other for being so accommodating, as their cooperation meant that 35 volunteer lawyers would not have to come back one last time for another interview.
After the work and report of the JEEC was history, they reconnected and one thing led to another, and "the rest is history, as they say," Braun recalls.
The couple wed in 2011, with then-Los Angeles Superior Court Judge David S. Wesley, a former METNEWS Person of the Year and 2013/2014 presiding judge, performing the ceremony.
'Total Package'
Braun says he was attracted to Mitchell because she was "the total package." Aside from being "beautiful, and super smart," they both had backgrounds in law enforcement. Mitchell previously served as a police officer in Sacramento. Each also was the proud parent of a daughter from a prior marriage.
When they first started dating, Braun remembers, Mitchell asked him if he liked dogs. He says he was sure that was "a threshold question," as a negative answer would have doomed the budding romance.
For him, the truthful answer was easy, as Braun had grown up with dogs. "I've always loved them," he said and one has always been part of his family.
When he was little, his family had a Great Dane, and there are home videos of him riding the pooch like a horse. Braun's family also had a Cocker Spaniel who had been so sickly as a pup that a veterinarian recommended euthanasia. Braun's mother wouldn't hear of it though, and she not only nursed the dog back to health, but kept him alive—and he lived for well over 18 years.
"Our pets are like kids with fur coats," Braun says, so he was enthusiastic about Mitchell's hobby of breeding
Mitchell has been in the dog business since 1982, and her kennel is one of the top producing conformation and working breeding programs on the West Coast. Mitchell is one of only two persons in the United States who has been named an American Kennel Club "Platinum Breeder" for Rottweilers—an honor which is based on the titles and championships the dogs have achieved, not the number of dogs bred. More recently, Mitchell began breeding Cavalier King Charles Spaniels, as well.
Disney Connection
While they were dating, Braun received a Rottweiler pup from Mitchell as a gift. The dog was named Simba, after the protagonist in Disney's The Lion King. Braun and Simba then began receiving training from Mitchell in running agility trials—a form of canine competition requiring dogs and their handlers to negotiate an obstacle course while racing against the clock.
Braun says that such training would provide an invaluable lesson for lawyers in conducting depositions or FBI agents engaging in interviews because "you have to have an awareness of everything you do." In the agility arena, he explains, there's primarily non-verbal communication with the dog, and the dog is "completely attuned to you," which calls attention to "nuances you may not have been aware of." Braun elaborates that a dog takes an understanding of body language "to another level," saying that "the dogs are super keenly aware of every nuance, voice, tone, body position, timing, everything."
For example, one time Simba came to a halt mid-obstacle because Braun had dropped his arm—the cue for Simba to stop running—as Braun was running to catch up with the dog. Even though Braun was behind Simba, Simba saw Braun's arm drop and stopped, thinking another command was coming. That misstep was a lesson in self-awareness for Braun.
Braun was also the recipient of a Cavalier King Charles Spaniel from Michell, who bears the name Mr. Mowgli—the protagonist from Disney's Jungle Book. Braun affectionately refers to this one as his "co-chair," who insists on a seat on a chair pulled up beside him at his desk.
All the animals have their own spots in his office, he says, and they're "great companions," although there's a constant rotation of dogs in and out for competitions.
Right now, the Rottweiler running what Braun calls the "beauty circuit," is Baby-T, a 132-pound stud. Mowgli is retired, and Jinx, a King Charles puppy, hasn't yet begun her career. Mitchell has already started training little Jinx, so she will be on show soon. Mowgli's grandmother and two half-sisters are also in residence.
Braun says their dogs are their "100 percent, all-natural organic home security system," keeping coyotes and other varmints out.
Financial Support Group
As if a house full of dogs weren't enough to keep him busy, Braun pulls more than just "kennel duty" in his spare time. He also leads "The Chancellors," a group of attorneys, judges, executive-level law enforcement officials and other professionals who raise money for City of Hope.
Mitchell's parents, Dave and Mary Ann Brooks, have long been philanthropic supporters of the City of Hope, which has a 100-acre cancer research center and hospital in Duarte, as well as a new facility in Orange County. Braun says he has long been "favorably inclined" toward the institution because Sherman Block, the Los Angeles County sheriff and cancer survivor who died in 1998, had shared with him the amazing work being done at the City of Hope, saving lives and extending lives.
Fighting against cancer, of course, also is personal to him because of the loss of his mother. Thus, when City of Hope asked him about tapping into the legal and law enforcement community for support, Braun stepped up to the task.
The Chancellors raise money for "basic science research," or "proof of concept," Braun explains. It funds the development of scientific certainty for theories that doctors are researching, so that the doctors can qualify for larger grants. Braun relates that it has raised about $3 million so far, probably closer to $4 million
Perception of Lawyers
He says the group is "all about recognizing the importance of giving back to the community."
Braun opines this is important, because the public perception of lawyers is sadly all too often "very nasty," and the Chancellors "provide a flip side to that image."
The Chancellors describes itself as a "user friendly" group that is sensitive to the demands of its members' busy schedules, professions and family needs. The group holds about two to four events per year, and past outings have included trips to the Disney Concert Hall, the Getty Center, and the Porsche Experience Center. It has also had private tours of the hospital, and live demonstrations on the many complex medical instruments the doctors use daily.
Braun recently suggested to the chief scientific officer and provost at City of Hope, Dr. Steve Rosen, that during a Chancellors event, its members volunteer to be part of a clinical trial control group for a Precision Medicine study at City of Hope. Rosen took Braun up on the offer and the Chancellors enthusiastically participated. This was the first time a support group at City of Hope engaged in such an effort and Braun says he hopes this experience will start a trend.
"Here we have a group of lawyers judges and law enforcement executives and their families who are giving of themselves, both in terms of their finances and in this case literally their own blood, to help others," Braun says. "There's no payback other than self-gratification, and that sense of fulfillment for doing something for humanity."
Rosen describes Braun as "one of the most thoughtful, generous, and considerate individuals I've met during my lifetime."
Over the years in which he has known Braun, Rosen says, he's seen that "to know him is to admire him," as "he has fundamental decency, heartfelt empathy, and is always available to help his friends and those in need."
Wife's Praise
Mitchell says one of the things that first attracted her to Braun was the fact that he is "a man who has given his life to serving, period."
When it comes to Braun, Mitchell relates, "there's no one thing that defines him but a lifetime of commitment, of giving back in all different fashions." For his whole life, Mitchell says, Braun "has given back to his community and his country." No matter what his official role, Mitchell comments, her husband "always works very hard at making sure the community and its citizens are protected, and doing his job honorably."
Braun "is great with the dogs," as well as being "kind, thoughtful, intelligent, and ruggedly handsome," Mitchell says.
She notes that he is also "extremely well-connected," proclaiming that he has long been friends with many in the city, including those in power, "which speaks to the quality of his relationships."
Braun "works very hard at maintaining his friendships, and that's hard to do when life gets in the way, but he really makes a sincere effort at it," Mitchell says. "Most people don't spend enough time reaching out, or staying in touch."
Former Los Angeles County Sheriff Jim McDonnell says that Braun "is an unusual combination of qualities," as a top-notch investigator, a networker, a mediator and a moderator.
"He is someone who brings others together," McDonnell says. Braun is "tight with most of the law enforcement and political leaders of the last 40 years," McDonnell observes, adding:
"Most people wouldn't have even had occasion to meet these people, and yet he manages to be a friend and confidant to all."
Praise From Kelly
Patrick M. Kelly, a former State Bar president and METNEWS Person of the Year, says he counts Braun among his closest, long-time friends.
Braun is "a can-do kind of guy," Kelly declares, describing him as "a stand-up guy, with no lip-service."
Whether it's in connection with a social cause or a friendship, Kelly advises, "if he says he will deliver, he delivers, and I consider that a great quality."
Former Los Angeles District Attorney and METNEWS Person of the Year Steve Cooley says he met Braun in 1976 when they were sharing cubicle space at the old Hall of Records, assigned to Central Juvenile.
It was early in Cooley's career as a prosecutor—he had joined the District Attorney's Office in 1973—and Braun was in his last year of law school, serving as a senior law clerk in the office.
The office space, Braun recounts, was "contemporary spartan." He says that "the desk layout was such that Steve and I sat back to back, if I backed up my chair, I would back into Steve's."
Obviously, both have come a long way since then, and Cooley praises Braun as "a true American patriot, not just for his service for the FBI but his support of good causes and good government."
Bonner Comments
Former U.S. District Court Judge Robert Bonner of the Central District of California, who also served as administrator of the federal Drug Enforcement Administration, says he is "delighted" that Braun is being honored. He first met Braun when the former was an FBI agent and he was an assistant U.S. Attorney for the Central District of California, and he remembers Braun was "one of the best agents I've ever dealt with in terms of being a really crackerjack investigator and thorough and thoughtful person."
Now he counts Braun as a personal friend, and one he called upon to take his grandson to a firing range and learn to shoot.
Since leaving the FBI, Braun has kept his shooting skills up, and according to Bonner, he's quite the marksman. Braun was "helpful and gracious" and Bonner says he "can't think of a better person" to learn from.
Former Los Angeles County Supervisor Michael D. Antonovich says he has also known Braun for "many, many years." He praises Braun as "an outstanding community leader" who "continues to stay involved" in issues that matter.
'Great Guy'
Cynthia Pasternak, a former president of the Beverly Hills Bar Association and METNEWS Person of the Year, says Braun is "a great guy."
Pasternak tells of coming to know Braun through the Chancellors, noting that she was eager to join because her late-husband, former LACBA President and METNEWS Person of the Year David Pasternak, had benefitted greatly from the cancer treatment he had received from City of Hope before his passing.
The Chancellors is "a fantastic group," she says, and Braun "is such a dynamic personality" helping promote the group and its "cutting-edge cancer research."
Pasternak says that she would say that Braun has an "infectious personality" except that such might not be the most appropriate description in light of the COVID-19 pandemic. Still, she insists, Braun is "just a terrific guy" who is a great benefit to the legal community, the Chancellors, and City of Hope.
Pasternak says of City of Hope: "If anyone is going to find a cure for cancer, they will," adding:
"They're just amazing."
Some say the same of Braun.
Copyright 2023, Metropolitan News Company