Wednesday, February 22, 2023
Page 1
Court of Appeal:
$650 Per Hour Is Reasonable Rate for Small-Firm Lawyer
Opinion Affirms Order in Which Judge Wayser Lauded Performance by Lawyer Provinziano
By a MetNews Staff Writer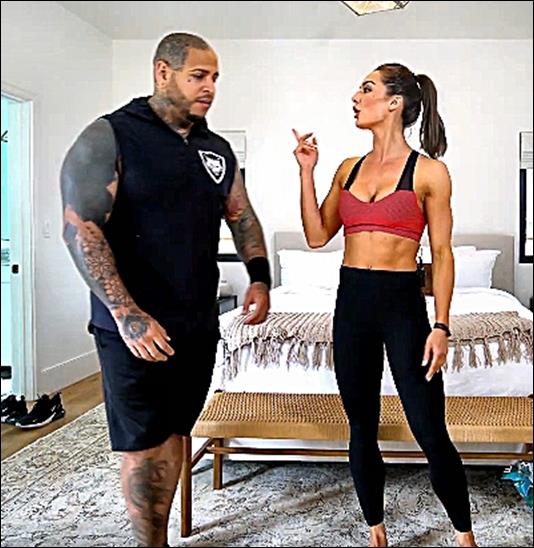 Above is a screenshot from a workout video featuring recording artist Thomas Cummings (whose stage name is Tommy Vext) and fitness model and personal trainer Whitney Johns, then romantically linked. Johns obtained a domestic violence restraining order against Cummings, who was later ordered to pay Johns's lawyer, Alphonse Provinziano, $97,500. The Court of Appeal for this district on Friday affirmed that order.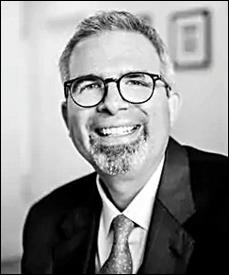 ALPHONSE PROVINZIANO
family law specialist
Div. Four of the Court of Appeal for this district has affirmed an attorney-fee award based on a finding that $650 per hour is a reasonable amount for a Beverly Hills practitioner who specializes in family-law matters.
Los Angeles Superior Court Judge Joshua D. Wayser on June 14, 2021, ordered that the money be paid by Thomas Cummings, the respondent in an action under the Domestic Violence Protection Act ("DVPA"), directly to attorney Alphonse F. Provinziano who heads a five-lawyer firm on Olympic Boulevard.
The judge commented that Cummins—a heavy-metal singer/songwriter better known by his stage name of Tommy Vext—"was out of control" in his actions toward the petitioner, fitness model Whitney Johns, which "led to the issuance of a restraining order." He added that she, rather than Cummings, "should not have to pay" attorney fees for the "privilege" of her gaining protection from him.
Johns is Cummins's former girlfriend. She alleges beatings by Cummings "both during and after the relationship" and complains of denigration of her in his postings on social media.
Wayser's Order
In his June 21, 2021 order awarding $97,500 in attorney fees, pursuant to Family Code §6344, which pertains to actions under DVPA, Wayser said:
"Petitioner's counsel did a strong job of presenting petitioner's case; his hourly rate of $650 while on the high side was reasonable under the circumstances and is at market for such an experienced attorney on the Westside of Los Angeles; and the work billed was necessary and appropriate under the circumstances. The Court is effectively awarding 150 hours of legal work at the going billing rate of counsel. This Court is well familiar with the disputes in question and believes 150 hours is a reasonable amount of time under the circumstances for the work involved, including a five day trial and numerous other related disputes."
(Provinziano's current rate, posted on his firm's website, is $695 per hour.)
Appellant's Contention
Arguing on Cummins's behalf against affirmance, attorney Matthew J. Cave, of the Beverly Hills firm of Kibler Fowler & Cave LLP, did not dispute the reasonableness of a $650 per hour fee for Provinziano's services. But he did argue in his opening brief that Wayser erred by applying that rate to services performed by persons in the office other than Provinziano, as reflected by invoices.
In the reply brief, he said:
"Even assuming, arguendo, the trial court was within its discretion to conclude that $650/hour in reasonable for an attorney of Mr. Proviziano's experience and location, the trial court clearly exceeded such discretion by awarding fees at such rate for 81.8 more hours than were billed as performed by Mr. Proviziano. Any remaining hours of work were performed by associates and paralegals at much lower hourly rates. The trial court's award is unsupported by substantial evidence and was an abuse of discretion and should be reversed."
Los Angeles Superior Court Judge Natalie P. Stone, sitting on assignment, authored the Court of Appeal opinion, filed Friday and not certified for publication. The opinion is one which small firms are apt to urge be published for sake of guidance to trial courts in the county in setting fees.
Reciting Wayser's findings, Stone said there was "no abuse of discretion" in his "approach" to the setting of the fee amount and that the award must be upheld because it "is neither manifestly excessive in the circumstances nor does it shock the conscience."
She did not address Cave's contention that Wayser erred by applying the $650 per hour rate to services performed by associates and paralegals in the firm.
Wording of Statute
A further issue—or non-issue—was whether Wayser erred in failing to determine whether Cummings had an ability to pay the $97,500 fee the judge determined to be reasonable. Sec. 6344, as then phrased, provided:
"(a) After notice and a hearing, the court may issue an order for the payment of attorney's fees and costs of the prevailing party.
"(b) In any action in which the petitioner is the prevailing party and cannot afford to pay for the attorney s fees and costs, the court shall, if appropriate based on the parties respective abilities to pay, order that the respondent pay petitioner s attorney s fees and costs for commencing and maintaining the proceeding. Whether the respondent shall be ordered to pay attorney s fees and costs for the prevailing petitioner, and what amount shall be paid, shall be determined based upon (1) the respective incomes and needs of the parties, and (2) any factors affecting the parties respective abilities to pay."
(As now worded, a new subd. (c) now says: "Before a court awards attorney's fees and costs pursuant to this section, the court shall first determine…that the party ordered to pay has, or is reasonably likely to have, the ability to pay.")
Wayser, in his order, quoted 6344 as requiring an ability-to-pay determination and remarked that "[t]he parties go back and forth about all the issues, including their respective abilities to pay," but said he was zeroing in on what mattered.
Inability to Pay
Cave argued in the opening brief that "Mr. Cummings presented significant and detailed evidence of his financial status and inability to pay nearly $100,000 in legal fees incurred by Ms. Johns in addition to his own legal fees in this matter" and that Wayser disregarded that evidence and failed even to allude to it in his decision.
Stone provided a discussion of the issue—concluding that Wayser "was not required to make express written findings regarding the parties' abilities to pay…under…former section 6344." She explained that "]i]n the absence of a statement of decision (which is not required for rulings on attorney fees motions), we presume the court made the necessary findings to support its ruling…."
She pointed to "substantial evidence before the trial court to conclude that Cummings had the ability to pay the $97,500 award."
Puzzling Footnote
However, a footnote in Stone's opinion says:
"We need not discuss the evidence of Johns' relative inability to pay her attorney fees, which would be relevant only if the court had issued the award of fees under former section 6344, subdivision (b), after deeming Johns unable to afford the fees. The court noted in its order that the fact that the moving party has sufficient resources to pay the award is not a bar to ordering the other party to pay. Thus, it appears the court's award was issued under former section 6344, subdivision (a), under which the court had the discretion to award fees to Johns, as the prevailing party, without considering her relative ability to pay."
 Stone did not explain why, if there was no need to consider Johns's ability to pay her lawyer because Wayser had predicated his order on ¶(a) without resorting to ¶(b ), there was a need to discuss Cummings's ability to pay, as she did. The pro rem justice also did not discuss why §(b) could be disregarded rather than being read in tandem with §(a).
Breadth of Order
The domestic violence restraining order provided that Cummings may "not POST photos, videos or information to any internet or social media which Respondent has access or control site regarding Petitioner without Petitioner's written consent."
The appellant's opening brief says in a footnote:
 "The restraining order issued is likely unconstitutionally broad and vague to the point of being unenforceable. In the specific context of a domestic violence restraining order, First Amendment concerns are not implicated, and speech is not protected, if the specific prohibited speech was found to constitute 'abuse' under the DVPA….Prohibiting someone from repeating defamation is not a prior restraint; specific expressional acts that are properly determined to be unprotected can be suppressed….(emphasis added).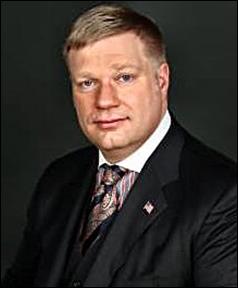 TIMOTHY PARLATORE
New York attroney
 "This case is not an instance of suppressing specific instances of speech that were found to constitute abuse…."
"Accordingly, the restraining order as issued may be unenforceable and, therefore, Ms. Johns did not receive a 'privilege' for which she should be rewarded further by forcing Mr. Cummings to pay her attorney fees and costs."
Stone responded in a footnote:
 "Cummings appears to challenge the constitutionality of the DVRO in a footnote in his opening brief on appeal. However, Cummings appealed solely from the June 14, 2021 order awarding attorney fees and costs, not the trial court's December 22, 2020 order granting the DVRO request. Any purported appeal from the DVRO granted six months earlier would have been untimely…."
The case is Johns v. Cummings, B313964.
Provinziano continued to represent Johns on appeal. Cummings's reply brief was signed by Elizabeth M. Candelario of the San Diego office of Parlatore Law Group, LLP.
Oral Argument
The court on Feb. 3 granted an application by New York attorney Timothy Parlatore for pro hac vice status, enabling him to argue the case. But on Feb. 7, it denied his request to postpone oral argument, scheduled for Feb. 9, and on Feb. 8 denied
his request to appear remotely.
Parlatore said yesterday that Cummings was unrepresented at oral argument, saying: "We had no choice."
He explained:
"I couldn't be on both coasts at the same time."
The lawyer noted that he was in the District of Columbia on Feb. 9. He is representing former President Donald Trump in various matters including a probe by special counsel into Trump's handling of classified documents.
Copyright 2023, Metropolitan News Company