Page 1
Ninth Circuit:
Bacardi Did Not Infringe Rum-Maker's 'Untamed' Mark
Collins Says Advertising Its Own Product As 'Untameable' Was Not Shown to Create Confusion
By a MetNews Staff Writer
Bacardi & Company did not infringe on a Lichtenstein corporation's 2011 U.S. trademark on the word "untamed" in connection with whiskey, rum, and other distilled spirits when it launched an advertising campaign in 2013 describing its rum as "Bacardí Untameable," the Ninth U.S. Circuit Court of Appeals declared yesterday.
 It does not matter whether the plaintiff, Lodestar Anstalt, had commenced marketing its product in the U.S. as of 2013, Circuit Judge Daniel P. Collins said in his opinion for a three-judge panel. What counts, he wrote, is that Lodestar failed to show confusion on the part of consumers, thus validating the summary judgment awarded to Bacardi by District Court Judge Christina A. Snyder of the Central District of California.
The analysis as to confusion, he noted, does not take into account Lodestar's marketing of "Untamed Revolutionary Rum." Interjecting an intent element, he said that product was not conceived until after Bacardi's November 2013 advertising campaign commenced, declaring:
"Viewing the totality of these circumstances, the inference is inescapable that Untamed Revolutionary Rum was not a serious effort to develop a product 'for genuine commercial reasons,' but rather merely an attempt merely to reserve Lodestar's rights in the mark and 'provide a basis' for an eventual suit against Bacardi."
What Lodestar did take preliminary steps to market prior to the advertising campaign was "The Wild Geese Soldiers & Heroes" rum.
2011 Trademark
Lodestar gained its Oct. 4, 2011 trademark on this:
 Lodestar, founded in 2000, in 2003 attempted to gain U.S. trademark protection on "Wild Geese," its name for an Irish whiskey it produces. However, the maker Wild Turney bourbon succeeded in blocking registration, and Lodestar decided to use the word "Untamed" as a mark.
However, it applied that mark only to the backs of bottles, and, Collins noted, "below a considerable amount of writing." This was one of the factors he relied upon by Collins in concluding that consumer confusion was not shown.
"Untamed" was, in context, merely a "tagline," with the distinctive mark being "The Wild Geese Soldiers & Heroes."
"On this record, the district court properly concluded that 'the manner in which consumers actually encountered [the] marks weighs against any likelihood of confusion,' " the judge wrote.
Also weighing against a finding of confusion, he said, is that Bacardi used the word "untameable" in advertising media Lodestar did not employ, as well as Lodestar's failure to present evidence of actual confusion.
International Compact
The reason it was inconsequential whether Lodestar had begun marketing its product in the U.S. prior to Bacardi's marketing effort getting underway, is that Lodestar's mark was registered under an international compact, the Madrid Protocol, incorporated in Title XII of the federal Lanham Act, extending protection to marks registered in other nations even where production has not yet begun in the U.S. Collins wrote:
"We…conclude that, under the Madrid Protocol…, a foreign applicant who obtains a registration without showing actual use in the U.S. has a right of priority, as of the relevant 'constructive use' date, over another company who first uses the mark in the U.S.….And once that registrant begins actually using the mark in the U.S.—and does so even after the competing user has begun using the mark—the registrant may bring an infringement action (subject to any applicable defense) based on that superior right of priority."
With respect to Untamed Revolutionary Rum, he said:
"The fact that new, post-infringement uses are not categorically excluded from the likelihood-of-confusion analysis does not mean, however, that such post-infringement uses necessarily stand on the same footing as the senior user's pre-infringement uses….[T]he Lanham Act generally limits enforceable trademark rights to bona fide uses that reflect genuine commercial endeavors rather than merely efforts to retain rights in a mark….Seizing on that point. Bacardi contends that the Untamed Revolutionary Rum product does not reflect a bona fide use of the mark and should be excluded from the likelihood-of-confusion analysis on that alternative basis. We agree."
Lodestar sought royalties and corrective advertising damages. Bacardi's use of the word of the word "untameable" ceased in 2017.
The case is Lodestar Anstalt v. Bacardi & Company, 19-55864.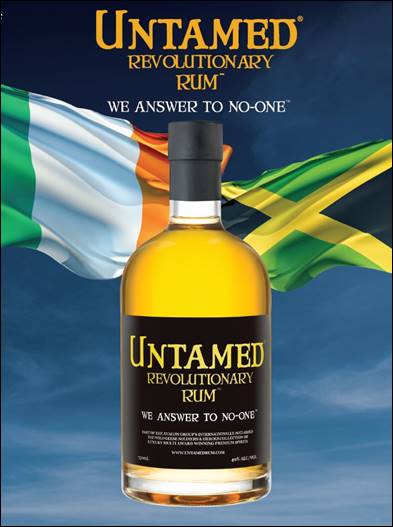 Depicted above is an ad for "Untamed Revolutionary Rum." The Brand was devised, the Ninth U.S. Circuit Court of Appeals said yesterday, merely for sale of gaining an advantage in trademark infringement litigation and not "for genuine commercial reasons."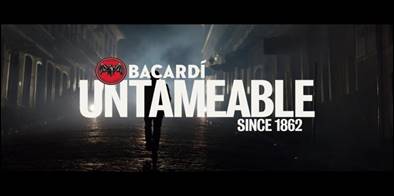 Above is a Bacardi ad. The Ninth Circuit declared that it did not infringe on Lodestar "Untamed" mark.
Copyright 2022, Metropolitan News Company