Page 1
C.A. Affirms $2.2 Million Award Against Ex-Lawyer/Stalker
By a MetNews Staff Writer
The First District Court of Appeal has affirmed a $2.2 million judgment against a disbarred lawyer who shot arrows from a crossbow into the law office building of his former girlfriend, declaring inapplicable the usual statutory requirement in a stalking case that the victim had demanded that the conduct cease.
Div. Four filed the opinion on March 3. An order dated last Friday, but publicly posted yesterday, certifies for publication the statement of facts and a brief portion of the discussion.
That discussion centers on the requirement of Civil Code section 1708.7(a)(3)(A) that in a tort action in a stalking case, "the plaintiff must have, on at least one occasion, clearly and definitively demanded that the defendant cease and abate his or her pattern of conduct and the defendant persisted in his or her pattern of conduct unless exigent circumstances make the plaintiff's communication of the demand impractical or unsafe."
'Exigent Circumstances'
In her complaint filed in San Mateo Superior Court, attorney Adriana J. Quintero contended that exigent circumstances existed. In ruling on a demurrer on Dec. 6, 2018, Gerald J. Buchwald said:
"The Complaint alleges exigent circumstances made it impractical or unsafe for Plaintiff to request that Defendant cease his conduct because, for example, Defendant was acting under cover of darkness, concealed his identity, and was employing deadly weapons….These allegations are sufficient to state a claim for relief under § 1708.7."
On appeal, ex-lawyer Steven A. Weinkauf argued that the judgment cannot stand because no evidence was presented at trial of "exigent circumstances."
Streeter's Opinion
In his opinion affirming the judgment, Justice Jon B. Streeter said that it might be inferred that Quintero did make a demand but, in any event, exigent circumstances did exist.
On three occasions in 2015, he noted, someone had shot arrows through the windows of Quintero's El Cerrito office building, but the identity of the person was unknown. Streeter said:
"Quintero testified that she called Weinkauf after the three shootings in 2015 to discuss a legal issue. As she had not yet identified Weinkauf as the shooter, she told him that 'somebody was shooting crossbow arrows through [her] building' and that 'it needed to stop.' Reviewing this evidence in the light most favorable to Quintero, we conclude that the jury could have reasonably determined that Quintero had demanded Weinkauf cease and abate his pattern of conduct."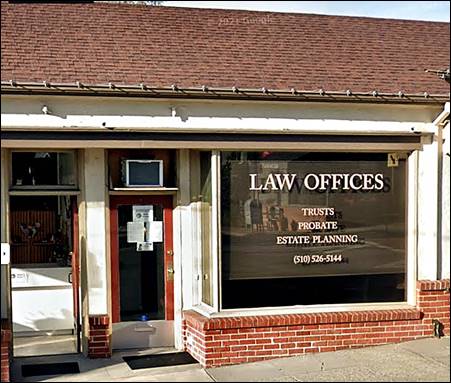 Depicted above is the law office building of Adriana J. Quintero in the City of El Cerrito, located in Contra Costa County. The First District Court of Appeal has upheld a $2.2 million judgment against disbarred attorney Steven A. Weinkauf who shot arrows from a crossbow through the window.
Surveillance Footage
In 2017, someone shot bullets into her building, but the identity of the person could not be discerned by Quintero from the images captured by a surveillance she had installed. But she was able to identify Weinkauf from footage of Jan. 8, 2017.
Weinkauf was seen shooting arrows from a crossbow. He admitted that, but denied having discharged a firearm.
"We… conclude there was substantial evidence supporting an alternative determination by the jury that there were 'exigent circumstances' excusing the demand requirement," Streeter said, explaining:
"Photographs, surveillance video footage, and testimony showed that Weinkauf had shot both a crossbow and a gun into Quintero's building. Indeed, a witness familiar with 'Bloodsport' arrows—the type of arrow used in the shootings—testified that he would not shoot that type of arrow at a person or at a building where people work because it could be a deadly weapon. Given this evidence, the jury could have reasonably determined there were exigent circumstances that rendered Quintero's communication of the demand to Weinkauf 'impractical or unsafe.' "
The judgment is comprised of $1.3 million in compensatory damages for stalking, intentional infliction of emotional distress, and domestic violence, $6,000 in punitive damages (with the jury assessing Weinkauf's assets at $1.5 million), $869,688.79 in attorney fees and $60,565.25 in costs, adding up to $2,236,254.04.
Quintero and Weinkauf met in 2003 when both were attorneys for the Public Administrator and Public Guardian of San Francisco County. They dated from 2008 through 2013.
The case is Quintero v. Weinkauf, 2022 S.O.S. 1396.
Weinkauf pled guilty to Weinkauf felony stalking, with an enhancement based on personal use of a dangerous and deadly weapon. Based on the conviction, the State Bar placed him on interim suspension from law practice effective July 23, 2018.
He tendered his resignation from the State Bar on Aug. 29, 2018 but it was rejected; he failed to respond to the charges; his default was entered; he was disbarred on March 14, 2020. According to his Facebook page, Weinkauf is now "[r]etired from work and full time into fun, motorcycle riding, snow skiing and scuba diving."
Copyright 2022, Metropolitan News Company