Page 1
Ninth Circuit:
EPA's Decision Not to Ban Dog Collar Chemical Is Flawed
Agency Is Ordered to Consider Anew Petition Seeking to Have Registration of Pesticide Revoked
By a MetNews Staff Writer
The Ninth U.S. Circuit Court of Appeals yesterday vacated the Environmental Protection Agency's denial of a petition by an international nonprofit environmental group to ban the use of a pesticide in Hartz pet flea collars which was determined by the agency in 2016 to cause harm to children's developing brains.
Seeking action by the EPA to cancel registration of the pesticide tetrachlorvinphos ("TCVP") in pet products is the Natural Resources Defense Council ("NRDC").
"EPA's denial of NRDC's petition suffers from numerous flaws," Circuit Judge Ronald M. Gould wrote for a three-judge panel, directing that a fresh determination be made. He commented:
"EPA failed to provide a reasoned explanation for its denial of NRDC's petition and made several arbitrary calculations. EPA's errors primarily impact two calculations central to its denial of NRDC s petition: (1) The amount of TCVP dust released by the collars, and (2) the assumption that pet owners will trim the collars by at least 20%. Further, we cannot consider EPA's post-hoc rationalizations, which themselves suffer from numerous flaws."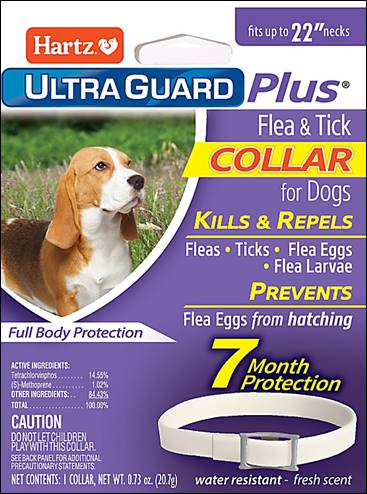 Depicted is a product containing a chemical that has been found to interfere with a child's brain development. The Ninth Circuit yesterday ordered the Environmental Protection Agency to consider anew a petition to disallow use of the pesticide in Hartz flea and tick collars.
Cherry-Picking Findings
Gould said the agency applied some of the findings of a study conducted by Hartz while ignoring other findings, terming the "selective use" of the study "problematic."
 While the study showed that 97.2 percent of dust released from the collars was TCVP, the EPA "assumed" that 14.6 percent of the dust was TCVP, an assumption the jurist noted was "unexplained." He charged that the "EPA ignored obvious evidence suggesting its assumption is an underestimate."
In "[a]nother display of irrationality," Gould said, the EPA concluded that at an average, only 0.38 percent of the TCVP in the collars is released as dust while the study showed that it is 1.1 percent.
Gould faulted the assumption that consumers will cut off 20 percent of the collars, saying:
"Hartz advertises that at least one of its collars fits dogs with necks that measure up to 26 inches, but the longest collar it sells is only 27 inches. In other words, it would be impossible for the owner of a dog with a 26-inch neck to remove 20% of the collar. We do not defer to such a 'highly inaccurate' calculation."
2020 Writ
The EPA issued its decision denying NRDC's petition in response to a writ of mandamus issued by the Ninth Circuit on April 22, 2020, doing so on the 90th day. Decrying the EPA's conduct. Gould said:
"At times, NRDC's efforts to receive a reasoned response from EPA have seemed Sisyphean as the agency consistently delayed its decision. After NRDC had doggedly pursued this matter for more than a dozen years, when EPA finally did reach a decision under pressure of a mandamus order of our court. NRDC was justified in expecting a rational, supported, and reasoned response from EPA. EPA. though, did not provide a well-reasoned or reasonable decision. Instead, its stated reasons were cursory and often at odds with EPA's own prior assumptions and statements. Then, in response to this lawsuit by NRDC. EPA has provided many arguments in its briefing that were never given in the record as the basis for the administrative decision."
The EPA was given 120 days "to issue a revised response to NRDC's petition."
NRDC's Response
Mae Wu, senior director of the Health and Food Program at NRDC, had this response to the decision:
"This is an important victory—and one for which we've been fighting for more than a decade. In 2016, EPA scientists finally acknowledged the danger this toxic chemical poses to children, but the agency then failed to remove the dangerous pet products from the market. It's especially gratifying, on Earth Day, to have the court hold EPA accountable to its 'core mission' to 'protect[] human health and the environment.' "
Gould was joined by Chief Judge Mary H. Murguia and by R. Guy Cole Jr., chief judge of the Sixth Circuit, sitting by designation.
The case is Natural Resources Defense Council v. U.S. Environmental Protection Agency, 20-72794.
Earlier Decision
Gould also authored the 2020 decision granting a writ of mandate, and was joined by Murguia and Cole. He said in that opinion:
"For more than a decade, the Natural Resources Defense Council…has waited in vain for the United States Environmental Protection Agency (EPA) to respond to its administrative petition requesting that the Agency end the use of a dangerous pesticide in household pet products. Repeatedly, the EPA has kicked the can down the road and betrayed its prior assurances of timely action, even as it has acknowledged that the pesticide poses widespread, serious risks to the neurodevelopmental health of children. Guided by our case law and the history of these proceedings, we hold that the EPA has unreasonably and egregiously delayed the performance of its statutory duties on this critical matter of public health and that the circumstances warrant the extraordinary remedy of issuing a writ of mandamus."
He went on to say:
"The EPA's contention that it nonetheless cannot prioritize these known dangers to children's health ahead of 300 other regularly-scheduled pesticide registration reviews—for which it has identified to this court no specific danger—is not an 'acceptable justification for the considerable human health interests prejudiced by the delay.'…Nor do its appeals to administrative efficiency outweigh the acknowledged risks to children's health. Its assertions of continued uncertainty regarding liquid-dust ratios also cannot justify further delay."
Copyright 2022, Metropolitan News Company